Owing to its innumerable benefits, treadmill has been considered as one of the best cardio gym equipment for fitness enthusiasts. The Gym equipment which defines the standard of any gym, treadmills not only draw a huge mass of people who want to shed some weight but also raises the standard of the gym from an old school one to a modular one.
The Treadmill workout can be monotonous and immense boring if you keep using this amazing piece of gym equipment just for running. As there are various forms of workouts, you can do over treadmills. You need to keep changing your set of doing a treadmill workout during the course of the week. To name a few, we have brought some basic ones:–
Tempo run:
This workout is beneficial for the endurance runners. The tempo run will help in improving your lactate threshold and will allow you to run fast. Also, this workout can help you in improving your mental toughness because this exercise helps you fight discomfort until the end of the run.
We recommend that a 30-minute workout that consists of 10 minutes warm-up, 10 minutes of hard efforts, and 10 minutes for relaxing and cooling down. Increase your speed slightly than your best time. Also, try to adjust the pace depending on your comfort and fitness level.
If you feel hard in doing a straightforward tempo, then start with a broken tempo. Broken Tempo consists of the warmer, the usual cool down, and two hard segments. You can run for five minutes at your comfortably hard speed, and then a 2-minute relaxing jog for recovery before starting another challenging segment.
Sprint intervals: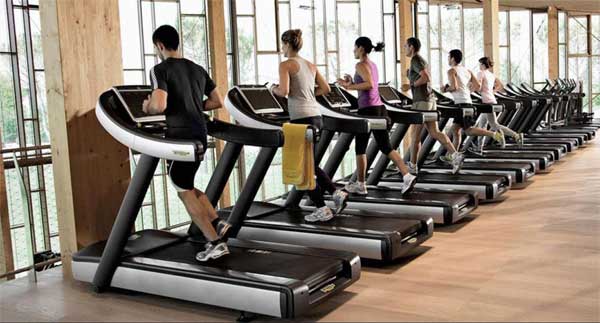 Sprint intervals consist of intense alternative efforts with equation segments. Sprint interval can lead you in boiling calories that is much better than maintaining an easy effort for the same amount of time. Sprint intervals will help you balance the circulation of blood and oxygen.
You can begin with 5 to 10 minutes warm and then start with 30 seconds of sprinting. At the end of the interval, decrease the pace back to a job and let yourself about 90 seconds to relax. You can repeat this pattern 7 to 8 times more and then end the workout with a 10-minute relaxation session.
Once you get familiar with the workout, you can increase your pace, or decrease your healing time, or can increase the number of intervals as well.
Hill intervals:
When you start running on an incline forces, you allow your body to move differently than staying at a flat level ground that helps in transporting much of the effort to your hamstring and glutes. Hill training will make you run faster on level ground as hamstring and glutes are responsible for generating most of the power in your stride.
Also, it is the best way to practice for a marathon or erase that features a lot of climbs. If you are doing hill work out outdoors, then your relaxation and healing can be jogging back down the hill. And on the treadmill, you can go back running on the ground level.
You can start with 10 minutes of jogging as your warm-up and can run at a quick speed of 4% grade for about 90 seconds, and then you can return to the 0% grade for 2 minutes relaxing time and then start with your next segment.
Progression run:
Progression Run is a kind of a variation on a tempo run. In progression run, instead of maintaining a hard speed, you can start relatively easy, and after some time, you can gradually increase your speed.
Start with a 10-minute warm-up and then increase the treadmill grade to 1% and start at a speed of 5 miles per hour. After every minute, increase the speed by 2 miles per hour and continue with the same till you reach your absolute limit, then end with a relaxation period.
Increasing speed interval:
This work out insists on increasing speed after every interval. Start with a warm-up and then begin at a moderate speed and maintain it for a minute.
Decrease the treadmill pace at an appropriate relaxing speed for 30 seconds and then go into another one-minute interval at a speed that is 1 mile per hour faster than the previous one.
Continue the same till you are no longer able to handle the speed with a married 30 second recovering time and then end it with about 10 minutes of jogging.
There are majorly 4 types of Treadmills viz. manual, motorized, Commercial, and folding treadmills.
Now depending upon your requirement and specification, you are advised to choose amongst all the above-mentioned categories. In general, people install treadmills in the gyms, fitness center as well as other open space areas like drawing rooms and veranda.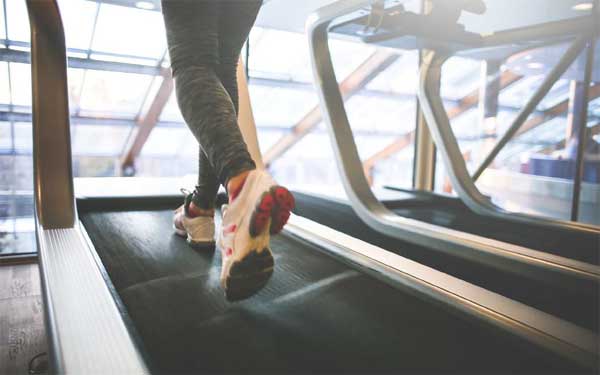 How to pick up a better Treadmill, things to check before buying.
There are a few parameters on which you can pick a treadmill for yourself:-
Type: Depending on your requirement and energy consumption, one can choose between Motorised and Nonmotorized Treadmill. But as suggested for a better result and satisfying workout, a motorized treadmill has an upper say over non- Motorized one.
Cost: Bring home the best-motorized treadmill depending on your budget.
Health Objectives: What do you want to attain an athletic physique or just losing weight and getting fit.
Motor & Horsepower: DC motors are usually noiseless. Always seek for a 1.5 to 2.5 HP continuous duty.
Features: check out these features before installing a treadmill; Inclination, Speed range Shock Absorption, Calorie Burn, Cardio Workout, Speakers and USB and Aux connectivity.
Well Known Brand: As brands come with trust and value for money aspect, so it is recommended to spend a little bit higher in order to grab a high-end treadmill.
Guarantee and Warranty: The treadmill should be carrying Guarantee And Warranty ranging from 1 year to 5 years.
Maximum User Weight: The indicator for maximum User weight is used to notify the maximum weight limit of the treadmill. So it will be a smart move to check this before buying one. If you are taking a treadmill for domestic purpose then maximum weight limit of 160 kg will go otherwise for commercial 180 kg is the standard set in the market.
Shock Absorption The treadmill's shock absorption is the most essential feature that most of the people miss out to check. The feature of shock absorption reduces the chances of getting hurt while running on the deck of a treadmill.
Types of shock absorption, you can try: Springs – Avoid running decks that provide a spring shock absorption system. Springs compress and then bounce back which returns the force of the stride back into the body.
Variable-Durometer Elastomer Cushions – These are cushions that absorb some of the energy from the impact and are found on most commercial and heavy duty treadmills.
Well, now when you get what are the alternate treadmill workout besides sole running, you are good to buy your treadmill by following above-mentioned guidelines.
Disclaimer:
The information contained in this article is for educational and informational purposes only and is not intended as a health advice. We would ask you to consult a qualified professional or medical expert to gain additional knowledge before you choose to consume any product or perform any exercise.