It has been rightly said that children are great imitators so give them something great to imitate. We all are aware of the fact that the first role model in any child's life is the parent. Unintentionally they copy their parents from talking to walking to eating. Hence parents eating habits have a major influence on kids' dietary choices.
Parents act as models of eating habits for kids. They act as major influencers both genetically and environmentally. The conscious and repeated way of eating which includes types, quantity and time of consumption of food depending upon their cultural and social influence is called the Eating habit of a person. The most efficient theory to establish a healthy eating habit in a child is to first practice it yourself and secondly allow them to choose along with describing the merits and demerits of each type of food. So majorly what affects the children eating behaviour is directly connected with parental dietary habits, family meal discipline, routine and snacking habits. And whatever habit a child takes upon in his formative years (infancy and toddler) become majorly his eating pattern once he grows up.
According to Dietitian Rajat Jain, parents eating habits play an important role. They are a great source of the interaction of parents with the kids and influence a lot. If a child notices his or her parents choosing salads or fruits over fried snacks, their preference for salads and fruits increases over junk. Also sharing meals with kids, not only encourages children to make healthy choices but also creates a happy environment which in turn further promotes healthy eating.
Another factor that creates an impact is a parent giving chances to their children to make decisions. When kids are left to themselves to choose what to eat and are held responsible for their health, the kids observe what their parents are doing and are more prone to making healthier choices if their parents are doing the same. This policy works much better than forcing them to eat healthily or cutting down on junk with agitation and anger.
Parents are not only the providers of food to the kids but also the ones who shape the kids thought processes, likes and dislikes, where the parents eating habits play a significant role.  In a survey, it was found that in those families where parents consumed more vegetables and fruits, kids were found to be inclined towards them even in teenage, hostels and workplace. On the contrary in households where parents could not consume many fruits and vegetables, kids tend to end up eating junk food that was available more easily to them.
Other factors by which parents eating habits are impacting kids are the number of times a family decides to eat out. Parents' perceptions of food, cost and availability of food and accessibility of food. Kids of parents who prepared fresh meals at home consumed less aerated beverages and ate more healthy stuff and were seen to have a better fitness level and healthier food habits. Also increased use of energy-dense and ready-to-eat foods because of both working parents also has a negative impact on kid's health and habits. Over disciplining and pressuring the child to eat only healthy foods also brings a negative impact on kids.
Hence parents eating habits should create a balance by providing healthy eating and at the same time exposing kids to all kinds of food available along with explaining their merits and demerits of them. Also holding them responsible for their own health and giving them monitored authority to choose their own food helps in inculcating the habit of right eating and healthy choices. Also, encouraging the child to fill less food on the plate and finish all by practising the same leaves a great impact on the child's mind. Parents eating habits can model the child's eating behaviour to a high degree.
Always remember, children, learn more from what you do than what you teach.
About the Author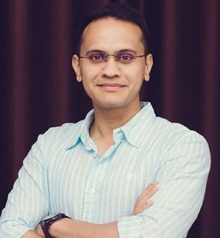 Dietitian Rajat Jain is the Founder & Director of Health Wealth Diet Clinic, the leading nutrition and weight loss clinic in North West India as recommended by numerous fitness platforms. Dr Rajat is a weight loss expert, clinical & sports nutritionist and certified diabetes & wellness educator. He is one of the most trusted and award-winning dietitians in North-West India.
With his experience of more than 5+ years including working with reputed hospitals and fitness centres, Rajat has positively influenced the health of over 7000+ people from different walks of life. Rajat enjoys his distinctiveness of being affiliated with various fitness centres and gyms across West India where he works with the members as a nutrition and diet consultant and engages with their workout and performance on the floor, which offers him a deep understanding of his client's unique level of nutritional response towards their body.
Dt. Rajat Jain has been awarded 5 times in a row as the 'Best Dietitian in Rajasthan' and ranked among the 'Top 10 Most Promising Dietitians in India'. Among various associations, he also works with the Rajasthan Police Academy and Rajasthan Royals Colts & Sparks as their official and consulting sports nutritionist.
Disclaimer:
The information contained in this article is for educational and informational purposes only and is not intended as a health advice. We would ask you to consult a qualified professional or medical expert to gain additional knowledge before you choose to consume any product or perform any exercise.