Living in progressive world has its own pros and cons. A progressive life can bring wealth and prosperity though it can make working couples to rush for their personal goals making them apart and discrete individual. Well, there are only a few professions or can be said ways of life, where both partners can work together being on the same page of life's objective. Fitness can be one of the healthy ways to cement their relationship, as when one's partner looks good and still in shape for event after decades of marriage, it won't let either of them to grey old earlier! Period.
In this piece, Sportz business brings you an exclusive interview of Mann couple viz. Guradesh Mann and Balreet Mann, both work as fitness consultant and are renowned power couple in India. This power couple of India has given millions of reasons to believe the saying, "Couples who train together, live together''. The duo has won a number of accolades in the bodybuilding platform alongside bringing up a beautiful daughter all in the pursuit of healthy and fit living. Let's learn more about them.
Q It's quite rare to find a couple seriously engaged in fitness and bodybuilding, so how do you manage to break the jinx and what made you both spark into being Power Couples?
I started training in 2001 & met Balreet in 2005, at that time she was impassive towards fitness and working out. When our daughter was born, Balreet put on a lot of extra weight & wasn't happy with the way she looked. That's what sparked her to join the gym while getting results on the weight-loss front. Thereafter, working out became a part of her routine but she really got serious when She saw me preparing for Amateur Mr. Olympia in Sep 2019.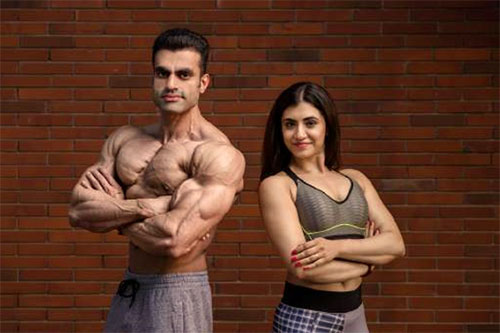 Q One can wonder what kinds of schedules and priorities you put in place in a daily basis. In other words, how do you organize, prioritize things on a normal day?
Balreet's main priority is to bring up our daughter. She does everything for her from studying to playing with her. She only takes limited clients such that Gursifat's upbringing doesn't get affected. Once she grows up & gets independent then she might start taking more clients. I work from home as I am a full time online trainer. As I was preparing for shows planned for the end of this year, lot of my time went towards training & eating. On the weekends, I teach our certification course by the name of Fitness Evolution. In the remaining time, I give preference to studying. Also, soon my partner & I will launch a new online certification course by the name of Elite Coaches & Nutrition Academy. My main goal in life is to work as much till all your basic needs are fulfilled & you get time to do other things in life. Don't prefer working long hours, like a balanced life more. I am lucky that I can make a good living with working 6-8 hours a day.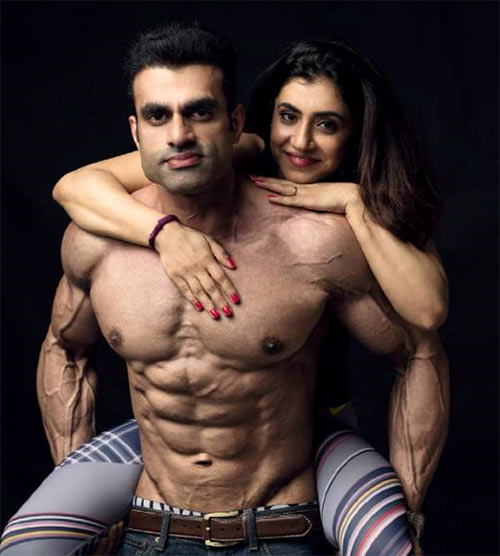 Q What are the major exercise you duo do together?
We follow a basic bodybuilding style weight training routine along with cardiovascular activity in the form of static cycling at home or outdoor walks. We train with weight about 5-6 times a week & cardio depends on the present goal if we are trying to gain muscle, maintain weight or lose fat.
Q Guradesh Mann being a physiotherapist & MNU certified nutritionist you carry immense knowledge of human body anatomy, injuries & nutrition. Well, my question is how scientific and technical contemporary bodybuilding has become?
I started competing in 2004 & since then the landscape of bodybuilding has completely changed. During that time a lot of myths were prevalent, research & information was very limited to some books & websites like bodybuilding.com. Now due to the growth of social media, we have access to the top Coaches, researchers & nutritionists in the world who keep on posting the latest research. Also, a lot of courses are available online if you plan to enhance your knowledge. It is much easier to develop a great physique now if compared to that time.
Q Given, today's more individual time and personality, why do you recommend couple exercises and workout to stimulate endorphins – aka The Happy Chemical?
This is a way to spend more time with each other & in the process you also get fitter together. When your spouse is fit & in good shape then you are more attracted to them, thus improving your relationship.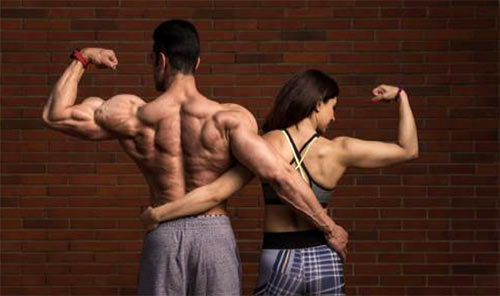 Q Balreet, you have been Mrs. Body Beautiful 2018 and a successful fitness consultant, what inspired you to get into this field?
Post pregnancy, the regular trend in India is that you can never lose the gained weight. But my husband convinced me that it was possible & just needed some patience & consistency towards diet & training. During this process, I developed more interest in this field & thought that I could clear this myth & also help other women to improve their body composition & fitness levels. I joined my husband's personal training certification & learnt all the basics of training & nutrition. Additionally, watching him training clients & how he manages his own diet has given me more experience.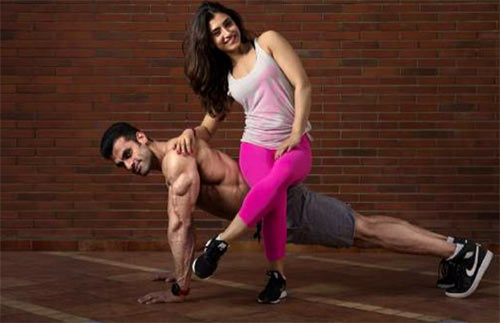 Q Balreet, since when did you enter into modeling and bodybuilding?
Since childhood, I always wanted to participate in a beauty pageant but at that time I wasn't very confident about myself & didn't know how I would respond in front of a large audience. Due to weight training I was able to improve the way I looked which boosted my confidence, gave me the courage to participate & I ended up winning the title of Mrs. Body Beautiful. Since then I have been trying to improve my physique. I don't compete but the way I follow the diet & train is almost similar to an offseason bodybuilder. But I don't restrict to any specific food; I track my macros & calories & eat a large variety of food. So the end goal is to be strong, fit with reasonable body fat levels!
Q Balreet, seeing the psychology of Indian society was it hard to pursue modeling and bodybuilding as a full-time profession and Guradesh Mann helping hands to build a fortifying future?
Before getting married, my parents were not supportive to allow me to participate in a beauty pageant. Guradesh has always been supportive, which allowed me to participate with full confidence. In India, to some extent it depends on the support of the people besides you like your family & partner. I feel, you should always try to be on the same page and respect their thoughts. If your family isn't supportive, you can always work towards changing their thinking.
Q Guradesh Mann and Balreet Mann, this is both for you, what general message you want to give to those Indian couples who want to hit the gym but couldn't amid social cobwebs?
We would advise them to start with any kind of exercise together. Where most people usually make a mistake is that they start out at full pace to expect fast results & end up getting tired, bored or injured over the next few months, leading to a full stop of the activity. Start out slow, maybe 2-3 sessions per week, make it a habit & gradually increase intensity & duration. It should be something that they both enjoy doing. It can be anything like joining a gym, doing yoga, crossfit or any other activity.
Q And the last, how effective is this to stay together while sweating together. Does this mantra really works, workout with your partner it will spark your relationship?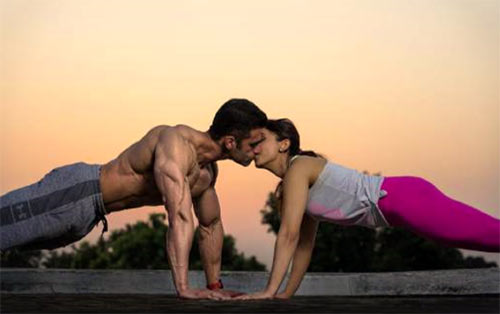 Yes! It definitely has improved our relationship. When you and your partner look good and great in shape, then you feel confident about each other. Added, more time spent together & doing the same thing helps even more. Seeing us training together our daughter has also started to copy us & I feel we are setting a good example for her.
Disclaimer:
The information contained in this article is for educational and informational purposes only and is not intended as a health advice. We would ask you to consult a qualified professional or medical expert to gain additional knowledge before you choose to consume any product or perform any exercise.