Two Indian Karateka Aniket Gupta and Deepika Dhiman are going to represent the country at the forthcoming The World Karate Federation (WKF) Karate 1 Series A Championship 2020 at Santiago, Chile.
The Karate 1 Series A championship which is meant to be the first qualification tournament in the tournament for  Tokyo 2020 Olympics games, is starting from today till 13th January.
A total of 466 Karate players from 65 countries are coming to take part in this championship.
The WKF Karate 1-Series A is a world-class competition that provides karatekas around the world with more competitive opportunities to shine at the highest level. Presented in an open format thus allowing every athlete in the world to compete, the Karate 1- Series A is framed under the umbrella of Karate 1 to bring together the best competitors in a series of open championships of unprecedented scale and quality. In addition to this, the Karate 1-Series A offers karatekas the chance to increase their ranking position as the universality of top Karate tournaments is showcased.
About Indian Karatekas:
Aniket and Deepika both are working in Income Tax Department, Ministry of Finance Government of India; Aniket is Chairman of KAI Athlete Commission of Karate Association of India and Deepika Dhiman one of senior Player in India more information Below
ANIKET GUPTA
Recently Won 3 Medals in 5th SAF Championship 2019 at Dhaka, Bangladesh and Sharjah Open 13th Rank
Current Olympic Standing Ranking 117 for 2020 Olympic Games Tokyo.
Black Belt 5th Dan from JAPAN, WKF, CANADA & NF
2/ Two Gold Medal – USA Open Championship 2015, 2018 & 2019
04 Time Consecutive Commonwealth Championship Gold, Silver & Bronze Medallist (By – CKF)
04 Time Consecutive SAF Championship Gold, Silver & Bronze Medallist (By – SAKF)
03 Time Consecutive Asian Gold & Silver Medallist – Asian Championship (By – STYLE)
14 Time National Medallist "National Federation" (by -NF) since from 2005 till date
16 Time Delhi State Gold Medallist (KAD) since from 2004 till date
Chairman Athlete Commission – (National Federation-NF) i.e. KARATE ASSOCIATION OF INDIA – KAI
First Indian Youngest Certify Coach from WORLD KARATE FEDERATION & ASIAN KARATE FEDERATION
DEEPIKA DHIMAN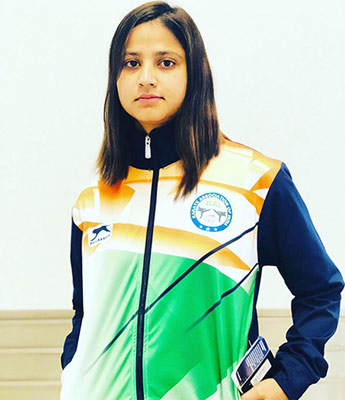 Recently Won 3 Medals in 5th SAF Championship 2019 at Dhaka, Bangladesh and Sharjah Open 7th Rank
Current Olympic Standing Ranking 127 for 2020 Olympic Games Tokyo
Working in Income Tax Department (Ministry of Finance, Govt. of India)
Black Belt 3rd Dan from JAPAN, WKF, CANADA & NF
Rajiv Gandhi State Sports Awardee 2015
Gold Medal – USA Open Championship 2015, 2018 & 2019
04 Time Consecutive Commonwealth Championship Medallist (By – CKF)
02 Time SAF Championship Gold, Silver & Bronze Medallist (By – SAKF)
02 Time Medalists – Asian Championship (Style)
10 Time National Medalist (NF) since 2009 till date
11 Ten Time Delhi State Gold Medalist (KAD) since 2008 till date
Aniket Gupta –  International Achievements:
Current Olympic Standings Ranking 119 in Kata for Tokyo 2020 Olympic Games
Rank 13th out of 46 Player in the Sharjah Open International Championship 2019
Won 1 Silver & 2 Bronze Medals in 5th SAF South Asian Federation Championship 2019
9th and 15th Rank in 16th Senior Asian Karate Federation Championship 2019
Participated in WKF Karate 1 Series A, Karate Championship 2019 at Chile
Participated in WKF Karate 1 Series A, Karate Championship 2019 at Turkey
Won Gold Medal in the USA Open Karate Championship 2019 at USA.
Participated in WKF Karate 1 Series A, Karate Championship 2019 at Austria
Participated in WKF Karate 1 Series A, Karate Championship 2018 at China
Won 1 Silver & 1 Bronze Medal in the 9th Commonwealth Karate Championship 2018
Participated in 24th Senior World Karate Championship 2018 at Spain.
7th Rank in 15th Senior Asian Karate Federation Championship 2018
Participated in WKF Karate 1 Series A, Karate Championship 2018 at Chile
Won 2 Gold Medals in USA Open Karate Championship 2018 at USA.
Participated in WKF Karate 1 Series A, Karate Championship 2018 at Spain
Won Gold Medal in 4th SAKF South Asian Karate Championship 2017
Participate in the 14th Senior Asian Karate Championship 2017 at, Kazakhstan.
Participated in Premier League "K1" World Karate Championship 2017 at UAE
Participated in 23rd Senior World Karate Championship 2016 at Austria
Won Gold Medal in 3rd SAKF South Asian Karate Championship 2016
Participated in Premier League "K1" World Karate Championship 2016 at UAE
Won Gold Medal in 8th Commonwealth Karate Championship 2015
Won Gold Medals in the USA Open Karate Championship 2015 at USA.
Participated in 22nd Senior World Karate Championship 2014 at Germany
Won Gold Medal in 2nd South Asian Senior Karate Championship 2014
Won Silver Medal in 7th Commonwealth Karate Championship 2013
Participated in Premier League "K1" World Karate Championship 2013 at Germany
Participated in "2nd International Karate Open Al-Ahli, Dubai" o at UAE
Participated in 11th Senior Asian Karate Championship 2012 at Uzbekistan.
Won Bronze Medal in 6th Commonwealth Karate Championship 2011
Participated in 10th Senior Asian Karate Championship 2011 at, China
Won Bronze Medal in 1st Singapore Open International Karate Championship 2011
Participated in 9th Cadet and Junior Asian Karate Championship – 2008 at Malaysia.
Participated in 5th Cadet & Junior World Karate Championship 2007 at Turkey.
National Achievements
Won 1 Gold Medal and 2 Silver Medals: Senior National Karate Championship 2019
Won 1 Silver Medal and 1 Bronze Medal in Senior National Karate Championship 2018
Won 1 Silver and 1 Bronze Medal in National Karate Championship 2017
Won 2 Bronze Medal in National Karate Championship 2016
Won 2 Bronze Medal in National Karate Championship 2015
Won 1 Silver Medal in KAI OPEAN NATIONAL KARATE CHAMPIONSHIP 2014
Won 3 Bronze Medal in National Karate Championship 2014
Won 2 Silver Medal in 1st AIKF Open National Karate Championship 2012
Won 1 Silver Medal in 25th AIKF Sr. National Karate Championship 2012
Deepika Dhiman – International Achievements:
Current Olympic Standings Ranking 162 in -55Kg. for Tokyo 2020 Olympic Games
5th Rank in Sharjah Open International Championship at UAE
3 Medals in 5th SAF South Asian Karate Do Federation Championship 2019
9th Rank in 16th Senior Asian Karate Federation Championship 2019
Participated in WKF Karate 1 Series A, Karate Championship 2019 at Turkey
Gold Medal in the USA Open Karate Championship 2019 at USA.
Participated in WKF Karate 1 Series A, Karate Championship 2019 at Austria
Participated in WKF Karate 1 Series A, Karate Championship 2018 at China
3 Bronze Medal in the 9th Commonwealth Karate Championship 2018
Participated in 24th Senior World Karate Championship 2018 at Spain.
Participated in WKF Karate 1 Series A, Karate Championship 2018 at Chile
2 Gold Medals in USA Open Karate Championship 2018 at USA.
Participated in 23rd Senior World Karate Championship 2016 at Austria
Participated in Premier League "K1" World Karate Championship 2016 at UAE
1 Silver Medal in 8th Commonwealth Karate Championship 2015
2 Gold Medals in the USA Open Karate Championship 2015 at USA.
1 Gold and 1 Silver Medal in 2nd South Asian Senior Karate Championship 2014
Participated in 8th WKF Cadet, Junior and Under21 Year World Championship 2013.
1 Silver and 1 Bronze Medal in 7th Commonwealth Karate Championship 2013
Participated in 21st World Karate Federation WKF Senior Karate Championship 2012
Participated in 7th WKF World Cadet, Junior & Under 21 Year World Championship 2011
Bronze Medal in 6th Commonwealth Karate Championship 2011
National Achievements
1 Gold, 2 Silver and 1 Bronze Medal in Senior National Championship 2019
2 Bronze Medal in Senior National Karate Championship 2018
2 Bronze Medal in Senior National Karate Championship 2017
2 Silver and 1 Bronze Medal in Senior National Karate Championship 2016
1 Silver Medal in Senior National Karate Championship 2015
2 Silver Medal in National Under -21 Years Karate Championship 2014
1 Silver and 2 Bronze Medal in Senior National Karate Championship 2014
1 Gold and 2 Bronze Medal in KAI National Senior Karate Championship 2013
Rajiv Gandhi State Sports Award 2015 Awarded by Director of Education Sports Govt. of NCT of Delhi