Many of us know the consequences of not having sports shoes for the gym for our daily workout purpose. Having proper sports shoes will evade all the unnecessary injuries and aches, that we might face during any type of physical activity. This is certainly another type of gear that an individual should consider for his/her fitness purpose.
Sports shoes for the gym are an essential part of our life. In order to remain fit in life or for travelling, running, walking, jogging, working out, etc we require a good quality sports shoe. Under Sports shoes, they are sub-categories like running shoes, walking shoes, gym shoes, etc. So, it is to be noted that every type of shoe possesses some different attributes so that you can choose and use your shoe as per your requirements.
Benefits of Sport Shoes
Provides Protection – Sports Shoes for the gym are designed for the specific purpose of running, so you can expect protection. You can avoid tripping or spraining your feet, which are common risks in this activity. Those who have flat feet can benefit from their arch support. Other protection they offer is from supination or rolling your foot outward and overpronation or rolling your foot forward when you run.
Enhances Performance – With the right sports shoes for the gym, your performance will be better and faster, which is a massive advantage in competitive sports. Even if it is not a competition, it also has its benefits for your health. As you increase your speed and the distance you run, you also burn more calories. It will make you fit, and it is also good for the heart.
Offers breathability – Your feet tend to feel hot faster when running. To counteract this, sports shoes for the gym are made from breathable materials, so the heat can escape better, decreasing the discomfort brought about by them. Unfortunately, other shoes do not have the same feature, so you may suffer during performing any physical activity.
Prevents pains and blisters – Your feet carry the weight of your entire body, which is no wonder why they are the first ones to feel pain when running. While you cannot entirely eliminate these aches, especially if running a distance or performing a strenuous physical workout. In this regard, the best sports shoes for the gym can significantly help decrease pain. These shoes offer cushions and prevent the feet from moving forward and back, thus, preventing blisters caused by friction, which can be painful.
Improved Athletic Performance – Those who use the right type of sports shoes may experience greater athletic improvement than those who do not. It has been observed that proper sports shoes for gym competitive runners, therefore, greatly benefit from wearing them. Even those who are not competing can still achieve improvements in athletic performance by wearing running shoes.
Top 10 Sport Shoes That You Should Consider Buying
If you are looking for some great sports shoes for the gym, then with the help of this article we will try to figure out some of the best sports shoes that you should consider buying and thus wearing too, for your daily workout purpose.
1.) Nike Air Zoom Rival Fly 3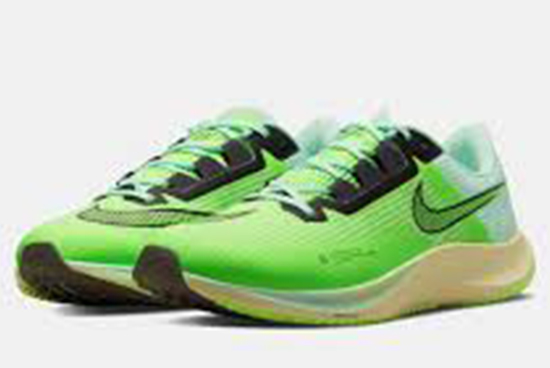 A shoe that looks and feels far more expensive than it actually is. The Air Zoom Rival Fly 3 is a very good option for casual runners who don't want to invest too heavily. What they lack in premium running technology, they more makeup in terms of fitting, comfort and weight. The Fly 3 is one of the lightest trainers on Nike's roster, and the carbon plate on the midsole, coupled with the react foam, means that they are ready to handle intense speed workouts.
2.) APL TechLoom Bliss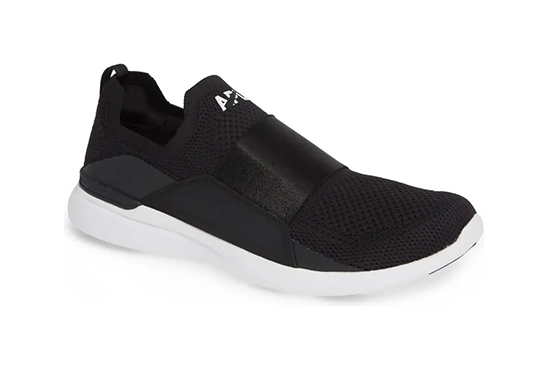 Super light and lace-less, relying on snug elasticated straps to keep your foot in place. The resilient Techloom fabric will ensure that the fit stays that way. What's more, they are surprisingly cushioned given the lack of depth on the midsole, and the traction is top-tier.
3.) Nike Air Zoom Pegasus 39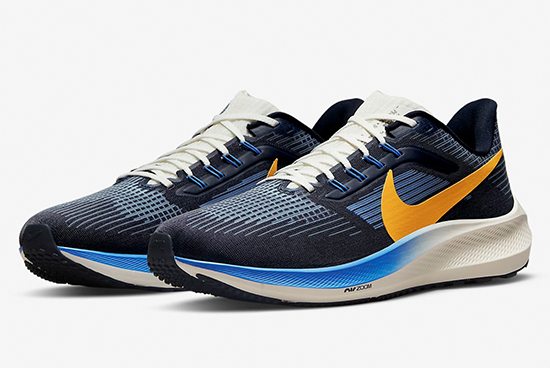 This shoe is affordable, comfortable and durable, everything a casual runner needs in a shoe. The 39th iteration comes with an improved fit and weighs in at even less than its predecessor, with a Zoom Air unit, and a cushioning system that now covers the heel as well as the forefoot. It's slightly bigger than some of the other similarly-priced options on this list, but still a great choice.
4.) Salomon Raid Wind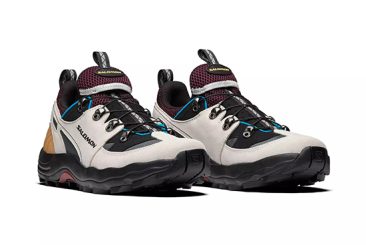 Salomon Raid Wind is colourful, hiking-inspired design of the shoe thankfully hasn't changed much since its inception. The shoe has breathable mesh made of recycled materials that adorn the upper, while dual-density Ortholite sock liners keep you feeling cushy. Then there are the all-terrain Contagrip rubber soles for proper traction on tricky surfaces.
5.) Nike Pegasus Trail 3 GORE-TEX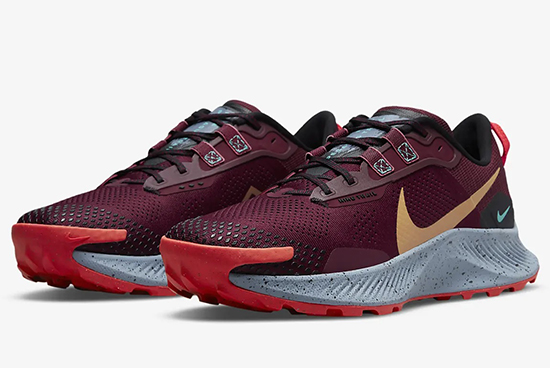 This GORE-TEX shoe from Nike keeps you dry in even the stormiest conditions, while the shockwave-patterned rubber outsole gives you the traction you need on rocky terrain.
6.) Under Armour Men's Sports Shoes For Gym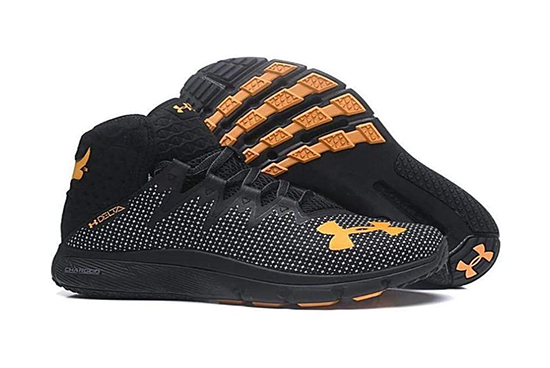 Under Armour is an international sports brand that is quite popular for offering high-quality running shoes endorsed by elite athletes. In this shoe, you can find moulded micro G Sockline that assures to deliver best-in-class cushioning and a classy fit to your feet. The pair comes with a two-layer charged cushioning midsole and rubber outsoles, precisely designed to deliver extra flexibility and amazing grip support.
7.) Adidas Men's Drogo M Shoes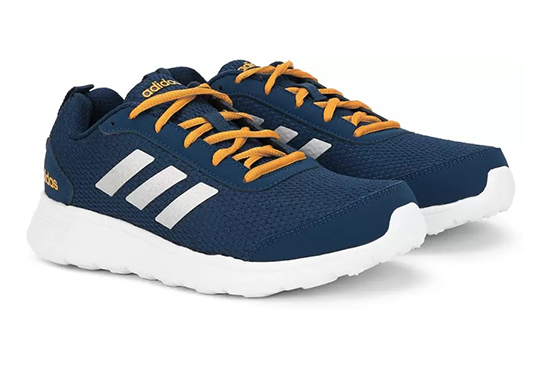 This shoe is yet another popular sports apparel and shoe brand that has a huge brand recall among youngsters. The Drogo M shoes come with built-in synthetic mesh on the top side which delivers the pair a breathable look. The inner midsole is embedded with ADIPRENE Spring Bounce to give an amazing cushioning effect and flexibility to the shoes.
8.) Puma Men's Enzo Mesh Running Shoes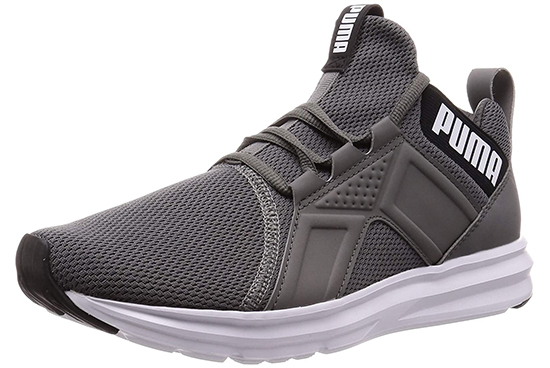 This shoe from Puma consists of a double-layer sole to ensure that you get a super grip while doing a gym workout. Besides, owing to its good quality synthetic finish, you can feel the light weight of the gym shoes which again makes it a perfect pair for several purposes like running and weight lifting. To avoid easily abrasion of the sole, Puma has put nylon to design the lower sole.
9.) ASICS Metrolyte II Multisport Training Shoes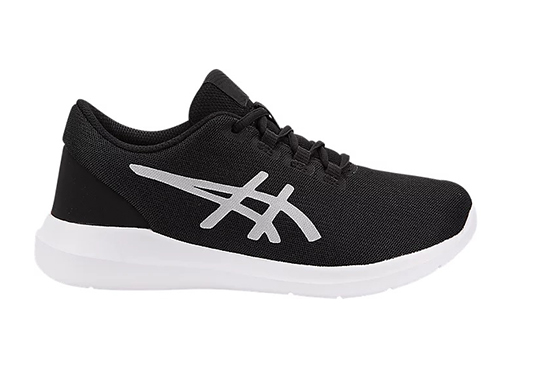 These ASICS Metrolyte II multi-sport training shoes are made up of full-length memory foam to ensure that the pair distributes your body weight evenly while running and lifting heavy. The memory foam also eases your body pressure on the heels of the sole limiting any chance of getting injured in your knee. The sock liner present in this shoe keeps your feet warm in case of cold weather. Owing to its impeccable grip and cushion, the ASICS Metrolyte II multisport training shoes are a perfect piece for doing heavy lifting.
10.) Nike Air Max Infuriate 2 Shoes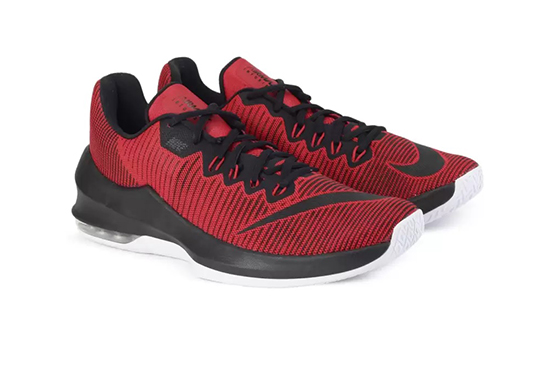 The Nike Air Max Infuriate 2 Shoes come with the same design pattern that helps to transfer the energy of your feet to your whole body without putting much pressure on your feet. Its herringbone pattern lets you use the gym shoe on any surface from a grass court to concrete turfs. This shoe is made of synthetic leather material which aids to hold the form and increases the shoe's durability. It should be noted that synthetic leather is more water-resistant in comparison to real leather, which can stain and suffer damage when exposed to water. The heels of Nike Air Max Infuriate 2 shoes are cushioned to promote shock absorption and prevent you from getting injured during a workout.
Disclaimer:
The information contained in this article is for educational and informational purposes only and is not intended as a health advice. We would ask you to consult a qualified professional or medical expert to gain additional knowledge before you choose to consume any product or perform any exercise.