There is a dearth of well-trained and educated fitness trainers in the fitness industry. Today, people are getting hitched towards fitness and a healthy living and a well-informed counseling and training suffice their requisites. Adding more contrast to the fitness training, internet is also playing pivotal role for both clients and trainers. There ain't any boundaries defined for the online trainers and they inculcate the most scientific approach for their clients.
Knowing more about the online fitness training, Abhinav from Sportz Business talks to Himanshu Singh, an ISSA Certified Fitness Trainer and the owner of The Titan Gym and Titan Food in Kanpur. Himanshu shares his insights over the trend of online fitness training in cities like Kanpur and how he caters his clients online.
Q What made you enter into Online Fitness Coaching field and the kind of responses you have been receiving?
I have been into fitness business for 4 years and I have seen an immense growth in this field. Earlier, I used to upload my training videos and shirtless selfies, then, never knew that people will like helping me get strong following base on Instagram. Later, when I got certified, I started writing fitness blogs on training people to achieve best results. I have also showed them my transformations. People often ask me different things related to their fitness goals and I truly love helping them that technically made me an Online Fitness Coach. Later, I started getting positive responses from my clients which prompt me to make this my full-time business.
Q What do people look in before bumping into Online Fitness Coach and benefits of people joining your classes?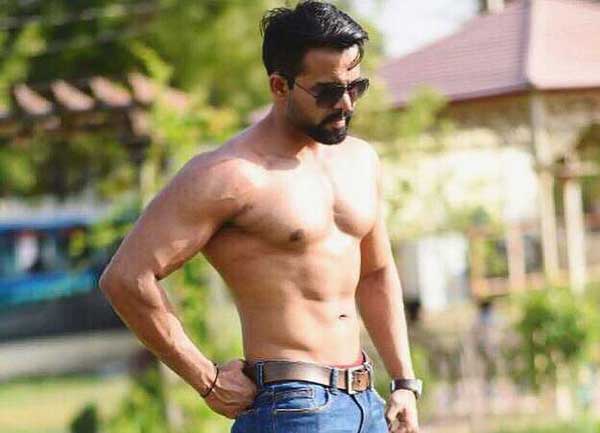 In India, what people basically focus on is abdomen and huge arms. Before looking at your training experience and your fitness knowledge they look how many abs their trainer have and how big is his arms and chest.
However most of my trainings are from people who read my fitness blogs on Quora. They see my personal body transformation from 30% to 9% body fat. And they message me or mail me for help. The most important benefit people get from my coaching is a completely supplements free body  transformation. I don't even include Whey Proteins or fat burners to their schedules, because I know the real science behind fitness. Their transformation is 100% natural.
Q What interests you most about health and nutrition?
I've been working out from past 8 years and I'm into Fitness business since 2015. What actually motivates me is the smile and confidence people get once they're into their fitness journey and start seeing results. Damn! That feeling, when people get improved physique and ask me more questions that is the point of time when I love answering them.
Once they reach to their desired goal, they start sharing their before and after photos on social media and tag me, this gives me sheer happiness. They do WhatsApp me their home videos while doing workout and cooking their healthy food. All these things give me kick to keep sharing my knowledge and helping people.
Q Tell us about your Titan Fitness gym and Titan Food?
TITAN FITNESS is a 2000 sq. ft. self-made training facility established in 2015. In these years, I have trained more than 3000 clients and transformed more than 200 people. It's my full time business! Since nutrition plays 70% of the role, later, I found TITANFIT FOOD to teach my gym members and online clients about good diet and nutrition. I regularly upload homemade meals with proper MACROS and the best time to consume it. Sometimes I upload cheat meals too ;).
Q Since you own a gym in Kanpur, how you see bodybuilding and fitness growing in the city respectively?
Kanpur is a big city and when I started my gym in 2015, people were not much conscious about their physique. I mean they join gym, they lift weights, they do cardio but it's like all a part of their lifestyle. 75% of members are doing it without any specific fitness goal.
But now there's a vast change. People watch training videos on YouTube, they follow their favorite athletes on Instagram. And many design their own custom routine. It's like people seriously want to work on their self.
Q Being from a tier-2 city of Kanpur, how much it becomes tough to procure qualitative gym equipment?
Hey, good training equipment's are important but you know a legend once said, It's all about the trainer; not the equipment. Few barbells, few DB's and some free weights. Rest leave it on me.
Q Any challenges you see working in this Field?
Too many challenges as new gyms are opening every day. Fake fitness trainers with zero knowledge of fitness science but 100% steroidal physique are coming everyday into picture. Maintaining quality over quantity is a super challenge. Having a USP and telling people what they can offer is not an easy task.
Q What do you suggest in diet and basic workout for those who can't hit the gym on regular basis but still wants to be fit?
It's simple! Those who want to gain weight just focus on taking 5-6 meals a day, keeping an appropriate protein, carbs and fats in every meal. Try to keep your protein intake up to 70 grams. Do basic bodyweight exercises like pull-ups and pushup, eat a lot but only quality food. Those who want to lose weight try to be active and burn as much calories as possible. Do HIIT/cardio or dance like nobody's watching. Go for running or a brisk walk, try sprinting.
Avoid fried meals and juices. Reduce carb intake after 6PM and strictly no carbs after 8PM.
Q Talking on the monetary, how profitable is gym business and how is your business being growing in recent time?
Fitness is the future of India. This is the only business which is yet to become full fledge in our country. The best thing of India today is that it has the largest no. of youths. And youths are more motivated to look good and feel confident. I've seen my business stats growing. All you need to take care of your clients and make them believe you can give them for what they've been looking for. But I sometimes pat myself for learning so much about this business and having good knowledge about it.
Q How do you see bodybuilding and fitness in the next few years in cities like Kanpur? 
Kanpur is a big city with 30 lakh people. I've seen so many bodybuilding shows and fitness concerts running in my city, growing year by year. Looking at the intensity and aspirations of fitness freaks I can say that the time is near when the city is going to give Pros.
Disclaimer:
The information contained in this article is for educational and informational purposes only and is not intended as a health advice. We would ask you to consult a qualified professional or medical expert to gain additional knowledge before you choose to consume any product or perform any exercise.