If you want to shed some stubborn fats off your body, then there is nothing better than to do some cardio workouts. And when we talk about the cardio workout, there is one of the most effective machines that help you to tone your lower body, as well as cut some stubborn fats off your overall body and that is a Stepmill.
Amidst several cardio fitness equipment, Stepmill happens to be the most effective one that fitness experts suggest to cut fats of your overall body fat.
Stepmill might sound quite new to many fitness enthusiasts, however, the international chains of gym brands and luxe gyms are in fact installing the machine along with other allied cardio fitness equipment like treadmills, stationary bikes, and ellipticals. The Stepmill is yet to be commercialized and installed on a larger volume in Indian gyms.
The fitness equipment simply works on the concept of climbing the stairs without going anywhere but more towards your fitness goals.
Stepmill is like a stationary staircase that has some iron steps operated by a motor behind for the automation. In general, the Stepmill does look like an escalator that can be spotted in a corner of a dedicated cardio room of a high-end gym. While searching on google, netizens usually get confused between Stepmill and step machines which have just two paddles that allow you to stand on and pump up and down.
Notably, these two amazing cardio machines were introduced by the same fitness brand viz. StairMaster Company. It was in 1983, StairMaster introduced the first Stepmill or rotating staircase (that people used to call it) with the name Stairmaster 5000. Moving ahead, Stairmaster released the StairMaster 4000PT that has two independent pedals to imitate stair climbing. In case people don't want to get confused in between a stairmill and step machine, they should understand one thing that Stepmill or Stairmill refers to a rotating staircase while Stairmaster or step machine refers to a pedal climber.
Let's discuss what are the benefits that people can get out of Stepmills to hit their fitness goals.
Benefits of Stepmill: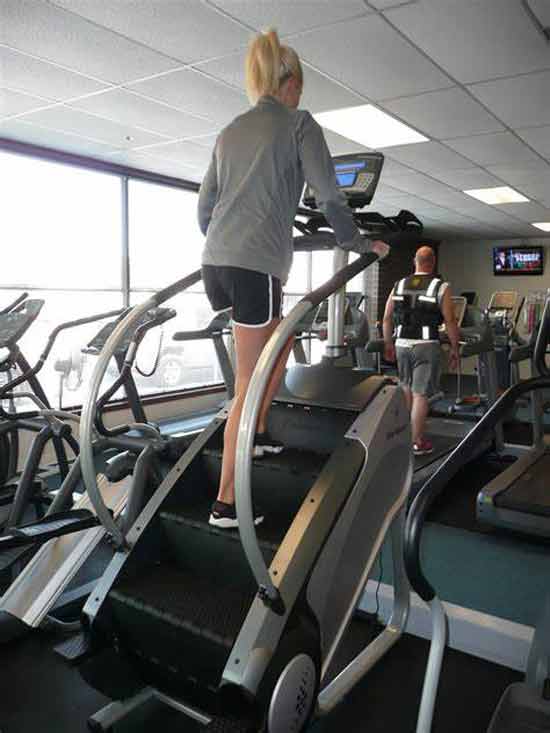 Doing a Stepmill workout helps one to engage their largest muscle groups by repeatedly lifting bodyweight up steadily step after step.
Stepmill provides great cardiovascular health devoid of putting much stress over the joints.
Stepmill doesn't require any bouncing motion which is great if you have not digested your food yet. It also leverages pregnant ladies to ride on, as it's quite safe to do. All you need to do is to take little steps.
It strengthens core muscle power
By just maintaining balance on the stepmill, one can engage every major lower body muscle with every step, and the climbing up delivers more power and endurance to the lower body.
As it's a low impact cardio workout, so one can go as hard as he or she wants without any wear or tear on their joints and ligaments.
Stepmill also helps to hit the muscle group of your lower body. Once you get on the Stepmill, it becomes easy to target each side of their lower body by taking sideways, backward, and again sideways. It Should be noted other cardio fitness equipment doesn't allow such twists and turn unless you are not some professional acrobat.
Users can easily customize Stepmill's setting and set resistance as per their convenience.
Stepmill meeting the current workout trend
If you ever browsed fitness enthusiasts especially the women, it seems they are much into sculpting coveted round and lifted booty. During the lockdown, if you see the trend of fitness challenges, most of them were around 'Squats Challenge' which means apparently everyone was glued into developing spectacular glutes. Now, when the gyms are open, it's high time to hit your glutes like never before and according to fitness experts, Stepmill happens to be the best fitness equipment to go with.
There are some Stepmill exercises that you can try to get great glutes. We have enlisted a few down below:
Some Glutes Workouts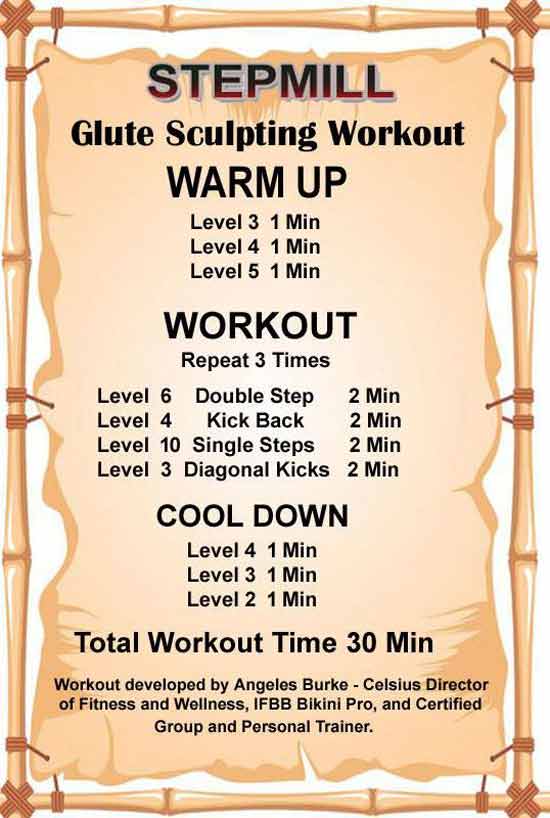 To start with, you need to warm up by just walking up on the Stepmill for 1-2 minutes.
Double Step: In this form, you need to skip a stair each step with alternative leg. The Stepmill workout helps you tone and lift your glutes and hamstrings. One thing to note, try to push up using your heels keeping the focus off the quadriceps.
Kickback: Stand straight with a tall posture and, place your palms on the side rails and start kicking back with your right leg (first) and hold at the top for one second. Now, step up again on the Stepmill and kick back (this time left one) hold for a second and step up. If you find the speed of your Step mill too fast, then lower it down up to your comfort level.
While doing the kickback keep your leg straight and don't arch your back. During the kickback, you should feel burn in your glutes not in your back. One more thing to note while doing kickback, you should not kick your leg too high as it is not your ultimate goal. Rather, try to concentrate on the full contraction of your glute's muscles at the top.
Single Step: In this workout, you simply climb each step imitating an act of stepping up a flight of stairs. In order to increase the intensity of the workout, keep both hands of yours by your side and take step up on the stepmill. As you continue to step up for more than one minute, your quads should begin to burn.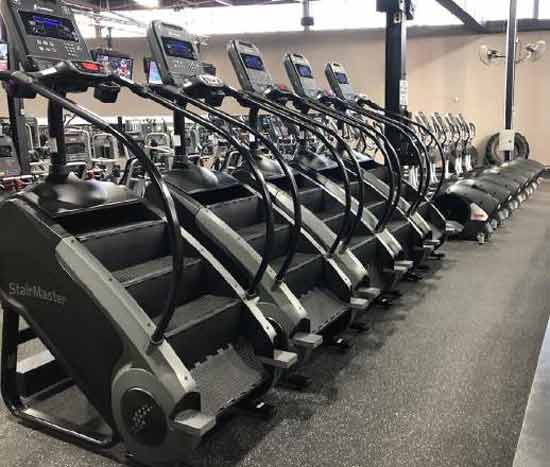 Diagonal Kick Back: Instead of kicking back your leg straight back, in this workout, you need to move your leg diagonally. Once you need to reach the top of the movement, control and squeeze your glutes. The movement will work on your glutes and abductor muscles. During the course of workout, try to keep your upper body straight focusing on the lower body.
Disclaimer:
The information contained in this article is for educational and informational purposes only and is not intended as a health advice. We would ask you to consult a qualified professional or medical expert to gain additional knowledge before you choose to consume any product or perform any exercise.