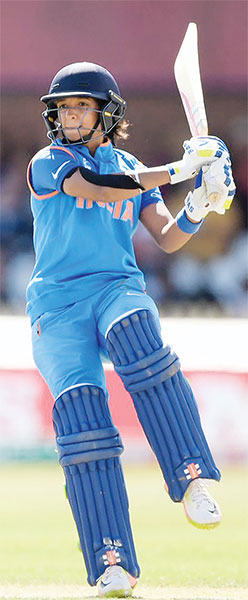 Accoladed for being the best striker of the ball, sporting a new dimension in women's cricket, Harmanpreet Kaur, the T20I Captain for India Women's Cricket team has created an inviolable side of her story. Niloy Banerjee from SportzBusiness, in an interview with Harmanpreet unveils her techniques, favorites and the adroitness which makes her one of the most popular captains till today. Below Edited Nub explores it all.
Q Among the many career-best, which is the best moment among them?
One of my Most definite best career moments have been the 171 not out knock . It will always remain very close to my heart as it helped me break my own barriers and think beyond the unexpected. It has extended my reach and desire to think big and create it for myself .
Q What is your next big thing to achieve in Women's International cricket and how do you aim to achieve it?
It's the most obvious answer any sportsperson would give i.e. to bring the world title home. I am quite desperate to for once give it my all to have the world cup visit home. I along with my team together are working very hard and looking at a target yet to be achieved by all of us. We aim at growing together and bringing the best to our sport and our country. After having touched bases with the finals and then losing in the semi – finals we definitely expect a bullet Performance by each one of our team members.
Q Who has been your idol in the cricket fraternity given your aggressive-style of playing?
I have always admired Sehwag for being so calm on the field and yet ballistic with the bat. Maxwell for always attacking on the ball and playing so fast. And I have a couple of other favourites too.
Q What is the best shot you love yourself see to play?
Playing in the air and allowing the ball to cross the stands is always a thrill to me. But I love to play on top of the deep mid-off and the sweep shot.
Q Spinners or fast bowlers, against who you love making the cracking sound of strokes coming from?
Spinners give me confidence to settle and patiently get me runs on the board. So I'm always comfortable playing spinners.
Q Your fitness goals and a bit about your daily routine?
Fitness is my routine and the mantra to a good and active life is to never break that routine.
No matter what the conditions are I respect my routine and try to never unfollow. I wake up and admire mornings and go for my fitness and then go ahead with the rest of my day. Evenings I usually keep for my skills and basics.
Q Consistency, and keep-on performing attitude is key to Indian cricket style, hence how do you keep that zeal up every time?
I try and build a momentum everytime and even if that doesn't include my performance, I always try to give my best to support my team and lead them to winning and putting up a good show in the field. We all sports people thrive to perform everyday and yet if not achieve it we try and fight until the end of time.
Q Given your fitness regime, injuries are common in cricket. How crucial is for you to keep yourself injury-free in or out of the field?
It is very important to monitor everything on the scale for a sportsperson to remain fit and injury free. From diet, fitness routine, strength training, rehabs, muscle therapies, sleep, thoughts, good lifestyle everything is crucial. Hence, these things help you be physically and mentally fit.
Q How do you see the ups and downs in your career?
I see them as lessons for better leanings. Always giving me an opportunity to come out better.
Q Your inspiring words to uplift women aiming to stroke-into cricket?
Looking at the elevation and the development in women's cricket, I only wish for every girl who has dreams should take up and follow the path towards the glory because now is the time where everyone the smallest effort will be recognized. Allowing yourself to dream and aspire is just OK.
Q Being the India T20I skipper, how do you keep your team motivated?
I stay motivated and I'm sure that keeps my team motivated too.
Q Players like Jemimah Rodrigues, Deepti Sharma, and more recently Harleen Deol are taking the same aggressive-style of batting, your comments about these new players given the changing scene of Indian women cricketing sport?
These girls are young and making the most of their strengths and batting styles. They are more attacking and fearlessly going for scoring big runs. They are the future of women's cricket and it's very good to watch them play like this.
Q When not playing cricket, where we can find Harmanpreet and thing she loves to do in spare time?
I would like to associate my with cricket or sports on a larger level, after my retirement.
Disclaimer:
The information contained in this article is for educational and informational purposes only and is not intended as a health advice. We would ask you to consult a qualified professional or medical expert to gain additional knowledge before you choose to consume any product or perform any exercise.