Our expertise lies in making the culture of sports more advanced and developed so that it gets recognised, worldwide cited, Piyush Sachdeva, Founder & CEO High Times Solutions. Ahead in a candid chat Piyush takes Niloy from Sportz Business in a tour of High Times Solutions, the idea, and future of the esteemed firm taking sports business to a new level. Edited Nub Below.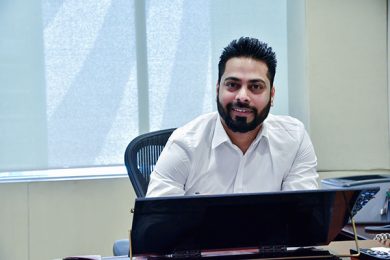 What are the key areas where we can find High Times Solutions' expertise?
High Times Solutions is focused on delivering world-class sporting solutions and the overall development of sports. Our expertise lies in making the culture of sports more advanced and developed so that it gets recognised, worldwide. We have been doing several successful proceedings to raise this awareness and have been involving the government as well, towards the development of better infrastructure, basic facilities, and platforms for the upcoming generation of sportsmen/women. We have an expertise in creating intellectual properties, preparing business ventures, consultancy, planning, providing digital solutions, helping with licensing & merchandising, fetching sponsorships, developing infrastructure and another venture named PS Films & production for the public, several brands and the entire sports community to foster their growth. I even wish to add non-tangible expertise here, we do everything just in order to make our sports sector and sports community grow and I always count this as an achievement that we never did anything for selfish reasons and never just promised yet underdelivered. this makes us stand out from the rest and I count this as our expertise.
Tell us a bit about your company establishment and since then the journey?
I started with my company at the age of 21 but I did start aspiring towards the betterment of sports and infrastructure when I was 12. I started an NGO back then to foster basic improvements that the sports industry required. Being somebody who has lived the life of a sportsman, I was well aware of the needs of the time. I knew the loopholes and the ways to fix them. And today, I am proud to say that I am one of the contributors who took the sports culture of India to a better platform where the players are well equipped and have the opportunities to make themselves better. And yes, I agree that there's still a long way left to cover and I am ready for it.
The journey, no doubt, was a tough ride. I witnessed several ups and downs but there was nothing that shook my belief and determination to achieve what we have today. I never took any obstacle as a challenge as it made me stronger and helped me work harder to achieve my vision. I always embrace them the most. Plus, sports is where my heart lies and I will do everything in my power to make it grow, today and forever. No matter how difficult the challenges get.
What are the successful projects of High Times Solutions and the ongoing projects you want to underline?
The successful projects that HTS has worked on are the 10k run, establishment of several NGOs like India Sport, Women Sports Foundation and India Road Runners and the luxury accessories and merchandise brand–CheQmate and Quincella. We are currently working on two projects that are focussed to bring about the change at the grassroots level and at the same time will present an international levelled competition & atmosphere to the sports enthusiasts in order to showcase their enthusiasm either by performing or by witnessing the performances. These are one of a kind event in the history of the nation and will be the greatest of all times. We aim to develop the sporting foundation right from the lowest level and take it to its very own apex and give Indian players and their supporters the opportunity that they deserve. Apart from these tournaments, we have several medical and coaching camps set up at several different locations across India to benefit everyone who needs help. Camps like these directly help the ones deprived of the help they require.
How do you see the sports infrastructure/ sports and entertainment management sector growing in India, challenges, and scopes?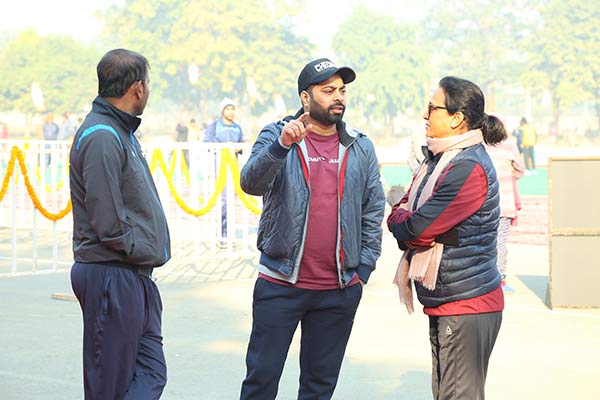 The sports infrastructure, as I mention my concern everywhere, is not adequate in order to meet the requirement of the country. The world is growing at a rapid pace and so are the sports opportunities and competition. In order to cope up with the pace of the world, our country needs to buck up. The individuals who talk about bringing a change should remain involved until the very end and take their responsibilities seriously. Otherwise, excelling in sports will only remain a pipe dream to each one of us. There are several challenges, and I accept this, but nothing will change until the initiation is done from the grassroots level. The country will not grow in sports if things are made easy enough anyway, everyone becomes stronger with challenges but this does not mean that we should not keep a keen eye at the grassroots level itself. Every sector demands growth, and so does sports.
The biggest challenge in the growth of this sector is the laid back attitude of the ones responsible. Until this doesn't change we cannot expect tremendous growth in the sports sector. Everybody promises fortunes but when it comes to do something they are nowhere to be traced. People should not join this league to glorify themselves but to do justice to what they pledge to, i.e. to glorify this sector and make it better in all forms possible. The scope is infinite, the world is moving towards even greater achievements with each passing day. If we wish to stay in the international league then this is the best time to harness the infinite scope that this sector holds within. The best way to start this at the grassroots level is by hosting district and state-level games, especially the ones played in the Olympics and Asian Games, to encourage participation and to provide enthusiasts with a platform they deserve. The initiation of such games by all the state/UT governments is very important at this time. The championships like under 14,16,19,22 & senior level are yet another healthy way to categorize these district/state games. After this, the government can move to invest in international stadiums in every state and Union territory of the country. And one more important call of the hour includes the enhancement of the sports competition level at private and government institutes. Unless they are given a great environment with a great level since the very beginning they will not have the real sportsman spirit in them which is not a good state to be in.
Service-driven business models are how the market seems maturing, hence how do you ensure a long-driven relation with your clients clearing every nitty-gritty of the projects?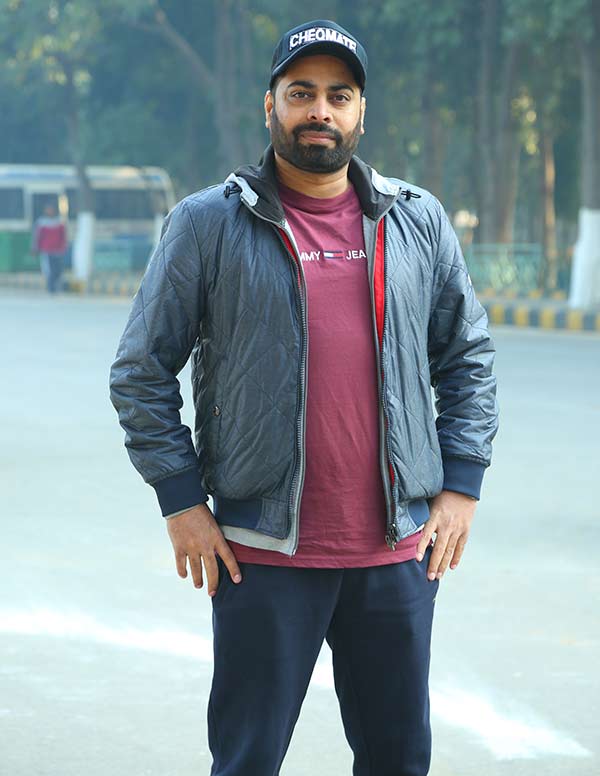 The idea of service-driven business models is not new to HTS, since the very beginning, HTS has all been about its stakeholders. The HTS has never organised an event that does not go with its clients' priority as we always take care of their benefits.
In some cases, we also come up with tailored- programs for our stakeholders and clients ensuring long-driven relations with them. So, this is something we call the basic 'mantra' of our success.
Tell us about one of the biggest challenges you face after taking the contract of projects?
See, as I've already mentioned, challenges are just opportunities in disguised forms that make us better if we face them and help us work harder to achieve them. And moreover, once I sign up for something then there is nothing called a challenge for me. Everything that crosses my path is some other opportunity testing my determination and asking me to give more of my time and efforts. These are my favourite driving forces. My passion for sports makes everything look positive to me. As I am sports and sports is me, for me, so challenges never matter to me, it is getting the task done is what does.
Your comments on Government's initiatives like Fit India and Khelo India?
I've always been a keen supporter of every initiative taken towards the betterment of sports then be it any initiative. Whether the government launches it or a private sector does or maybe a social sector initiates anything for that matter, I regard every initiative towards sports with the utmost respect. These initiatives promote fitness and a sense of competition in the entire nation which is a sheer necessity of our India at this moment. Although, everyone should understand this very very carefully that Fitness is what every person requires and should abide by while when we say sports tournaments and competitions specifically then it talks of professionalism towards sports and of players, it should be regarded with a serious executive approach. If people take fitness seriously then the number of medical issues will automatically drop down and if the players take the competition seriously then the number of players emerging from our nation and representing us in the international front will go up tremendously. I am very glad to see that these days people have taken sports and fitness very seriously. They should also embrace the difference between the two.
We should have more Khelo India levelled competitions at every level to bolster the feeling of competition and sports in the young minds. Every district/state should host such high levelled School/university games for everybody possible. Previous National/International players should be given the position of coaches in schools and colleges. But before doing this the government needs to upgrade the course provided by the National Institute of Sports and the Sports Authority of India in order to become a coach and a physical trainer. As they are not just to control the discipline of the schools but to foster sports and the feeling of competition amongst the players.
Also, it's high time that we make sports compulsory in our schools and universities. And to propel this even further the schools and universities should provide more scholarships and admits on the basis of sports. This will in return help them and the nation itself. And for this to happen, every school and university should focus on their sports infrastructure and requirements as this is the budding stage of the development of their skills. Who knows, these students can even be the next representatives of India in the international fronts. Everybody should contribute in their ways to take these Fit India and 'Khelo India' like initiatives to greater heights.
A new form of media platforms are emerging, how does High Times Solutions help integrate these new platforms for client's seamless experience?
We have always believed in the optimum use of all the possible media platforms as media is one of the biggest boons to our civilization. We have incorporated all the platforms into our day to day activities which have made us an apple of the media's eye. This not only benefits us but our clients as well to get a wide outreach. Our constant business with several prominent personalities helps us maintain our attention. And I must say, everybody involved (be it directly or indirectly) is a benefit holder here. And for now, social media platforms are used the most.
High Times Solutions' role in the overall development of sports?
This is the primary vision of our company. All of our proceedings directly or indirectly influence sports development. We not only host tournaments or sports development programs but also support the players, infrastructure development, intellectual property development, etc. This way we foster the overall development of sports. We have been the direct contributors to the development then be it at the beginning stages or be it at the peak while discovering new heights. We have worked at all levels for all sorts of development be it financial, intellectual, physical, mental, everything. One thing that remains intact throughout is that everything that we do is done without any selfish interests and with a firm belief in long term relations. Our business model is always crafted to benefit the players, associations and communities associated with us. We have seen a positive change in the overall development of sports through our contributions and we promise ourselves to continue witnessing the same uprise in a better amount.
Piyush, you have been a national level cricketer from Haryana. Hence how do you aim to collaborate with Public/Private entities to promote sports in the state?
I have been playing since I was a kid. But my early age never stopped me from dreaming big, I always aspired that we will have an international stadium in my state one day. I was merely 12 when I started planning of making this possible whenever I become capable enough of gathering the resources required. The actual efforts in making sports a revolution in the city started when I was 21, I started brainstorming and working towards it. And here I am today, even closer to my childhood aspiration. All this is hard work and sheer Determination, nothing else.
I plan to collaborate with the Public and Private sector in this noble cause through competitions and other awareness programs. I have already been doing this and yes, obviously wish to expand it to the maximum possible. This again benefits both the sports sector and the partners along with the city and the nation as it helps generate revenue. I'll state one recent example here, we organised the 10k run in the city of Karnal. People from several other states and countries attended and participated which increased the business of hotels, shopping centres and in turn contributing to the State revenue generation. This even got the city recognised. So events like and bigger than these will be a bonus.
Being a young, dynamic and successful entrepreneur, what are your tips to budding entrepreneurs striving to build new dimension in the market?  
The first and foremost thing is to Stay Positive, always. Whatever the situation be just remembered to hold on to your visions with utmost determination. Things might not fall into place since the very beginning, it might take time to get your first breakthrough or the first big profit. Good things do take time but it doesn't mean that you lose hope. Secondly, it's all about taking risks, it is very important. For me what always works is, firstly, being positive even if the projects I do are not holding any profit for me directly. Secondly, having a long term vision, I never run after short term profits and this helps. And lastly the most important one, I always stand by my words and think in the benefits of my stakeholders and all the benefactors, I am always loyal to them, no matter what.
As we move towards 2020, what are the key strategies and goals of High Times Solutions we can expect?
See, we started off as an organisation with a mere vision of the growth, development, and benefits of sports and sportsperson. Then came the phase we worked towards it. Here, we provided the players with essential equipment, scholarships, and a platform to realise their power & confidence-boosting experience through cash winning events. Then came the third phase where I established my company, as every noble deed requires funding. Our plans were nothing without funds. And currently, we have hosted several unique events and programs, which directly help us fulfil the initial vision of growth and development of sports and the sportsperson. And as I mentioned that I do not believe in short term benefits so I'll tell you about my long term vision for the upcoming 'years'. It is to build a multinational sports complex or I would call it a sports village. This will be equipped with all the facilities ranging from hostels to gyms and from high-quality grounds to best player guidance personnel. And there will be international stadiums here to host international tournaments from time to time. I envision to make the best sports village in the country in the upcoming years so that we can locate India on the top of the International Sports Stats Chart. This will fortify my vision even better.
How important do you see the role of media in helping propel the brand and overall sports in this country?
Media has a very important role to play in the development of sports and sportsperson. If it wouldn't be the media then the level at which Sports is recognised all over would be the same. We got to know about sports as a brand, the competition that persists and the ones taking this forward through media only. Had it not been the wonders of media a whole lot of achievers would be lost in different parts of the world. If today India dreams of becoming a sports wonder then it's our media that will play one of the major roles in making this happen. Now the world feels a lot more connected and we realise the competition that lies ahead of us and this is helping us prepare better. I believe that the media will help us build a strong sports community ahead where there will be people who will realise that everybody connected to sports, directly or indirectly from a family which will be ready to help each other whenever the need be. Hence, I would say, media is a boon. And let's make the vision of India being no.1 in sports happen, together!
Disclaimer:
The information contained in this article is for educational and informational purposes only and is not intended as a health advice. We would ask you to consult a qualified professional or medical expert to gain additional knowledge before you choose to consume any product or perform any exercise.