Delhi Rock, a South Delhi climbing center is lately trying its hands on unconventional sports. This is one of the few places in the city that is offering lessons in parkour- a gymnastic like an activity that involves scaling a building, vaulting over hurdles and navigating through a complex physical environment. The very intense nature of it adds to its liberating experience stated parkour instructor of Delhi Rock, Mujahid Habib. The lad from Rampur(U.P.)has been around. When he does not hop his way over walls and terraces, he wins National Championship, associates with Bollywood movies and delivers TEDx Talks. On a rainy afternoon of August in Greater Kailash, South Delhi, he shares his parkour journey with SportzBusiness.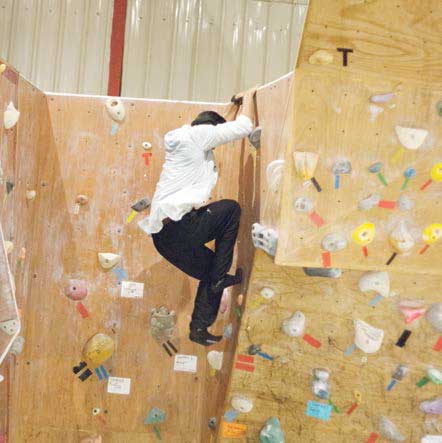 "I have been doing parkour before realizing. Back at home, I would jump from trees in my backward, I would climb and swing," says Habib. That's how it all began.In Rampur, the parkour community started by him in 2006 now boasts of having more than 20 athletes. Habib's pupils' age group rounds between 6 to 60.
'They get hooked on. It's like an addiction!" smiles the young architect. Yeah, the adrenaline-fuelled stunts seem addictive. But how to keep away cuts and bruises? Habib's takeaways from his decade-long career are, first, learn it in a controlled environment. Don't venture into perilous territories on the first go. First, do a one feet jump. Then increase your endurance. To him, Parkour is not a one-way ticket to broken limbs. Quite the contrary, it is a technique to dodge damages stemming from free fall.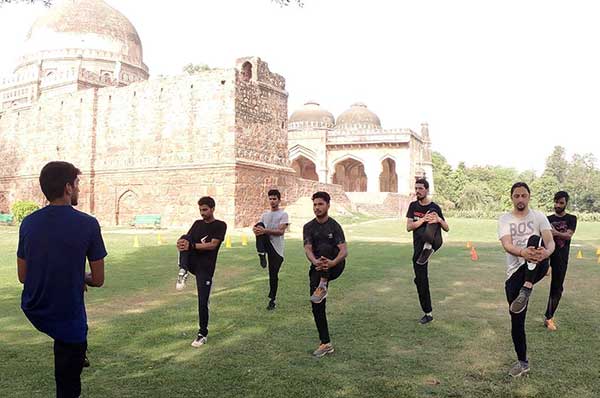 The feline-like reflexes of parkour requires a substantial level of fitness. But utilizing the intricacies of parkour to achieve fitness can be much more engaging and exciting then running on a treadmill, says Sanjeev Sharma, another Parkour and fitness enthusiast.
This professional architect found solace in parkour after suffering from back injury. "A lot of things goes into those impeccable jumps and vaults. Lots of hard work goes into it. It may take a good 6 or 12 months of training for a normal guy to begin parkour. But, the way we see it, parkour is for everyone. You can't interpret parkour as just jumping off cliffs and buildings. You learn how to cross an obstacle in a best possible way. That's how we see it. And that is why we think it should be for everyone. Not just for certain communities or young people," cited Sanjeev.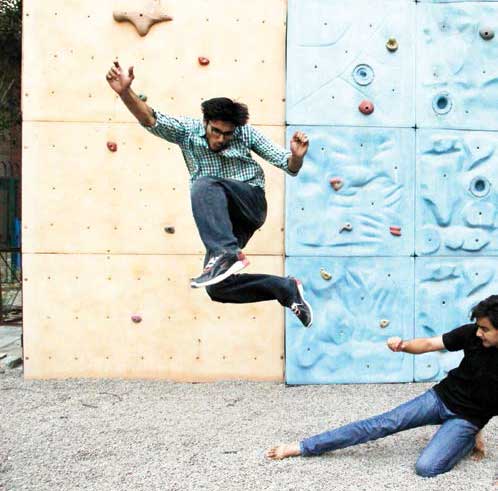 Across the globe, practitioners of this sport mostly operate within the community. Though, some countries have officially recognized parkour as a sport. In India as well, parkour is gaining momentum. Anuraag Tiwari who is a climber and owner of Delhi Rock is accommodating Parkour at his establishment. He wants people to explore outdoor activities for the sheer joy of it. As a climber, he relates to the euphoria a free runner feels. In his words, "We are not focused on the cosmetic outcome of a sport. If you want to lose weight, you go to a gym, do cardio and maintain a sensible diet. At Delhi Rock, we are more focused on teaching, instructing and inspiring people to do the things they will enjoy. And it has to be quite challenging as well. Parkour, climbing, they are difficult! That's why people get intimidated by them. But a good teacher can help you to improve."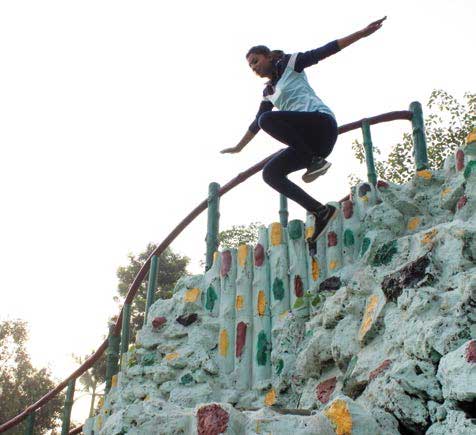 Anuraag wants people to realise their bodies are capable of achieving wonders. People shy away from seemingly 'risky' sports like Parkour or climbing. He tries to break that mental hesitation. In a social media-driven era, where fitness industry is becoming more and more appearance oriented, Delhi Rock thrives to offer a wholesome learning experience.
He also shares his profound insight about the prevalent fitness culture that stresses more on the destination than the journey.
Anuraag's remark will strike a chord within many. Because The French word 'Parkour' literally translates to Journey in English. People shouldn't be shamed into fitness. Fitness regimes should not be about punishing yourself. In the age of instant gratification, parkour or climbing require a lot of time and patience to show visible results, but they are capable of turning someone's life around .
And Anuraag's experience with his students bears testimony to that statement. Parkour remains an unorganized sport in India. That means it is growing without the governance of any federation and administrative bodies. All the metro cities like Delhi, Mumbai, Chennai and Kolkata have a vibrant parkour presence. Even tier-2 cities are waking up to the phenomenon of parkour. But the sport is still perceived with a bit of uncertainty by the general population. In 2018, prior to the anniversary of the Mumbai Terror attacks, an international Parkour group was deported by the local police for practicing parkour over city's skyscrapers.
But apart from these isolated events, Parkour is getting its due credit. International Gymnastic Federation has declared parkour as one of the disciplines of gymnastics recently. And that didn't sit well with the defenders of this sport. Habib is one of them. He is not too enthusiastic at the prospect of seeing the sport in the 2024 Olympics. Regulating and monitoring parkour would take away the very essence of this sport which makes it so liberating to him and so many people. To him and thousands of parkour enthusiasts around the world, parkour and control don't mix well. That is probably why it will remain alluring to people with the heart of a rebel in the upcoming days.
Disclaimer:
The information contained in this article is for educational and informational purposes only and is not intended as a health advice. We would ask you to consult a qualified professional or medical expert to gain additional knowledge before you choose to consume any product or perform any exercise.