In an age of connectivity, 'no strings attached' is becoming new normal featuring cool electronic gadgets/accessories.
Ranging from ear pods to portable speakers, these unattached music accessories are rocking the international music market.
Bluetooth enabled headphones are yet another music accessory that has changed the pursuit of listening to music. These headphones with 'no strings attached' have made their presence in gyms, music stations, public transport and of course office and college premises. Owing to their easy handling and sturdy design, these Bluetooth enabled headphones have made the life of fitness enthusiasts easy and hassle-free.
The Bluetooth enabled headphones to have different types that come with their own distinctions. Some major types of headphones:
Close-Back Headphones
Open-Back Headphones
On-Ear Headphones
Over-Ear Headphones
Noise-canceling Headphones
Now, you are free to choose out of these kinds of headphones depending on your specifications and the price you want to fall in. In this literary piece, I am introducing a newly launched Bluetooth headphone viz. MULO Thunderstruck 700 from the house of MULO, a Kolkata based audio campany started by former employees of Flipkart and Xiaomi. The more details you can read in my personal review of this dynamic headphone.
As I am writing this review, listening 'Jain Makeba' on this power-packed MULO Thunderstruck 700, I can tell you that, it can groove you with its detailed loud and clear vocals.
In a weeklong continuous company of this on-ear headphone, I really liked the way it did not bother me with low battery alerts and other distracting connection errors. Weighing just 100 grams, the headphone was quite portable to carry in your bag or just clipping it around your neck. Within a couple of days, it has become a part of my daily accessories ready to go anywhere.
A perfect companion in the gym
Let me tell you, I was missing something like this for my morning jog and evening gym session, and It was great to have such a light and easy to handle companion across my training sessions. Frankly, speaking I don't like the kind of track my gym people play and the headphone has given me a perfect alternative to this by letting me play my own playlist starting with Eminem's 'Lose yourself' continues to other loud bass tracks during my training session.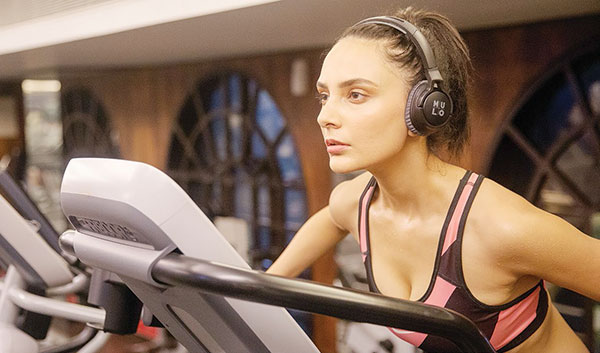 While running on the treadmill, the headphone did not shake which is, in fact, a great thing for athletes like us, who loves consistency whether it's your pace or your connected music. In minutes of running, I can see sweats start spurting off my head and face but guess what the headphone still beating my eardrums devoid of any breakage in the thumping! With its 40 mm Speaker and excellent noise cancellation, the headphone bemuses outside noise and lets me be myself across my training session. This simply realizes the claims of new MULO technologies that the headphone can stand sweat-resistant across your sporty activities.
It should be noted, the MULO Thunderstruck 700 is an IPX4 certified headphone that means it can resist sweat as well as a slight splash of water, like light rain.
Latest Bluetooth version with minimal battery consumption
The best part of the headphone is its latest version of Bluetooth 5.0 which is known for its low consumption of the battery. Talking about its battery backup, the MULO Thunderstruck 700 headphone has 300 mah Li-polymer battery which can run up to 10 hours on a single full-charging. With its 40 mm speaker, the headphone is quite apt to make you feel nitty-gritty of each beat and tempo of the song track.
I will have to say, MULO Technology has given a great headphone to the Indian middle-class music lovers, who would definitely love the product available at such a nominal price. The product has all the essential features to marks its presence in the Indian audio space.
If you are someone, who loves to listen to songs loud and clear, then this headphone is perfect to invest in.
Aesthetics and Handling
Coming to its handling and physical attributes, the headphone has got light finish with rubber padding on its curvature subsequently making it light in nature and sweat resistant as rubbers resist water. In the wake to avoid any foul smell and infection, Mulo has used removable ear muffs that can be washed easily and used again in case of prolonged usage and exposure to sweat.
Considering its users' right-handed ones, MULO has facilitated all its function keys on the right side of the earpiece. Thoroughly connected to your media player, the headphone allows you to change running song track, by just long-pressing Volume up key and if you want to return to the previous track then you need to long-press Volume-down key. You can also call your recent caller from your smart phone's call log by double-pressing Play/Pause button which apparently you can feel due to its slightly elevated gutted finish in between other buttons.
On the final note
In terms of mobility range, I want to mention one thing it can give you a comfortable range of 10-meter continuous range, however, in case of a low battery if you start hustling off this range, you might find hiccups in the track. One more thing that I found while attending calls on this headphone, the Mic used in the earpiece is not up to mark; you need to speak aloud to talk to your callers. Despite, all these loopholes, I will definitely say that the headphone is the best available headphone at such a price range of 1699 INR exclusively available on Amazon.
On the final note, I will have to say that grabbing such an amazing headphone at such an amazing price tag won't let you down in any way.
To Grab this amazing MULO Headphones: Click here
Disclaimer:
The information contained in this article is for educational and informational purposes only and is not intended as a health advice. We would ask you to consult a qualified professional or medical expert to gain additional knowledge before you choose to consume any product or perform any exercise.