Premium sports and wellness nutrition brand Steadfast Nutrition has been a phenomenon ever since it set out to revolutionise the wellness and health industry in 2017. In a short span of five years, Steadfast has emerged as one of the country's fastest-growing brands and the choice of countless professional athletes and fitness enthusiasts thanks to its rigorously-tested, organ-friendly, top-quality supplements. Steadfast currently caters to over 35 sporting categories. It follows a unique vision of serving people of all age groups- from five to 95. Even the Covid-19 pandemic hasn't been able to stifle Steadfast's spectacular growth, it grew by 80% in 2020-21.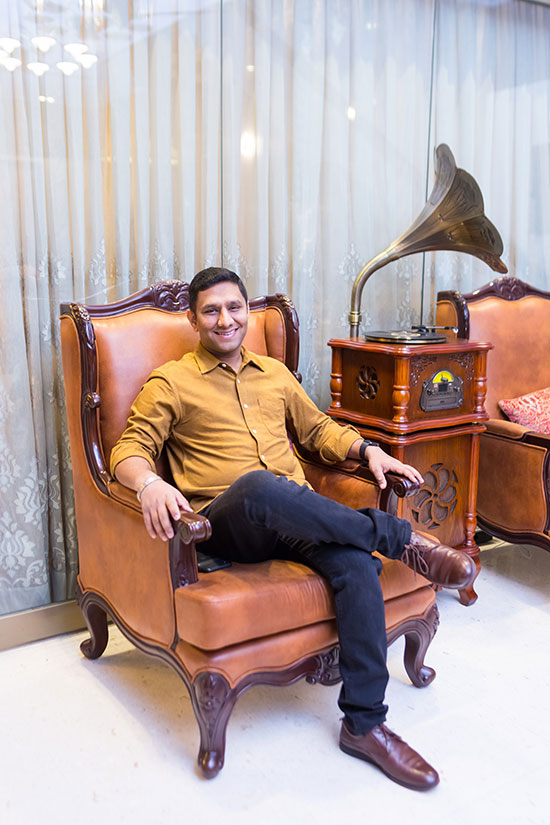 In a bid to know more about this sports nutrition brand, Rajeev Biswas, Sr. Sub Editor, from Sportz Business.com, had an interaction with Aman Puri, founder of Steadfast Nutrition, where he vehemently shares his brand's journey and its loyalty among the masses.
Here are the excerpts from the interview.
Q Hi Aman, kindly tell us more about yourself and what drove you to start Steadfast Nutrition?
I am a realist who understands the needs of the people of our nation. Even as a student I took up the challenge to study the people of Ladakh and their health and lifestyle changes. Mountain Biking has been my passion and I used to participate in a lot of races; it was during one of these events that I noticed that there were a lot of international athletes who were using a variety of supplements to prepare themselves, whereas all Indians were stuck with good old glucose drinks. This made me realise the huge gap in the market between the demands of the sports fraternity in India and sports nutrition supplements. I also wanted to free the industry of the dominance of foreign brands.
Then there was my vision of eradicating protein deficiency in our country and building something for the sports fraternity.
From illness to sports and wellness, today Steadfast Nutrition caters to the needs of everyone- be it a 5-year-old child, an athlete, or even an eighty-year-old person.
Q How is Steadfast Nutrition different from other nutrition brands? Also, share some information about its progress to date?
At Steadfast Nutrition, we understand organs better and believe ethics are more important than profit. The brand came into existence to cater to the issues of protein deficiency in our nation. We research and test each of our products first on ourselves before passing it on to anyone else. Steadfast Nutrition approaches the renowned labs in India to get the products tested, verified, and certified before launching them in the market. We have a lot of doctors associated with us and their trust in us is what makes us different from any other nutrition brand.
We started working towards building Steadfast Nutrition in 2015. With all our research and hard work and launched the same in 2017 with two key products- Carborance for endurance and energy, and Power Protein for endurance recovery. Within 3 years of launch, we saw a very good response. Now we have 30 categories of products catering to sports nutrition and the general wellness range.
Q Kindly tell us the USP of your products, and how you reached out to your customers and several competitors in this industry?
All our products are FSSAI-certified and adhere to the rigorous standards of WHO-GMP. They are customised for Indians, have Ayurvedic qualities, have no side effects, and are not habit-forming. All have just received positive reviews. We understand Organs better!
We believe in organic growth- the only people you will see recommending our products are those who have consumed them firsthand. It's their loyalty and trust in us that helps us reach more loyal customers and makes us stand out among the crowd.
Q How do you compare the growth of Sports Nutrition in India vs abroad?
The population of India is higher compared to that of any other country, we also rank No 2 in the world in terms of population. In this scenario, it is difficult to cater to every person's health needs easily. Hence, India lacks in sports nutrition as compared to other nations. However, if you talk about the growth percentage now, it is higher than in other nations. India is growing rapidly whereas other nations' advancements have already happened and now the growth percentage is less compared to India.
After getting recognition on international platforms like the Olympics and the Common Wealth Games among others, the government has started focusing more on sports Nutrition. Its thrust toward reviving the sports culture in India is another reason for the growth of the sports nutrition market in the country. In 2015, the nutrition market was approximately $27 million, and in 2021 it stood at approximately US$ 44.43 billion. I think we are doing a lot better and are heading towards a protein-efficient India with more financial grants, better infrastructure, better equipment, etc. The government has started focusing on the facilities and nutrition of our athletes.
Q According to you, what are the challenges that Indian athletes face as far as sports nutrition is concerned, and how is Steadfast Nutrition coping with the same to offer better nutrition to Indian athletes?
Indian athletes mainly consist of working-class professionals who divide their time between earning a good living and training for their respective sports. Many athletes are unable to achieve sound nutritional requirements to maximise their performance. Majorly responsible factors for this are poor nutritional knowledge, dietary extremism, poor practical skills in choosing or preparing meals, and reduced access to food due to a busy lifestyle and frequent travel.
Steadfast Nutrition began with the vision of helping such athletes. We have always understood the nutritional challenges of Indian athletes. Our products contribute to sports nutrition and the general wellness of our athletes. We are well known for our single-serving sachets which are easy to consume and carry. All our products are customised as per the needs of our athletes and the general public.
Q Shed some light towards Steadfast Nutrition's initiative for supporting athletes financially? 
We have supported a couple of athletes as and when they require, e.g. Rahul Singh, a pro cyclist who was going to represent India and needed some financial support, we helped him financially, got him sponsorship, equipment, etc. Riyazuddin again a pro cyclist, and Aarti Verma bronze medal winner of the Asian Sambo Championship, were also supported financially. We also reward our athletes with a cash prize when they win a medal. For example, Dr Mridula won IFBB Pro Card at IHFF, Rohit Shetty won the Gold medal Body Building Mr. Asia 2019, and we awarded them INR 50,000 each. We have more than 120 athletes associated with us and many names' contribution to the sports fraternity is supported and appreciated by Steadfast Nutrition.
Q Shed some light on your latest product range?
During the pandemic, everyone faced a lot of issues due to drastic changes in their schedule and lifestyle. People were finding it difficult to sleep properly and were facing different challenges like stress and anxiety. To cater to all these problems, Steadfast Nutrition decided to take up the challenge to help people. Hence, we came up with an exceptional new range of redefined wellness products that are not only going to boost immunity but also will help people to get rid of stress, anxiety, sleeplessness, etc.
We came up with 4 new products in 2020- 5-Hydroxytryptophan (5-HTP) for helping people cope with stress and anxiety; Melatonin, for improving the quality of sleep; Milk Thistle for liver detox; and Steadfast Curcumin as an anti-inflammatory and immunity-boosting agent. In 2021, we launched LeanFast, a metabolism booster, and SeeStead for eye health to counter the problem of increasing digital strain in the current Work From Home era. In 2022, we launched Steadfast Iron to tackle the problem of Iron Deficiency Anaemia, particularly among women. We recently launched L-Arginine and MCT Oil, both of which help in enhancing athletic performance.
Q Kindly tell us more about the client base of your nutrition products?
Our client base currently consists of two categories of people- professionals and the niche class who understand the importance of high-quality nutrition and are willing to invest in the same. Our performance-boosting products are of great help to athletes, we have everything from endurance boosters to muscle recovery products. Our products are high-end, someone who is learned enough to understand the importance of nutrition and wants to invest towards becoming protein efficient is our target audience.
Q How do you see the growth of the nutraceutical market in India?
Growing awareness about health and fitness was already paving the way for a thriving competitive landscape for nutraceuticals in India. The rapidly-changing consumer lifestyle and increasing health consciousness amongst consumers- especially in urban regions- have led to the swift growth of the nutraceuticals market in the country.
It is an unorganised yet growing market, the last report we have of this market is of Rs 1300 crore and growing. The scope is much more- firstly as a population we are huge in number, secondly, the awareness of nutraceutical products is not much. Once that reaches its peak, it will be the best market in which to invest your money.
Currently, international brands have 80% of the market share in India and Steadfast Nutrition is trying to change that.
Q How do Steadfast Nutrition's nutrition products complement its protein-deficient Indian diet? What is your vision? 
Steadfast Nutrition has two visions for the coming years. One is to make India a protein-efficient country by the year 2040. As we are right now a protein deficit country due to many reasons like our population being vegetarian, religious beliefs, and stereotypes about supplementation, the protein requirements don't need to be met through supplements; the dietary intake is also important. As we all know, protein is very important for our vital organs to function properly and will also increase the life expectancy rate.
The other vision we have is to make India the Sports Capital of the World by 2050. Currently, it is Australia due to its facilities and infrastructure. Any athlete who suffers an injury rushes to Australia due to its better healthcare facilities. We would like to change that. Problems like obesity, diabetes, cardiovascular disease, and blood pressure can be controlled with healthier options. It will be good if our country's youth indulges their aggressive energy in sports which will further benefit them.
Q Sports nutrition and supplement brands are being subject to a lot of regulatory approval hurdles, in such a context how have you overcome the challenge of various regulatory guidelines?
The best way to overcome the challenges of different regulatory guidelines is to follow them diligently. These guidelines are made for the benefit of people and any brand needs to adhere to its rules. Food Safety and Standards Authority of India (FSSAI) along with (ICMR) Indian Council of Medical Research related Recommended Dietary Allowance (RDA) for daily consumption ensures the health and safety of people. We cater to the constant changes as per the latest regulatory norms. Although it becomes a costly affair we abide by all government regulations.
The products that we make are according to Indian dietary habits. We try to foresee many changes as things advance at a much faster pace. For example, earlier Carborance, one of our products, used to have a packaging of 61grams but suddenly overnight FSSAI added a rule that its packaging should be 62.5 grams, due to which we had to burn the earlier packed Carborance sachets which cost us nearly Rs 2- 3 lakhs.
It would be appreciated if both government and private sectors come forward and work together.
Q In this era of COVID-19, how have your strategies kept Steadfast Nutrition healthy as an organisation? 
Steadfast Nutrition is uncompromising when it comes to the health and safety of its employees. We invested more than USD 12 million in sanitisation and thermal scanners. When work from home started, people who used to work on desktops were given new laptops to ensure their safety and the up gradation of systems and software was done. To date, we ensure masks are worn in the office and other preventive measures are taken.
Disclaimer:
The information contained in this article is for educational and informational purposes only and is not intended as a health advice. We would ask you to consult a qualified professional or medical expert to gain additional knowledge before you choose to consume any product or perform any exercise.