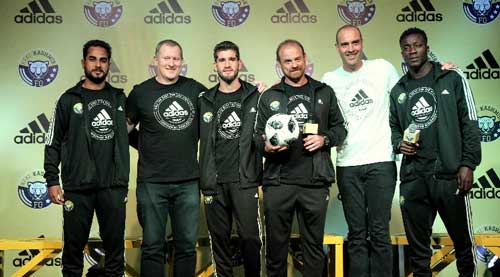 Making their first presence at the India's top division, the I-League, Real Kashmir Football Club signed a major sponsorship coup with sportswear major Adidas for the upcoming season. It will be quite significant for this new football club started playing just two  years before and which has which has won second division league to become the first club from J&K to qualify for the top-tier-I-League.
Notably, there is not such association of any Indian football club whether it is bog r small, with the global brand like Adidas. Although, there is no official Announcement of the amount talked or set in the sponsorship deal, adidas will be the official kit partners of the Real Kashmir in the I-league which is going to start from October 26th
"It is a momentous day for Real Kashmir. Such a big brand coming to support us as official partner is an achievement in itself. No other club has Adidas as sponsor but we have got it," club co-owner Shamim Meraj told PTI.
Asked how this association came through, he said, "We wanted a big sponsor and they (Adidas) must have their reasons to be with us. It is not a case of one chasing the other or putting pressure on the other. I think things in a natural way conspire to happen this for a good cause."
"I hope we don't disappoint them. I hope my team does well in the I-League. The team has already created history for Kashmir and a good performance in the I-League will further strengthen the football revolution in the state. I can't wait for the first match in Kashmir," he added.
"With a global player like Adidas as our partner, Real Kashmir is being recognised as a potential winner. Adidas' winning ways will surely rub onto us," said the other co-owner Sandeep Chattoo.
Real Kashmir will open their I-League campaign against Minerva Punjab on October 31 in Panchkula while their first home match is on November 6 against Churchill Brothers.
"The match against Mohun Bagan in Srinagar on November 20 will be really huge and I am waiting for it," said Meraj.
Key player and mid-fielder Danish Farooq was overwhelmed by the development.
"I don't have any words, it is a dream come true. I never thought that Adidas will be our club's official partner," Farooq said at the media conference.
"Now the responsibility is on us to perform well in the I-League and continue the craze for football in Kashmir," he said.
Head coach David Robertson from Scotland said the first two rounds will be crucial for his team and only then he will be able to say how well his side will fare in the I-League.
"I-League will be of a totally different standard than second division. There are big clubs like Mohun Bagan and East Bengal, besides other old and comparatively new clubs. As of now, I will not be able to say anything about my club," said the 49-year-old Robertson, who has played with some big clubs in Scotland besides representing his country on three occasions.
"The first match against defending champions Minerva Punjab will be a huge match, our debut. Then we play Churchill Brothers for the first time at home, that will be the first I-League match in Kashmir. These two matches will be historic. After these two matches, I will be able to know how good is my side and then I can plan for the remaining I-League."
Robertson played for nearly 200 matches for the famous Scottish side Rangers, besides donning the jerseys of other top clubs like Aberdeen and Leeds United.
He played three matches for Scotland between 1992 and 1994. He joined Real Kashmir early last year after coaching a few lower level sides in Scotland and United States
Disclaimer:
The information contained in this article is for educational and informational purposes only and is not intended as a health advice. We would ask you to consult a qualified professional or medical expert to gain additional knowledge before you choose to consume any product or perform any exercise.