At the time when schools are hassling with their students investing much of their time on some addictive online games and apps like PUBG, Tik-Tok to name a few, the administration of the schools can switch their students' preference by transforming their void playground into a live-lush green attractive outdoor activities sites.
The administration should now consider seriously indulging more and more students into the physical activities so that they can really meet up all requisites of a growing teen. In order to meet that, these city-based modern schools need to revamp their dull playground with some attractive options available including installing open-air gyms and lush green artificial grass coated playground.
There are many advantages for schools to use artificial grass for their playgrounds.
Being artificial in nature, these manufactured artificial grasses require less maintenance and provide hassle-free usage. These artificial grasses are like 'one-time investment' as devoid of any further maintenance, it really saves a huge part of schools' fund.
It does not need watering, looks great across the year, and does not need fertilizers or any kind of pesticides. The school administration can make use of this artificial grass to cover its patchy, worn out grass making their playground into lush green areas which can be used across the year irrespective what season it might be. With the installation of green grasses, it also lets the authorities to infuse some more physical game forms under their premises. Offering a grand environment-friendly gift for their sporting students, the schools are not just protecting their students from marring their canvas into mud or getting nasty scratches on their knees but also they are raising the standard of their infrastructure. After all Whose parent doesn't want to send their kids at the best premium school well facilitated with sports infrastructure in the town. Despite major advantages do come with the installation of artificial grass in the school's playground, there are a few things which school administration should keep in mind before saying yes to a particular brand.
Making their job easy, we have enlisted a few key areas which really need to be cared before selecting artificial grass for their playgrounds:
Pile Height (Blade Length):
Pile height is simply a measurement of a pile (blade) above the backing to its end tip. It is quite normal that people tend to go for long bladed artificial grasses in order to deliver a fluffy grassy look to their site. However, as time goes by, these long blades of grasses bend over causing your yard to look flat which subsequently require regular sweeping and maintenance.
In that case what we recommend that the school administration should go for a pile height between 30-37mm. going over this optimum length of a pile will put you in risk of having a flat -looking grass.
Density and weight:
An important aspect while choosing artificial grass is its Density which refers to the number of synthetic yarns per square foot of turf. It should be noted, higher the density longer the durability of the grass. At the time of selecting artificial grass, keep it in mind that grasses should weigh around 3 kg per m2.
Color :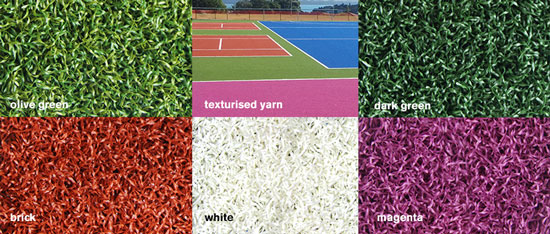 The most fascinating which makes artificial grass more attractive is its lush green color. Now, in the market there are several variants available, one needs to be very precise while choosing the color of their future playground.
In order to accomplish a natural appearance of the ground one also should not ignore the brown fleck beneath the grass known as 'Thatch' or 'Brown root Zone" as it further complements the real grass look of the artificial grasses.
These artificial grasses are present in different shades like Olive Greens, Darker greens and Lime Greens.
It should be noted don't run into the trap of those grasses which are super green as they can be cheaper but are not suitable for a long run.
Choose Nylon made fibres
As we are talking about a school playground, aesthetics becomes secondary factors. The Government authorities should be fully aware of the fact that seeing such a lush green playground child can't stop themselves playing over it. Hence, they should use a steadfast and resilient qualitative Grass fibre.
At the contemporary, there are three types of plastic that are used to manufacture artificial grasses.
These are Nylon, Polypropylene and Polyethylene. Out of the three types, Nylon is the strongest fibre at least 33% stronger than Polypropylene and which is also suggested for schools to go for.
Backing and Infill: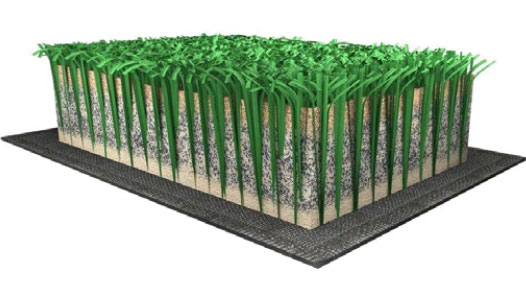 While picking up synthetic artificial grass, infill varies a lot. Sand and Gravel are few common infills which are used while installing grasses. Depending on what purpose your schools want to furnish your playground, they should dictate their specification to their grass installing company.
As the schools' playground demand something more resilient and all-weather-standing material which does not get expanded or contracted being in direct effect of the sun across all weathers, the schools' administration should go for Polyurethane backed product.
Fire Resistance: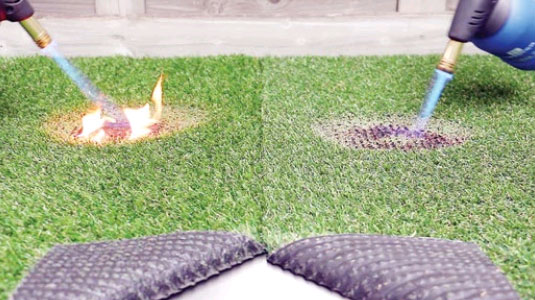 Schools are considered to be the safest place for children and why not they are being sent by their parents on the trust factor. Now in order to abstain any kind of mishappening, the authority is advised to keep a precise check over several characteristics of the grasses that they are going to get installed at their playground. These characteristics include first and foremost fire resistant. The Authorities should demand proof from their grass company to show that their grasses don't get ignited with a simple flame of fire. Apart from that, there is one more guideline for them is to make sure that these grasses don't carry harmful substance. Don't just buy manufacturing company's words over it; ask them to produce allied credential proving that their grasses are not harmful in any way.
The company should test the fire resistance feature of their product precisely under the keen guidance of their experienced professional at their end. In order to meet any in future misconception, the schools are advised to thoroughly read all the required credentials supporting their grass fire resisting attributes.
In general, it is advised that the administration should choose such turf that is tested and tested as at least an E class fire rating, In fact, that it is the lowest grade, in case of a school and nursery application you should go for a C class fire rating.
Maintenance: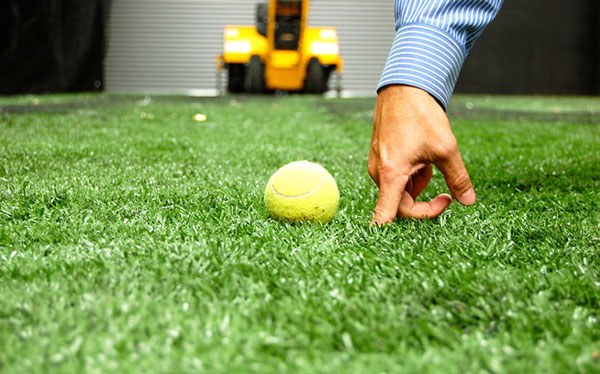 Now coming to the most crucial aspect of the artificial grasses on which a lot many companies differs their price range is its 'maintenance'. There is a simple rule for this, the higher the price of the grasses the lesser it will require maintenance. Taking into account that being a school-based play-ground, it will be bombarded with a lot of footfall over it; the schools should order such artificial grasses which have sheer strength to handle traffic resistance. Overall, amid so much of vibrant options available in the indigenous market, the authorities should be keen for the final outcome of the playground which should be durable, resilient and strong enough.
The last but not the least 'Ask them for samples'
It is in the business dealing functionality, companies sending out free samples of their different product ranges- however, these samples usually remain quite smaller. In the second step after shortlisting tentative companies using their sent samples, ask them to pay a visit to your school's site. On their visit ask them to bring even larger samples and take them for further selection subsequently, you can make your final call regarding which company you are going to call for the grass installation by keeping a handful of options.
In the wake of revamping their children's playground, the schools should not ignore the most important aspects while installing artificial grasses at their playground which is Head Injury Criterion (HIC). It is quite common to see school children get themselves injured while falling off in rough patches in and around the playing grounds. The surface these children land determines the seriousness of the injury. Now, in order to avoid such head injuries, schools, administrations need to tap on the impact related injuries which are known as the Head Injury Criterion (HIC).
Head injuries being the major concern for the administration for the school administration, can be fatal sometimes. So, in general terms, HIC addresses the Critical Fall Height (CFC) factors which refer to the potential height from which children can fall off. Technically, in order to abort any serious injury due to high CFC, there should be proper measure of reducing the HIC with shock absorbing pads underneath the artificial grass turf.
In that case ideal patches of artificial grasses are the ones which have low friction of grass blades combined with an energy absorbing backing pad which ensures a reduced risk of common injuries that can happen at the time of training or playing.
Now depending on your school playground's topography and equipment installed in there, the authority should hire adept professional to install artificial grass with higher absorbing capacity. The authorities should consider using energy absorbing backing pads making school playgrounds shock absorbing leaving playing children's knees as well as joints safe without putting them in much strain.
Now coming to yet other aspects is its Drainage. This aspect should be precisely checked by those schools which are situated in heavy rainfall belts like northeastern states and the southern states of the country.
The school administration should also take this factor into their account while furnishing their school playground in order to avoid any water clogging by just installing permeable turf backing pads so that they allow water to drain away in not time.
It is very important whether the landscape contractor has properly installed the turf of or not otherwise it will keep the plight into a more severe state.
As artificial grasses don't need to be watered like regular natural grass, you can save water and conserve it for some better causes like plantation of trees and sapling on the outskirt of the ground.
After all, these factors altogether are going to upgrade the standard of infrastructure of your school.
Disclaimer:
The information contained in this article is for educational and informational purposes only and is not intended as a health advice. We would ask you to consult a qualified professional or medical expert to gain additional knowledge before you choose to consume any product or perform any exercise.