Time has come to make the most for your fitness business and experience a hassle-free paperless experience. Well, this can only be possible with a unified gym management software that is equipped to manage all your client's needs from a single platform at your fingertips. Fitness Pro league is one that offers a multi-dimensional software-based solution, to manage all the essential requirements of your fitness business from any corner of the world. Its precise designed software perfectly goes with your fitness business, either gyms, saloon, or spa, and synchronizes perfectly with your customers day to day needs. Notably, for your clients, the application offers an impeccable fitness routine, monitors their performances online, and generates revenue by attracting more customers online. The unified application can be accessed from any devices like mobile, laptop, tablets and is widely available on IOS, android or windows platforms.
Being based out in Gujarat, and founded in 2017, Fitness Pro League has created a benchmark in the fitness industry and has gathered many happy and top-notched clients. This unified application has an array of functionality consisting of age managing enquiry, customers membership, workout allocation, member check-in / check-out, body measurement, diet plan, equipment maintenance, staff management and many more.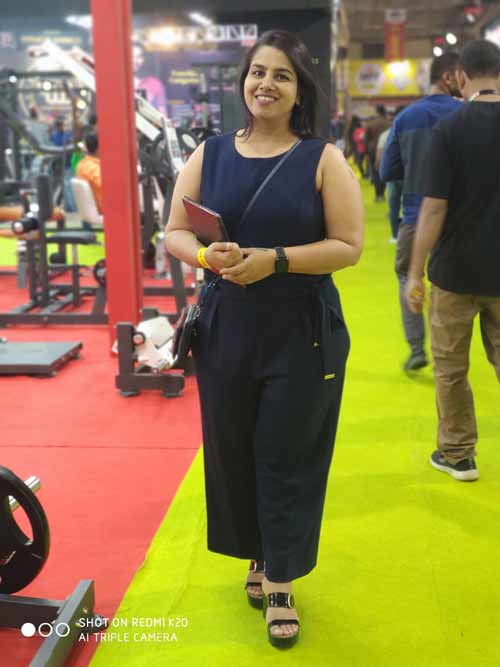 In a bid to know more about their fitness application venture, Rajeev Biswas, from Sportz Business Fitness Magazine, speaks with Karishma Solanki, CEO-Director of Fitness Pro League, where she vehemently shares her thoughts of setting up such an advanced digital business with utmost precision and priority.
Let's read her what she has to say regards to her unified gym management software.
Q Tell us more about your journey so far and what made you closer to the fitness industry?
The drive to be fit, it all started with my medical issues which compelled me to reduce my weight, almost 25 kg had to be reduced and during that phase of 8 months of my journey, I realized my passion for fitness and adventure sports. Also, it was just not my journey it is our journey Karishma and Vishal journey. Gradually it kept us motivating and we had the want and hunger for doing more every time, it just dint stop at gym, but we also started attending lot of other activities like bootcamps, dance, Zumba, yoga and much more. The best part happened to us was, just kidding about we both doing mountaineering and guess what, soon we could achieve our that dream too. All the above experience kept me motivated for fitness and soon with all the recognition that I started receiving from all those experienced people of fitness industry got me closer to this industry.
Q What excites you the most to be a part of Fitness Pro League, and bringing up a stable, secure, and easy to use application for gym owners and personal trainers?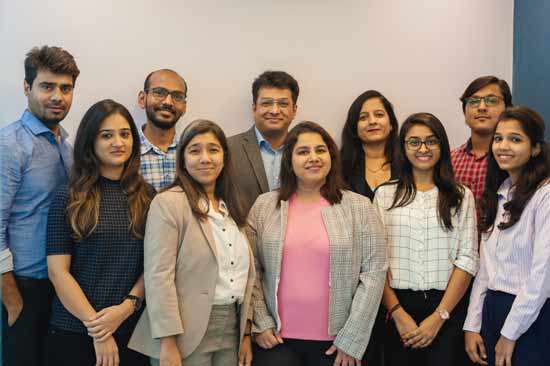 We always have dreamed about setting up a company which can give mentally and physically healthy environment for the team working to grow the business, be it technical team or sales team. The best thing that excites me to be the part of Fitness Pro League is that me and Vishal are able to come up with same kind of environment for our team. My every team member is the pillar of Fitness Pro League. The more I work with my team which motivates me to grow a better solution for fitness industry and for our loyal clientele. Our customers have been very loyal to us and helped us to grow (FPL) to a full-fledged business. With the knowledge sharing of day-to-day challenges faced by our gym owners and fitness professionals we have been able to develop a mature and power packed user-friendly application that is secure and stable to run the whole business of gym, personal trainers, and fitness industry.
Q Kindly share some of your experiences as a CEO of Fitness Pro League?
So far, my experience of being the CEO of FPL have been amazing because of such a supportive and loyal team who have kept patience with me to see FPL growing and we all share same vision to provide best application for gym owners and personal trainers. From our 1st ever client till to date I am very particular about the service and support that my team provides to our customers as to fulfil their requirements is our priority. I would personally be in contact with my customers about their regular feedbacks of the application and their day-to-day operational challenges they face so that we can keep on enhancing FPL.
Q What is the USP of Fitness Pro League "Unified Gym Management Software" and fetch us some of its details related to it?
There are lots of Gym management applications in the market and most of them has remarkably similar features. What stand us apart is as the name speaks it is a unified application which means it can be accessed from any device like mobile, laptop, tabs on any OS like IOS, android or windows. Instead of calling it USP we can call it how its more helpful to gym owners and fitness professionals. Making gym or fitness business successful is very challenging and that's the point where we help them the most. Giving them to setup their own self-branding, budget planning, staff performance monitoring, sales trends, renewal maximiser, expense management and many more. It also allows to do easy integration with 3rd party systems like email, SMS, WhatsApp, Facebook, Instagram, YouTube, Google fit and online payment gateways. These are just glimpse of it, FPL full premium solution comes with more that 50+ different modules which can make any gym 100% paperless. We can say its best fit solution for any solo guys or any multi branch gym having branches across the country. You can easily manage 100+ branches from single interface and just on your fingertips.
Q What are the challenges that you have faced so far with the "Fitness Pro League"?
Challenges makes your journey more memorable! The very first challenge we had when we started to develop product! We wanted to have unified, stable, secure and technologically advance solution. This challenge was well managed by our very strong technical team and provided us most robust solution in market. Second challenge is still we all are facing due to COVID-19 and nationwide lockdown during first wave and now during second wave, it's state specific lockdown and gym closer. Team FPL was never stopped during this time also, technical team was busy adding new features and sales team started exploring new markets internationally.
Q How do you customize the specific requirements of your clients and finally manage to cope with those challenges?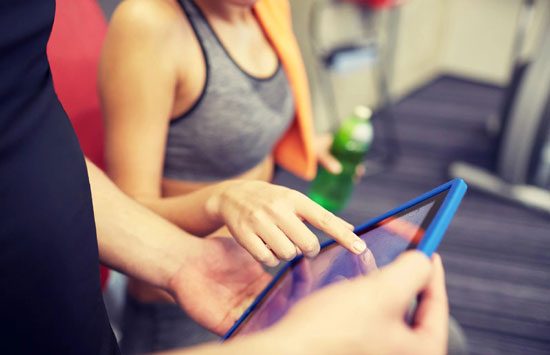 Fitness Pro League's product is very much expandable product, and its robust architecture allows to accommodate customers requirement very easily. Most of requirements are already covered in application if it's not available we include it in our roadmap. Based on customer's priority we include it in our new version release process.
Q Kindly let us know how do you ensure data security for your clients, and tell us something about your clientele and their requirements?
Data security was our one of key prime focused area from inception of application. From data usage and access to data transport across internet and storage on server, our inhouse data security expert ensures to have it best in class process in place.
Q How do you bring the exact reality on the desk while setting up the software, and kindly share some details about the after-sales service?
Adding new gym or additional branch in existing gym take just few seconds to create in system and handing it over to our customer. Our actual works start with customer on boarding process. Its start with 2-3 days extensive product training and existing members migration. Helping them to setup their branding, integration with their SMS gateway, Bio-metric devices, BMI machines like InBody® and online payment gateways like Google Pay, Razor Pay or PayTM etc. Defining role base login access to their staff members. We ensure smooth rollout of application across all gym users.
Q Till date how many gyms in India have you covered so far?
In short time span we have registered our presence in Gujarat, Maharashtra, Karnataka, Andamans, Haryana, Delhi, Punjab, UP, and other states. We have also managed to associate with big brands like MMA Matrix owned by Tiger Shroff and Krishna Shroff.
Q Since the outburst of the pandemic hampered the fitness industry drastically, in such a scenario how have you managed yourself and your company during the time of COVID?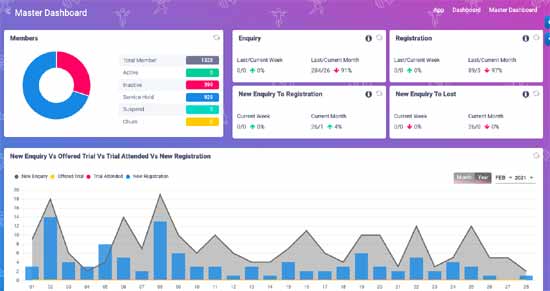 Indeed, this is very challenging time for the fitness industry and even for us too. Fitness Pro League is standing with their gym owner's shoulder to shoulder by providing them all necessary support. Extending their application subscription period, providing them extended payment timelines, providing them flexible payment options. Free application upgrade to manage COVID-19 guidelines digitally. FPL on organization front is backed by strong founders who always aim higher in difficult time too and that gives ample energy to keep progressing. During this difficult time, we have retained our all the staff members and paid on-time salary every month.
Q Kindly share some details about your future expansion plans?
Fitness Pro League has a very aggressive future expansion plan internationally. We had our presence in "Club Industry" expo in 2019 at Chicago and FIBO-2019 at Miami with aim of expansion rapidly in 2020, but COVID-19 had pushed us to delay our plan. We have expanded our reach to Middle East market especially in Dubai in Q2-2021 and by Q1-2022 will be having our presence in Southeast Asia market and in North American market.
Disclaimer:
The information contained in this article is for educational and informational purposes only and is not intended as a health advice. We would ask you to consult a qualified professional or medical expert to gain additional knowledge before you choose to consume any product or perform any exercise.