Fitness is the need of hour for everyone. But sometime lack of motivation and weak zeal to hit the gym or do some home workout need to be comprehended  with all positive vibes. We all need some sources of motivation always there to keep our morale high and mood all set to get out of our beds and couches to workout.
There are plenty of ways of getting yourself motivated to start workout, it can be sometime an urge to look great and toned making your ex girl friend or boy friend jealous or it can be anything like ending a sense of body shaming.
Before that  you need to understand that you are exercising for yourself and that's really important. Self-love and confidence play a major role here to motivate yourself in working out. The moment you will start enjoying and understand the importance of fitness in your life you won't be needing it.
Some people say that good music motivates them. While some comment that the beautiful woman working out next to them is the sole reason why they workout. LOL!  However, music can be a great motivator. Also, if you regularly check your progress and feel the post-workout glow you can fall in love with your gym routine. There are some motivational quotes by the seasoned people that can get you get going! These Motivational quotes are presented in such a way that they can boost your energy to workout without thinking otherwise.
In this article, we have tried to put forward some of the best hand-picked motivational quotes given by the great international athletes and people that you can follow.
Below you can find Top 10 Motivational Quotes for your daily gym routine. You can stick them on the wall near your bed or can add this is as the label for your waking up alarm. You can also be a little aesthetic and edit these Motivational quotes into your phone's wallpaper or home screen!
Top 10 Motivational Quotes: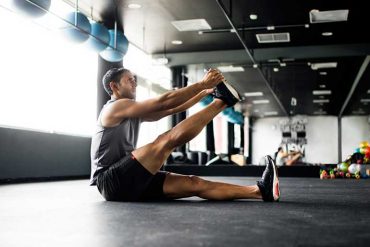 1.'The last three or four reps is what makes the muscle grow. This area of pain divides a champion from someone who is not a champion.'
— Arnold Schwarzenegger, seven-time Mr. Olympia
2. 'Success usually comes to those who are too busy to be looking for it.'
— Henry David Thoreau, poet, and philosopher
3. 'All progress takes place outside the comfort zone.'
— Michael John Bobak, digital artist
4. 'If you think lifting is dangerous, try being weak. Being weak is dangerous.'
— Bret Contreras, sports scientist
5. 'The only place where success comes before work is in the dictionary.'
— Vidal Sassoon, hairstylist and businessman
6. 'The clock is ticking. Are you becoming the person you want to be?'
— Greg Plitt, fitness model
7. 'Whether you think you can, or you think you can't, you're right.'
— Henry Ford, industrialist
8. 'The successful warrior is the average man, with laser-like focus.'
— Bruce Lee, actor, and martial artist
9. 'You must expect great things of yourself before you can do them.'
— Michael Jordan, basketball player
10. 'Action is the foundational key to all success.'
— Pablo Picasso, visual artist
I believe this is really going to help you if you understand the meaning from the bottom of your life. Add these quotes to your daily life and feel the changes. You can always thank us in the comment section! All the best for your gym sessions!
Disclaimer:
The information contained in this article is for educational and informational purposes only and is not intended as a health advice. We would ask you to consult a qualified professional or medical expert to gain additional knowledge before you choose to consume any product or perform any exercise.