In the last few years, CrossFit has made itself included in the fitness regimes of several leading gyms and fitness centers across the world including India. Started as a garage fitness program, the idea of CrossFit fitness programs might be ambiguous for a lot of fitness enthusiasts due to its unconventional forms of workouts as well as allied equipment associated.
Well, that can be a different story altogether.  India, which also happens one of the most potent international markets for the fitness industry, is a nice turf to invest in. At a time when fitness is all set to take a huge leap in the ambit of Immunity and overall fitness, the youth-centric country Indian has all reasons to have CrossFit Gyms.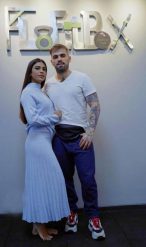 Joining the bandwagon, Florian Hurel a seasoned celebrity hair and makeup artist of Bollywood along with her wife Rina Charaniya Hurel who is also a singer is coming up with a CrossFit gym viz. FloFitBox in Mumbai. Following the announcement of the Maharashtra Government ordering the gym owners across the state to re-open their gyms and fitness centers maintaining some preventive guidelines, the Hurel Couple without further ado has decided to launch their CrossFit Gym FloFitBox on 25th October 2020.  
Talking more about the new CrossFit Gym and the future of CrossFit In India Paayel From SportzBusiness Magazine talks to Florian Hurel, a Crossfitter and a professional hair and makeup artist.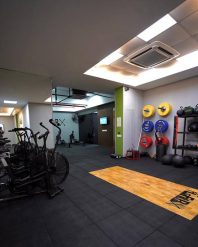 In the talk, Florian talks more about the cult of CrossFit and what inspired him towards starting his own gym with her wife, his strategies to market his gym, and more. Let's read what he has to say all about.
1.What Made you venture into Indian Fitness Industry and open a Mumbai-based CrossFit Gym viz. FloFitBox?
Fitness has always been into my regime since the beginning. At the age of 13 I was signed up with a football school and have learned the art of Muay Thai from Thailand.
Been a CrossFitter for the last 7 years has opened my vision towards the form and would like to spread awareness thru Flofitbox
2.Tell us about what inspired you to establish FloFitBox apart from your profession?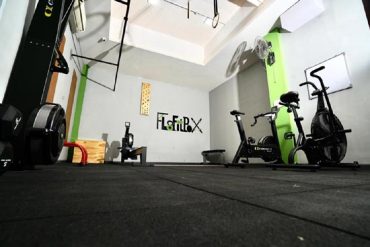 I've been into CrossFit for the last 7 years now and seeing the current situation of obesity around me, I felt like taking a step forward and helping the community to lead a better life in terms of health. Having the best amenities and facilities, Flofitbox also has its certified trainers in place to help the community get stronger and better.
3.Being a fitness freak how you and your wife are concerned over fitness?
We are concerned about the community in fitness. There are men's Fitness centers in and around Mumbai but lack the Amenities, facilities, and certified/qualified trainers which could lead to injury to the members, having them suffer for the rest of their life.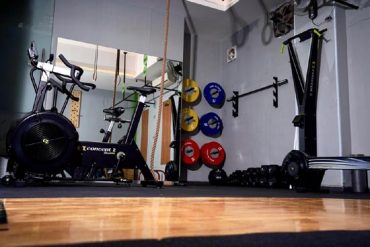 But the wait is over now, we at FloFitBox have taken a step forward and would like to take care of each of our members throughout their fitness journey.
4.Tell us about the gym installation process of yours including the procurement of gym equipment, location selection, and recruitment of trainers. 
The location is in the heart of Mumbai i.e. in Bandra.
Our set of installed equipment is from world-known brands such as Assault and Concept 2. Also having them as our official equipment partner.
Flofitbox also has a Gear and accessories Partner with Under Armour India.
Our trainers are ISSA certified and CrossFit certified. Each enrolment of the trainers has been done thru proper drills and tests and the best have made their spot into the team.
5.What kind of fitness regime, you are going to provide to your client there at your CrossFit Gym?
We believe in giving our clients an overall experience and not just any ordinary session. The trainers would be taking care of each member and helping them achieve their goals through our Programming system.
6.How do you see Indians looking forward to CrossFit as in fitness regime? Are they comfortable to fit in?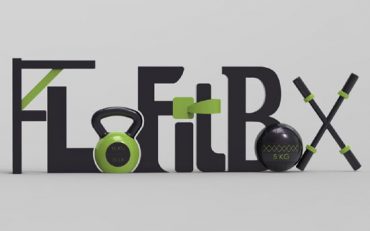 Yes, CrossFit is a form of Free weights exercises. The exercises are similar to our daily routine. It helps in building  our inner core of the body and has many benefits physically and mentally.
7.What do you suggest to your clients while choosing between CrossFit and a conventional work-out regime?
CrossFit works on functional movements that helps you move better and improves your overall fitness; strength, conditioning, gymnastics, endurance etc.
Compared to the conventional gym workouts which are less functional and isolation-based exercises that helps in sculpting a body.
8.CrossFit exercise strain too much on an athlete's back and shoulder, can this cause some kind of disorder in the long run?
Straining back, injuries, etc are nothing unique to CrossFit. You can have as many injuries in CF as in any other form of fitness.
If you train right under the supervision of good coaches based on a proper program you won't see any major injuries. The right warmup and mobility work before the workout and proper cool down after the workout, which we stress a lot on helps keep injuries away.
9.How can a CrossFit athlete prevent himself from any physical injury?
People who train randomly without any proper CF program tend to have physical injuries
10.How are you going to market your Gym i.e. FloFitBox Mumbai?
We are going to market our gym through social media, hoardings, and YouTube Videos.
Disclaimer:
The information contained in this article is for educational and informational purposes only and is not intended as a health advice. We would ask you to consult a qualified professional or medical expert to gain additional knowledge before you choose to consume any product or perform any exercise.