Dumbbells are considered one of the best exercising equipment that can be considered for toning your muscles and performing overall workouts. The ongoing global pandemic has taught us the need for a home workout to stay fit. Having closure of gyms and many fitness centres has made the rising concern of home workouts, and people have been seen making every bit to make their fitness regime as consistent as the way it was before. In such a scenario dumbbell have been an affordable investment, which helps to kick start your day with the right kind of exercise that you have been doing in the gym, thus making all your exercises go in full swing without any hindrance.
Being notable exercise equipment, dumbbells are quite portable and easy to use. It can be kept anywhere at home, even though in the gym, you need to re-rack this gym equipment to its initial place from where you have lifted it. Available in different shapes and sizes, indulging dumbbells for full-body exercise gives you the added advantage of maintaining the symmetry of the body. Besides all, many arrays of exercises can be performed while using dumbbells such as hammer curls, decline seated bicep curls, French presses, preacher curls, overhead triceps extensions, triceps kickbacks, flat and incline chest presses, flat and incline chest flies, lateral raises, seated shoulder presses, front raise, reverse flies, upright rows, shrugs, lunges, half squats, seated calf raises, and single-leg calf raises.
Buying Tips to Shop for Dumbbells
If you are planning to buy dumbbells then few important things should be taken care of before buying. As dumbbells are available in various shapes and sizes, you should only look for those that are solely matching your requirements to carry out your day-to-day exercises.
Fixed or adjustable weights – Dumbbells are widely available in fixed and adjustable weights format. Well, in such a scenario you should look towards the need of your requirement. Fixed weights dumbbells are a fixed weight set of pieces that are usually sold in pairs. In order to work out with greater weights, you need to replace the lower weight dumbbells with a larger weight one. Whereas with adjustable weights dumbbells, you get the variety without having to purchase multiple dumbbell sets, because with adjustable weights dumbbells you can manually tune in your desire weights, according to your need, since it comes with a safety lock to prevent the weights from falling off.
Dumbbell material – Material also plays a very vital role as far as exercise is concerned. It has been seen that dumbbells are available in various materials, including rubber, neoprene or metal. All of these materials consist of the same weight efficiency to carry your daily exercises. However, rubber and neoprene one seems softer and are less vulnerable to damage floors, making them more ideal for home-usage.
Dumbbell shape – Dumbbells are available in two different shapes i.e. hex and circle. No need to worry, as the shape wouldn't matter as far as you are using dumbbells as a platform. Hex dumbbells are less likely to roll away whenever it is placed on the floor. So, for all type of exercises where you want to keep your dumbbells as platforms, then you should opt for the hex shape. Whereas if you want to use the dumbbells like an ab roller you should opt for circle one.
Top 5 Dumbbells for Home Workouts
1.) Neoprene Dumbbells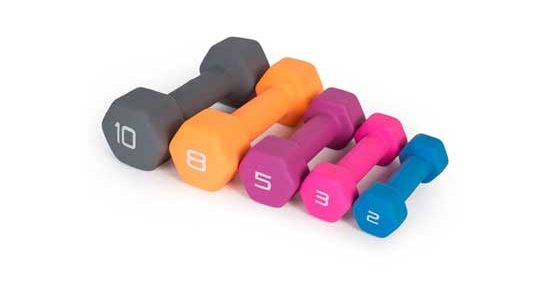 Neoprene dumbbells are a brightly coloured set of dumbbells, which is made with a cast iron core that is dipped in neoprene. Neoprene is a synthetic polymer and is pliable, thus makes these types of dumbbells more comfortable to carry workouts. Being ideal for beginner's, neoprene dumbbells offer a comfortable grip to hold, thus reducing the chances of injuries due to any accidental slip.
2.) Cast Iron Dumbbells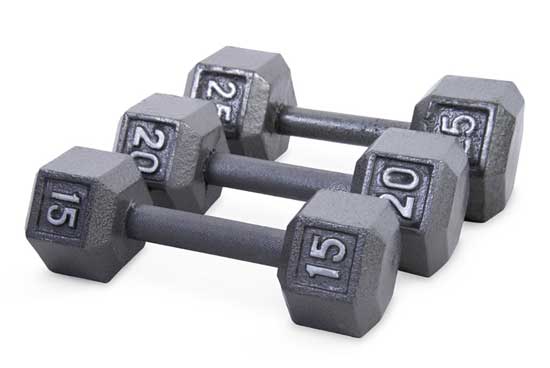 Cast iron dumbbells are made with a solid cast iron mould. If you are looking to elevate the level of your workout, then cast iron dumbbells is one that you should try. Make sure not to expose these dumbbells outside, as they rust easily when exposed to moisture.
3.) Rubber coated Dumbbells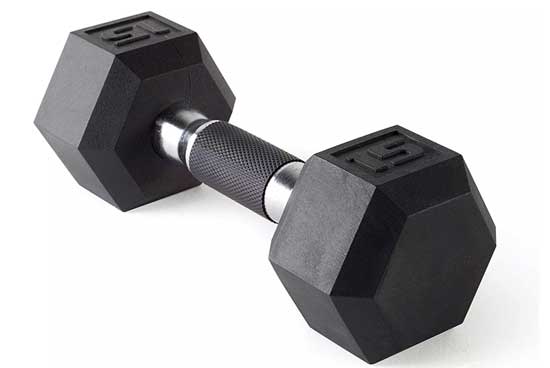 Rubber coated dumbbells are metal weights that are coated in the form of rubber. While being coated with rubber, these dumbbells help to protect the floor during any sudden drop. With the help of rubbers at its ends, there is a lesser risk of cracking the floor. All types of exercises can be ideally performed with this set of dumbbells.
4.) Urethane Dumbbells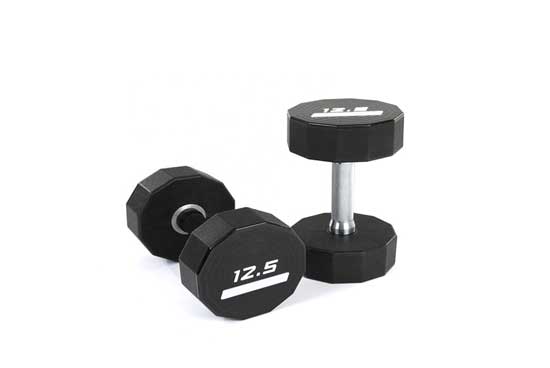 Urethane Dumbbells are from a similar family of rubber-coated dumbbells. The durability of these dumbbells is quite longer compared to the rubber-coated dumbbells. The outer layer of urethane dumbbells is tougher and are highly resistant to scratches and chips. You can get weights up to 200 pounds, as it is considered the most expensive dumbbells available so far.
5.) Chrome Dumbbells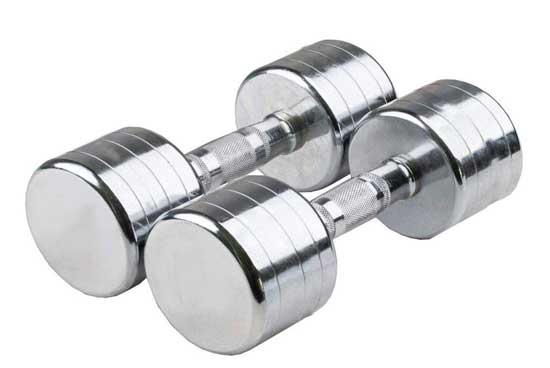 Chrome dumbbells are made of solid steel and certainly beautifies the place where you keep them. To flaunt your home workout, this set of dumbbells can be the best one to grab the eyeballs around. Being the most visually attractive piece, chrome dumbbells castes an impression whenever you perform your daily workouts. The shiny coated texture adds a premium look if you like showing off your home gym equipment to other people. Refrain to keep them outside, as they rust easily when exposed to moisture.
Disclaimer:
The information contained in this article is for educational and informational purposes only and is not intended as a health advice. We would ask you to consult a qualified professional or medical expert to gain additional knowledge before you choose to consume any product or perform any exercise.