DFL Deutsche Fußball Liga wins DreamlandXR award in the category Live Action at CES 2020 in Las Vegas
The award underlines the Bundesliga's forward-looking approach to broadcasting, as it brings real-time data to fans in the stands via a 5G-based experience app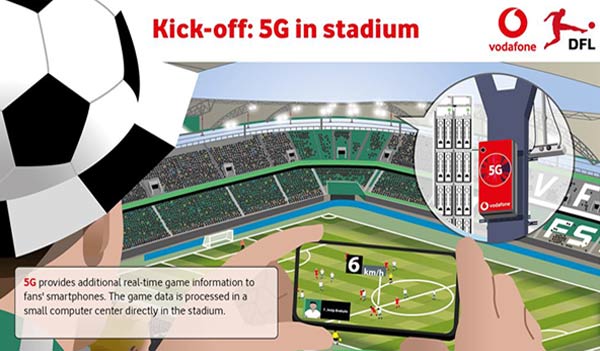 The Deutsche Fußball Liga (DFL) has been honored with the 'Best Sports Project Award' at DreamlandXR Music, Technology and E-Sports Festival at CES in Las Vegas. The award recognises the DFL's efforts to drive innovation in football by connecting both the unique live experience of fans in the stadium as well as the digital flow of information in an increasingly interconnected and digital world.
Taking the award ahead of nominees from other major sports organisations including the NBA and WWE, the winning project – the introduction of pioneering 5G technology into modern football – is part of a cooperation between the Bundesliga and Vodafone and was first tested in a world premiere last autumn. Both partners equipped the VOLKSWAGEN ARENA in Wolfsburg with 5G infrastructure, enabling the first-of-its-kind demonstration. During a live match, an in-stadium experience app provided real-time match statistics via Vodafone's 5G antennas and a small computer center, which enabled the transmission of players' individual values and other information via augmented reality directly on spectators' smartphones.
The Dreamland XR Festival, which presents the award, is hosted at CES in Las Vegas – one of the largest trade shows for consumer electronics. In line with the event's global platform of tech leaders, Germany's Bundesliga is perfectly positioned as football's innovation leader as it continues to offer partners and football fans a wide range of cutting-edge technologies and products to enhance engagement, including artificial intelligence (AI) and augmented reality (AR).
Speaking about the award win, Andreas Heyden, Executive Vice President, Digital Innovations at the DFL Group, said: "It's a great honor for the Bundesliga to receive the award for the best sports project within a field of really strong nominees, all heavyweights in the international sports industry. With our award-winning technology, the Bundesliga continues to pioneer new innovations. Powered by 5G technology, together with our clubs, we will soon be able to provide real-time data and expand the stadium experience with the help of augmented reality." He continued: "This award marks yet another milestone for the investment we are making in this area, recognition of the quality and progress we have achieved with our partners and further reason why we're considered one of the leading sports brands by the tech industry – football's innovation leader."