If you ask any regular Gym Goer, What according to them is the most important gym essentials, there is no doubt most of them will go for a pair of nice shoes.
Gym shoes are one of the most essentials that everyone vouches on before hitting the gym. As the general purpose of gym shoes is to provide comfort while running on the treadmill, they also ensure safety to the users while performing intense workouts like dead-lift, squats and other heavyweight exercises by curtailing any chance of getting your knees injured.
There are different kinds of gym shoes designed for a specific set of workouts like for weight lifting you might different pair and for squats again you need different pair of gym shoes altogether. Besides, all mentioned-above physical attributes, gym shoes also gives your personality an edge as you pop up on the gym floor. So, there are a number of reasons that you never skip your most essential gym items i.e. gym shoes at home  if you want to do a happy heavy satisfying workouts session.
Addressing the same kick, in this article we are trying to enlist Top 05 best performing gym shoes that you can choose to hit the gym again:
1) Under Armour Men's Running Shoes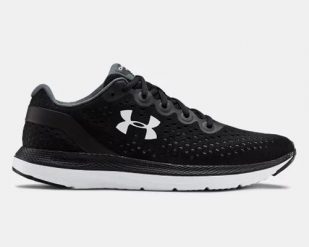 Under Armour is an international sports brand that is quite popular for offering high-quality running shoes endorsed by elite athletes. In this gym shoe, you can find molded micro G Sockline that assures to deliver best in class cushioning and classy fit to your feet. The pair comes with two-layer charged cushioning midsole and rubber outsoles, precisely designed to deliver extra flexibility and amazing grip support. 
To make the sole durable and longer lasting, the heavy wear areas of the sole are designed with high-abrasion rubber. Owing to its extremely light weight approx 283 grams, the gym shoe can be a good pick for purposes like running and aerobics.
2) Adidas Men's Drogo M Running Shoes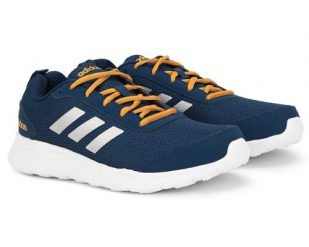 Adidas is yet another popular sports apparel and shoe brand that has a huge brand recall among the youngsters. The Drogo M shoes come with built-in synthetic mesh on the top side which delivers the pair a breathable look. The inner mid-sole is embedded with ADIPRENE Spring Bounce to give amazing cushioning affect and flexibility to the shoes.
In order to provide amazing cushioning affect an optimum flexibility, the inner midsole of the pair is embedded with ADIPRENE Spring Bounce. Available in 7 different vibrant colors, you can pick up any one from your favorite color scheme. Talking about the weight of the pair, the adidas running shoes weighs around 630 gram that comes with lace-up closure type.
3) Puma Men's Enzo Mesh Running Shoes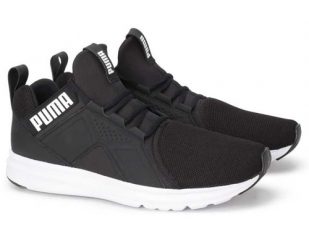 Puma is an internationally acclaimed brand which is known for its qualitative products. The manufacturing brand has given double layer sole to ensure that you get a super grip while doing gym workout. Besides, owing to its good quality of synthetic finish, you can feel the light weight of the gym shoes which again makes it a perfect pair for several purposes like running and weight lifting. To avoid easily abrasion of the sole, Puma has put nylon to design the lower sole.   
4) ASICS Metrolyte II multisport training shoes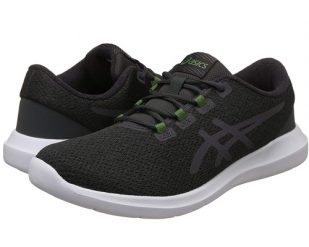 ASICS Metrolyte II multi-sport training shoes are made up of full length memory foam to ensure that the pair distributes your body weight evenly while running and lifting heavy. 
The memory foam also eases your body pressure on the heels of the sole limiting any chance of getting injured your knee. The sock liner present in the the ASICS Metrolyte II multisport training shoes keep your pair warm in case of cold weather. Owing to its impeccable grip and cushion, the ASICS Metrolyte II multisport training shoes is a perfect piece for doing heavy lifting.
5)Nike Air Max Infuriate 2 Shoes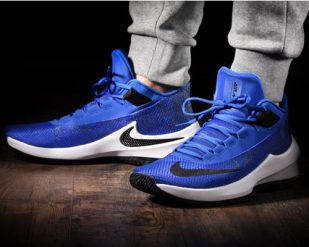 In Footwork biomechanics, Herringebone pattern is perfect product finishing solution which boosts the grip of the gym shoe for optimal performance. The Nike Air Max Infuriate 2 Shoes comes with the same designing pattern that helps to transfer the energy of your feet to your whole body without putting much pressure on your feet.
Herringebone pattern also lets you to use the gym shoe on any surface from a grass court to concrete turfs. Talking about Nike Air Max Infuriate 2 shoes, the gym shoes are made of synthetic leather material which aids to hold the form and increases the shoe's durability. It should be noted synthetic leather is more water-resistant in comparison to real leather, which can stain and suffer damage when exposed to water. The heels of Nike Air Max Infuriate 2 shoes are cushioned to promote shock absorption and prevent you from getting injured during workout.
Disclaimer:
The information contained in this article is for educational and informational purposes only and is not intended as a health advice. We would ask you to consult a qualified professional or medical expert to gain additional knowledge before you choose to consume any product or perform any exercise.