Vinay Sangwan aka Bababell is one of the few fitness trainers, who have an in-depth knowledge of kettlebells.
A Cricket enthusiast, Vinay Sangwan entered into fitness coaching in 2008 and since then he just added accolades to his journey. During the course of 12 years since the beginning, Vinay Sangwan has been associated with many recognized brands including Anytime Fitness INDIA, Classic Fitness Academy, and Proburst. At Present he owns two gyms of Anytime Fitness India in Malviya Nagar and Saket.  Besides, his brand association with chief brands of fitness turf, Vinay also cherishes to bag Best Kettlebell Trainer India for consecutive three times in a row at FEA (Fitness Excellence Awards).
In an exclusive interview with this BABABELL, Abhinav from Sportz Business tries to learn more about Vinay Sangwan who has a lot more to add in this fitness industry.
Q An anecdote of your journey from being a cricketer to a Kettlebell Master Trainer?
Cricket laid the foundation for me to explore what's called self-confidence. It was, is and will remain extremely close to my heart. Some unfortunate & unavoidable situations lead to my exit from Cricket. Thereafter I took up Fitness coaching as a profession. After 9-10 years of being a fitness coach, I realised I was missing my life of an athlete & that eventually became the initial reason of me getting inclined towards kettlebell sport. And as I explored the science behind this dynamic fitness equipment, I fell in love with it. Then I stated incorporating kettlebell into my training session, which eventually boosted me to be a master trainer.
Q Amid several fitness regimes and allied fitness equipment, what fascinated you to kick start with Kettlebells only?
I have always been a fan all those activities that challenge your physical abilities, and kettlebell sport being one such challenging sport, it fascinated me to start with.
Q How do you see Kettlebell as effective fitness equipment and what kind of exercises one can do with this?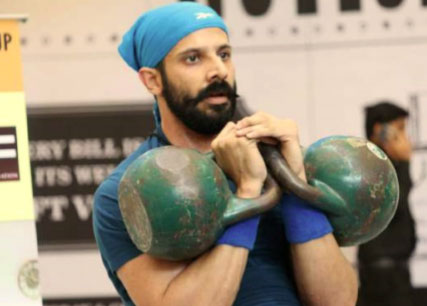 Kettlebells are great exercise tool. It is a cannon-ball like equipment with which one can perform almost all activities targeting every body part. It is convenient and can be used for home workout as well. A Kettlebell swing happens to be the foundation lift in kettlebell training or sport which later advances to other important lifts. Whereas one can emulate the traditional exercises as well with this tool e.g. overhead strict press, push press, goblet squats, goblet lunges, front squats / Lunges and many more.
Q In general, people are not aware of the benefits and forms of exercise with Kettlebell. Hence how do you plan to bring an alarming change for this amazing fitness equipment?
Kettlebell is beneficial in its own special way. It provides variation in your workouts. It is a bit more challenging as compared to dumbbell in some activities (due to its center of mass property ), at the same time it is sometimes more convenient than dumbbells or barbell because of its handles. One doesn't fatigue his / her grip while performing certain activities with kettlebell as compared to dumbbell or barbell. It is also beneficial in improving your explosive strength for sport purposes.
Q Throw some lights over your training career and with how many fitness centers and gyms are you associated as a master trainer at present?
I have been in business for over 12 years now. I started out as an intern in a small-time gym back in 2008. I got my first big job in 2009 in Amatrra Spa -The Ashok as a wellness coach. I left that job in 2012 and since then I have been freelancing. I have been associated with some renowned organisations, Anytime fitness INDIA & Classic fitness academy to name a few.  One of the major feather in my cap is my association with KHEL RATNA , PADMASHRI, ARJUNA AWARDEE , PARALYMPIC SILVER MEDALIST MS DEEPA MALIK JI . I have worked with Deepa ma'am as her strength & conditioning coach, during her Asian games preparations, where she bagged medals and brought laurels to the nation. By the grace of god almighty and my efforts, I have also been honored with awards by FITNESS EXCELLENCE AWARDS (3 awards in a row). One of my biggest credentials at the moment is: I am a proud owner at Anytime fitness Malviya Nagar & Saket – NEW DELHI.
Q Can you throw some light over your relationship with Classic Fitness? How essential it is for young trainers to procure certifications in fitness training from such reputed institutions?
My relationship with Classic Fitness Academy goes back since 2009, when I enrolled myself as a student at the training center and completed my much needed certification there. Now, after so many years, I am still associated with the Academy as a Teacher and Master Trainer.  It is truly one of the best in its forte. Well, Right fitness certification is the foundation of a good fitness career. In my opinion Certifications should be at the top priority before starting out as a fitness trainer in this industry. We often see young boys not paying enough heed to the education. But by the end of day, it is the right knowledge and education which can take you to places, and allows you to further give something to your society.
Q And the last, what is the next big thing you are planning to hit in the coming years?
I am not an efficient planner for the long term of the future. In fact, I would like to impart quality training/education to my clients, whole across my fitness training career. I would like to put in all my efforts with the utmost honesty and would love to cherish each and every achievement coming out of my hard work.
Disclaimer:
The information contained in this article is for educational and informational purposes only and is not intended as a health advice. We would ask you to consult a qualified professional or medical expert to gain additional knowledge before you choose to consume any product or perform any exercise.