Piyush Sachdeva, a sportsperson-turned entrepreneur who has been working earnestly to transform Indian sporting culture in association with his select group of sports fraternity as well as sports federation's association. Piyush Sachdeva is the CEO and founder of the Sports and entertainment Management Company of High Times Solutions that stands to provide world class sporting solution and holistic development of Indian Sports.
Following his noble dream of upgrading the Indian sports industry, Piyush Sachdeva runs several NGOs under the umbrella company of High Times Solutions for the betterment of hidden sports talent and delivering golden opportunities for underprivileged ones to rise in the field of sports. Played several national level cricket matches for the state of Haryana, former cricketer Sachdeva understands clearly what it takes to be a champion. Being a connoisseur of the sports, Sachdeva has tasted all sorts of sports played in a stadium. It was his urge to give back to the sports sector what he has earned during his days in the stadium, by providing financial and non-financial support to the struggling and economically challenged athletes.
Despite of being a promising cricketer, Sachdeva cherishes to bolster Olympic and Asian Games among youth and upcoming athletes as these are the games which can bring more glory to our nation on international sporting turf. Besides, as these games don't get much-needed endorsements and sponsorships unlike Cricket, he himself has taken responsibility to promote and reckon investors and sponsors to come on board for his noble cause.
Giving wings to his envisaged project, Sachdeva has started 10K run in 2015 in his hometown Karnal where he invited all to take part in the running event. The 10K run which goes as 'open for all' invites everyone from all sheds of life and also caters several other objectives of the Initiative.
The 10K run which came into existence in a small city of Karnal, offers a great opportunity for the city people to get engaged in an annual run. With a prize sum of 11lakh, the run carries lot of perks along with it for the city as well as for the people. As the event unfurls, Sachdeva engage several volunteers to set up training camps, fitness camps, RWA camps and conduct sports quizzes under which they provide goodies to the lucky winners. In addition to these camps, Sachdeva also arranges cancer detection camps in association with the Yuvraj Singh Foundation, YouWeCan. While highlighting the uniqueness of his 10K initiative, Sachdeva states," 10K is only platform in India where I have made it mandatory for kids under the age of 12 to come along with their parents." It should be noted that 10K run has been organised in three Indian cities so far including Karnal, Kurukshetra and Gurgaon.
Being associated with the sport of cricket and maestro in public relation, Piyush Sachdeva has made some endearing relationship in the industry.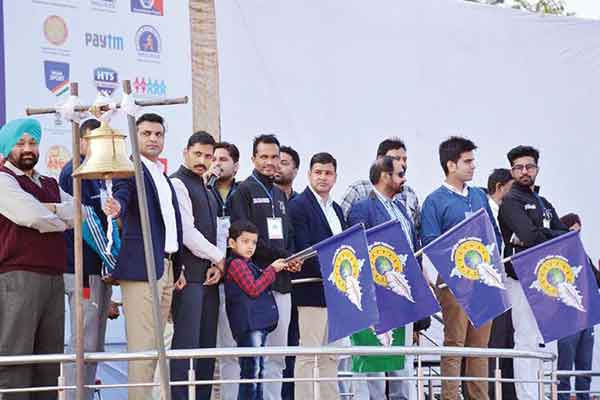 While telling about the reason why he choose such a small city to organise such event despite of New Delhi and Gurgaon, he replied as he wanted to show that such events can be successfully organized in place like Karnal featuring great footfalls from across all set of people. The 10K run highlights the essence of running in one's life as it is the most fundamental kind of exercise which everyone wants to perform.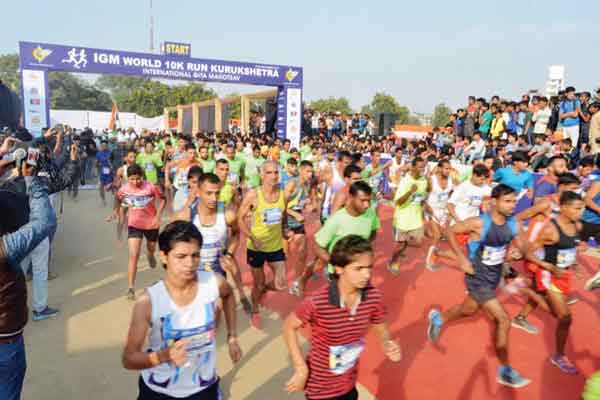 There is immense need to resurrect the way our contemporary sports industry is running. Lagged behind with some of the major drawbacks, the sports industry needs to be refreshed with the promotion of sports culture in the nation. In order to attain this objective, Sachdeva has been planning to bring sports grassroots programmes by calling High Times Solutions' major stake holders on board.
Talking about his collaboration for the NGO to work practically on ground, Sachdeva enlisted few renowned figures from the corridor of Indian sports industry which includes Mohit Sharma, Yuzvendra Chahal, Yogita Bali & Gauri Sheoran as in active partners of the organization.These players from different discipline of sports not only become the face of several programs under 10k Run but also assist a lot in raising the fund.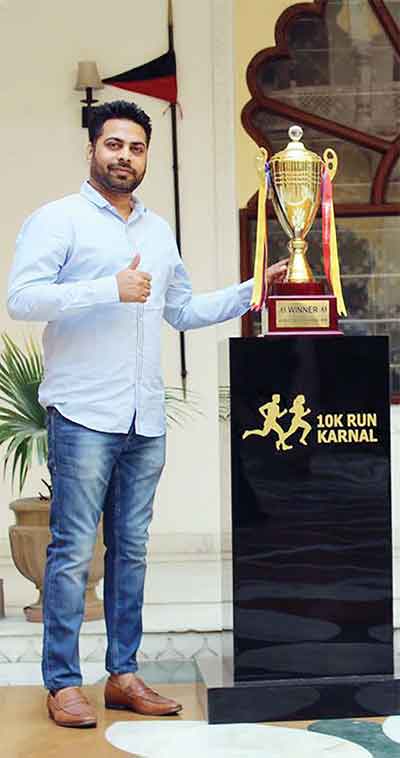 Taking one step ahead into a more commercialized format of sports business along with following their passion for the sport, Piyush Sachdeva and his cricketer friend Yuzvendra Singh Chahal started a new venture viz. CheQmate. An open for all web portal having Chahal as the face of the brand, the portal hosts several sports essentials like energy drink, caps, perfumes & mineral water and many more. It was their dream project that both have been envisaging since the days of playing cricket together, and finally after keenly studying the sports market, they have come up with such an elaborate platform which takes stance for their development and betterment.
With the commencement of this new format, Piyush informed SB about his future plans and said," We will invite pre-established vendors to market their product collaborating with us, we will boost up the brand image of that particular brand,". Adding more he said," we are in constant discussion with several brands which probably are going to be sealed in upcoming 6-7 months, ours will be an open for all project, where anybody can come under our umbrella projec and we will give them right place under ownership basis,".
While concluding his insights over the contemporary Indian Sports, Sachdeva said, "If we want to improve our sports industry, we need to work with common motives bolstering the sports industry, injecting the self-less approach, we need to scrap favoritism and nepotism, support only those persons who got some talent and scrap family culture". Sachdeva who has immense respect for athletes after army personal, wants to request private brands to come ahead and sponsor more and more Olympics and Asian Games format of sports.
Disclaimer:
The information contained in this article is for educational and informational purposes only and is not intended as a health advice. We would ask you to consult a qualified professional or medical expert to gain additional knowledge before you choose to consume any product or perform any exercise.