In the quest to become leading player of the world of fitness industry, AIBI offers an array of qualitative gym and fitness equipment to various homes, schools, Gyms and institutions.
AIBI which covers Beauty, Health and Fitness products, the fitness company also felicitates several homes, professional gyms and beauty institutions.
Being the largest retail network of fitness equipment in the south-east Asia, AIBI has its agencies in Singapore, Malaysia, Indonesia, Brunei, China, Thailand, and Australia.
Now, as the company is growing its international presence, it makes use of innovative techniques and methodologies in their working of that they can compete with the foreign-land pre-existing chief suppliers of the same domain.
With a vision to become world's leading Innovator and trend setter for fitness, health and beauty products enabling users to reach their threshold end of fitness and live life positively.
Recently, in an attempt to felicitate home space, AIBI offers a series of well-performing treadmill.
AIBI GYM IT Tread Motorised Treadmill
A perfect combination of beauty and performance AIBI IT Tread Motorised Treadmill is equipped with IOS or android as well as retains in-built Bluetooth which connects ''iRunning" app. The app delivers an actual measure of the calories burnt during an exercise session.
Depending upon the tenacity of a user, he or she can attain a speed of 1to16 KM/HR running on an effective belt area of 45 X 130 cm. Other features which make the treadmill an international  product are- High Quality Speaker, LCD Display + White light LED Loop, Handlebar heart-rate monitoring and Patented Safety Key. Besides, the treadmill is equipped with 9 speed control 5 incline control, 2 mixed control and fat burning programmes which users can pick up as per their requirements.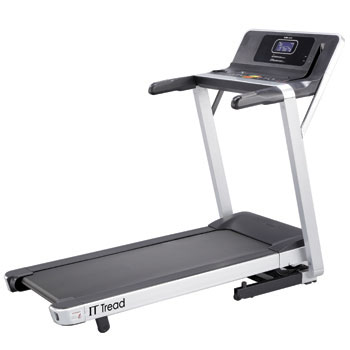 Specifications
       (1)   171 X 78 X 139 cm
       (2)  154 X 78 X 86 cm (Folded)
Running area: 45 X 130 cm
Net Weight: 72kg
Speed Range: 1~16 km/hr
Motor: DC 2.00 continuous HP
Incline Range: L0 – L15
Front + rear rollers: (46mm + 42mm)
Running Deck: 18mm
Running belt thickness: 1.6 mm
Cushioning: 8 Elastic industrial cushions
Max. User weight: 130 kg
Display type: 130mm X 60mm/ White lettering blue LCD display + LED running loop Time, Speed , Incline, Distance, Calories, Pulse, Program, Loop