A Pilates trainer and a group exercise instructor at Yasmin Karachiwala's 'Body Image' talks about the inventive fitness trends and food trends amongst millennials. A personal trainer who herself transformed from an ardent dancer to a personal trainer, is now helping many people to attain their personal fitness goals. In this exclusive interview, Aarushi Chauhan talks to Abhinav from Sportz Business about her journey to the wellness and fitness industry and also throws some light over the ever-rising trend of Veganism across the world. Edited Nub Below.
Q A quick time-peep of your journey into the wellness & fitness industry?
A quick time-peep of your journey into the wellness & fitness industry When I was in college, I had a standing passion for Dance. Thereafter, it continued after my graduation by teaching dance in school. This continuous dancing spree and Zumba class which I have joined meanwhile, have made me lose a considerable amount of weight which can be realised by the incident that at an early age of 20-21, my weight was around 44 kg. In the wake to gain weight and improve strength, I joined a gym and started weight training. Digging more about the strength training, I did a certification course of a personal trainer from ACE that I have completed in 2015, bringing substantial transformation to my skinny body to a fit one. In the later years, I have worked as a Personal Trainer and Group Exercise Instructor at Fitness First. At present, I am associated with Yasmin Karachiwala's Body Image as a Pilates Instructor.
Q Aarushi, you have worked with chief fitness centers including Fitness First India, Chisel and now working with Body Image of Yashmin Karachiwala. Since then till today, how do you see the scene of personal training and fitness enthusiasts industry growing in the city?
In the last five years, I have noticed tremendous growth in the fitness industry. Social Media, being the major gamechanger, has motivated millions of people to get into shape. I will say people are now more aware and focused to attain their personal fitness goals like never before. I want to highlight, fitness is all about eternal happiness and a consistent workout helps you change your idle lifestyle that comes with perks like glowing skin, balanced hormonal balance, and correct body posture.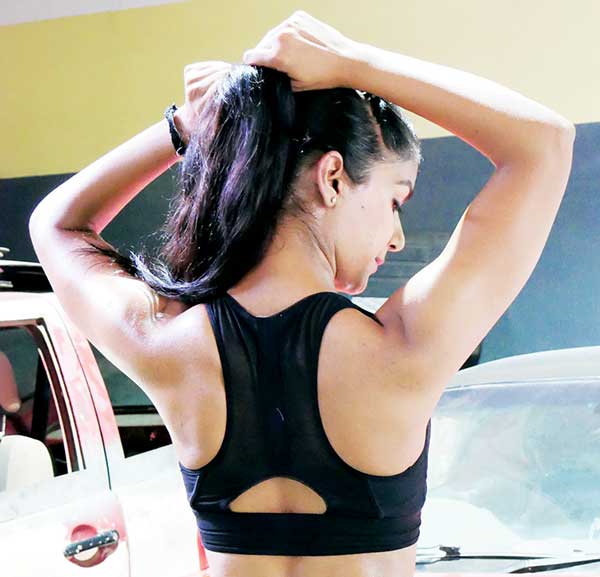 Q What are the key services you provide to your clients?
Strength and Conditioning, Fat Loss Program, Weight Loss Program, Muscle Building, Grooming Young Athletes, Group Exercise Sessions and Functional Training and Pilates are some of the key services that I include in my fitness training services. While handling my clients, I make sure that they complete their sessions safely devoid of any injury. In addition to that, I also educate them about their eating habits and different kind of exercises.
Q Nutrition and fitness tips you generally give to your clients?
In general, I suggest my clients, to set realistic goals for themselves. As workout constitutes only 30% of your fitness goals, the rest 70% goes with nutrition, where there are no shortcuts allowed. I counsel my clients to keep patience and maintain a consistent diet for their body while taking proper sleep.
Q Your take into Diet-Science and online fitness programs as Millennials are more crony about digitalization?
There is a lot to debate upon online trainer v/s personal trainer. Both have their own pros and cons. Coming to the online training, it is more cost-effective, where you're free to set your own timing. In the online training program, trainers usually focus more on your eating habits than your real-time workout.
In the world of Online Fitness Training, there are a plethora of online influencers who try to sell 'Herbal Fit Tea' which is apparently a trap and some kind of marketing tool to promote FMCG products. It takes a lot to seek the right kind of coach online who can design the right strategy for your personal fitness goals.
Q Your insights into the growing trend of vegan foods?
Going vegan is predicted to be the biggest food trend in the coming years. The food trend involves abstaining from consuming an animal-based diet which includes meat, dairy products, and eggs. Having so many benefits, the food trend is quite famous in the western countries where the number of Vegans( People Following a Vegan Diet) is on the rise. Being vegan is also trending on social media sites like Instagrams and Facebook. Well, I have recently watched a documentary on Netflix viz. 'The Game Changer' where former MMA fighter James Wilks travels across the world in the quest of exploring the fact about meat, protein, and strength. The documentary showcased elite athletes, special ops soldiers and visionary scientists who talk about the need of transforming to vegan for the sake of environment and planet earth. So far what I can suggest over this ever-spreading food trend, it's you and your personal choice whether to be a vegan or not. It should be noted that Instagram has further helped people to know what exactly veganism is.
Q Your fitness regime and diet plans which have helped you keep in good shape?
Consistency is the key and balancing my calorie intake according to my routine. A balanced diet with a regular workout! Trying different kinds of training and see how my body reacts and bring changes to my well-being.
Q How to keep the physical and mental balance in this growing urbanization lifestyle?
It is quite hard to balance yourself physically and mentally in this growing urbanization lifestyle. In order to keep such a balance all, it takes to avoid Snoozing your morning alarm, besides staying motivated across the day. It's alright not to have a beach body throughout the year. Sometimes it's alright to add cheat meals, adding some extra calories and extra minutes of sleep to your schedule. If you get bored with your daily monotonous routine, try yoga, outdoor running, Pilates exercises for a change. Enjoy your workout session by making it playful and engaging.
Q What will Aarushi Chauhan be like as we enter into 2020(key goals, resolutions, and tips)?
New Year resolutions don't always work but habits do. My Resolution of this New Year would be to stop procrastinating, (Hahaha) According to me, a woman shouldn't grow old without seeing the strength of her body is capable of!
Disclaimer:
The information contained in this article is for educational and informational purposes only and is not intended as a health advice. We would ask you to consult a qualified professional or medical expert to gain additional knowledge before you choose to consume any product or perform any exercise.