VO2 Max an effective tool to measure an athlete's cardiovascular fitness and performance capacity.
Sports science is witnessing an unprecedented growth in the last few years. This phenomenal growth in the history of sports science has improved athletes' performances like never before in a more informed manner. Keeping abreast of technological advancement, sports science showcased a number of Nutraceuticals as well as gadgets to keep track of athletes' everyday physical data.
Setting an exemplary technical advancement, Medical science has been engaged in the assessment of the quantitative and qualitative cardiovascular, pulmonary and metabolic responses of an athlete to exercise under Spiroergometry.
It undertakes measurement of Oxygen consumption, carbon dioxide production minute ventilation and heart rates provides precise diagnostics and prognostic information in a wide variety of clinical settings.
During the Spiroergometry, VO2 Max which is maximum oxygen consumption poses as the most important variable. It highlights the threshold limit of an athlete's cardio-pulmonary system providing precise data of physical fitness.
Amid the abundance of several gadgets and products in the market, Vo2 Max is yet another revolutionary technique of Medical Science.
What is Vo2 Max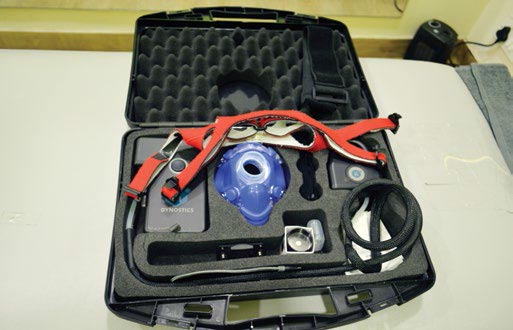 It is one of the several tests that are used to determine an athlete's cardiovascular fitness and performance capacity. A series of precise tests usually done under an expert doctor's guidance; Vo2 Max is used to establishing the 'Aerobic Endurance' of an athlete prior to or during the course of training. VO2 Max can give you important insights about your cardiorespiratory fitness, like how long you can sustain a certain intensity of exercise.
The Vo2 Max test gets its units in Millilitre of oxygen used in one Minute per Kilogram of body weight viz. (Ml/KG/Min). Following a simple formula, the more oxygen an athlete consumes during high-intensive exercise, the more his or her body will generate Adenosine Triphosphate (ATP) energy in cell.
Erstwhile limited to just high-end medical facilities and a few elite athletes' reach, VO2 is now available in your city (New Delhi) at two well-facilitated Sports Medicine Clinics of Col (Dr). Rana K Chengappa. Dr. Chengappa is a retired Colonel of Indian Army who has hands on experience of 30 years in medical science and rehabilitation. He has been incorporating VO2 Max on his patients since very long.
Dr. Rana K Chengappa's Sports Medicine Clinic incorporates this ultra-modern diagnostic technique which can precisely determine actual fitness level seeing intake of Oxygen (O2) and overtake of Carbon dioxide (Co2).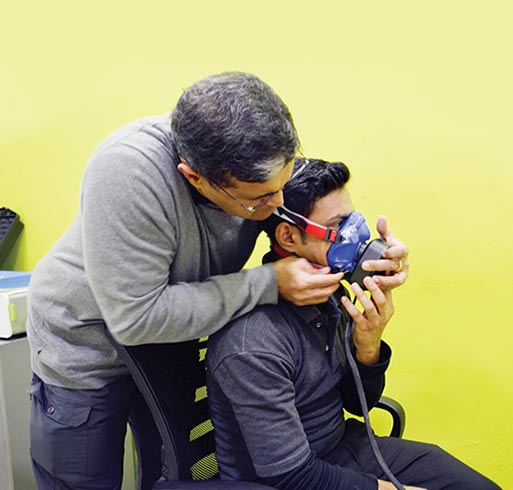 It can determine:
Fat burning heat rate zones
Improving performance heart rate zones
Heart rate zones where muscles over acidify Spiroergometry involves a series of performance diagnostics of a person's heart, lung, vascular and metabolic system in a stressful physical threshold limit.
Vo2 Max being the most important variable of this diagnostics defines the upper limits the cardio-pulmonary system and provide an objective estimation of physical fitness.
How does the lab perform the test?
1. Tests are carried out in a controlled conditions
2. During the test, subject will be made to wear a mask which will be suitably harnessed to your head and face
3. Exercise will be carried out on a cycle or a treadmill based on your exercise/ sports activity
4. You will be made to exercise till your maximum capacity
5. After the exercise you will be given a fitness report and various training heart rate zones
Who all can be benefited with VO2 Max ?
All sportspersons basic first step information of fitness level and then regular follow ups to note improvement
Coaches can get their sportspersons tested and then use their individual heart rate zones to train to improve performance
Junior and senior sportspersons undergoing elite coaching
Ideal for sportspersons returning from injury go through in a stepwise process with evaluations to note progress
Who all can benefit
Racquet sports players
Combat sports
Team field events
Runners -amateur or professionals training for a marathon or a half marathon or triathlon – to make training effective
Cyclists who feel they are plateauing in their performance
Group and Team Sports Testing
Ideal for team sports or when a group of people are training together
Based on each individuals performance levels they can be segregated into different groups and given effective training
Disclaimer:
The information contained in this article is for educational and informational purposes only and is not intended as a health advice. We would ask you to consult a qualified professional or medical expert to gain additional knowledge before you choose to consume any product or perform any exercise.