A multi-gym is a single piece of strength training equipment that enables a user to perform multiple exercises on the same machine. Majorly, there are two kinds of Multi-Gym viz. Single User and Multi-user and you should install one depending on your requirements and space available. A single user multi-station allows only one person to workout at a time, while more than one person can perform workout on a multi-gym. In peculiar single-user multi-station gym equipment, one can find pec deck/ rear deltoid, shoulder press/chest press, and abs crunch/back extension mounted on a single unit. Owing to their multiple weight stacks, the multi-gym allows several users to work out on the same machine at the same time. In general, this gym equipment come with either four, five, six or eight weight stacks.
History of the Multi Gym Station
It was around mid-20th century when the very first single station gym made its entrance to the gym station. Walter Marcyan, a muscle beach bodybuilder was the one who gets all the credits for developing an early multi-gym weightlifting machine that helped to popularize working out in the gym. He had introduced revolutionary gym equipment that has changed the different facets of commercial gyms and homegym. It was just after the commencement of a multi-station gym, home gym became a viable option for everyone. As the gym equipment market is quite diverse, you need to be very careful while picking up the right kind of Multi-Gym by simply following some basic buying guidelines:
There are some key features of a Multi-Gym that you should consider before installing one:
Weight Stack
Weight stack is the most important aspect of any gym equipment. Keeping the amount of growth, you should always go for Multi-Gym machines that have an optimum weight limit to fit your ever-rising muscle growth. Usually, it happens, multi gyms for home use vinyl weight stack while multi gym for gym and clubs come with iron casted weight stacks and also remain a bit costlier than the prior. If you are a beginner, just go for weight stack comprising around 60-70 kg. However, upper-level users should try weight stack of more than 80 kg. Apparently, you can hit this weight class while doing compound exercises, including chest press, shoulder press etc.
Workout Stations
The right range of exercise can define a workout as a good or a bad one. So, it is necessary that you choose the right calibrated multi gym station. In general, all multi gyms includes: chest press, pec dec low pulley, high pulley and a leg extension unit. So, it is recommended that you should at least find these features in your tentative gym station machine.
Adjustability
Applied for whatever gym equipment you are doing workout on, it is definitely a must to maintain a perfect alignment of your body. In case, you are doing a workout aligning the equipment at the proper level, it can either injure you or go in vain by hitting a different sets of muscles that you are not intended to do. In order to prevent this, you should try and find a machine with a seat adjustability feature so that no matter in whatever stature that you will remain, you can work out over the multi-gym without any problem.
Cables and Pulleys
You must be wondering what you would be looking for in the cables and pulleys used in the Multi-Gym. It should be noted that the pulleys and cables play a crucial role to the operation. Cheap models use plastic nylons and bushings with poor cables that add a lot of extra resistance to the weight because of the friction. These models also make the selected weight feel heavier than it should. Poor quality also guarantees a juddering, grinding motion making it uncomfortable to train with. For a seamless and flawless workout, you should not go for cheap ones which help you in avoiding this problem. A ot of them even use bearings and most are fitted with 2000lb tensile aircraft cables for long-lasting use.
Best brand and Best Quality
Gym equipment like Multi-Gyms is a one-time investment and you should be quite careful while ordering one. If you don't want to deal with wobbling and rattling multi-station gym just in month-long usage, you should check the brand as well as physical build of the gym equipment. To avoid this, you need to find good qualitative gym equipment that has solid welds, steel frameworks and heavy-gauge tubing. It should be noted, the heavier the user limits the more suitable and durable the gym equipment would be.
Benefits of the Multi-station gym
Multi-station gyms are quite safe for training at home as they don't need a trainer to check your workout since there is not going to be any chance of injury that may take place at the time of training.
They are great for the beginners as they have a fixed path of motion to control your direction.
It can be cost-effective unlike other gym equipment, if in case more than one person has invested in this equipment.
Perfect gym equipment for a home workout, especially if you want to make your own home a gym, a Multi-station gym can be the solution for you.
Allows you to work out in peace without caring about your turn, which usually happens at the gyms.
You don't need to go out if you have one.
You can hit your full body with a multi-station gym.
At the time of the pandemic, having a multi-station gym gives you a hygienic workout, as no other person would be using your gym equipment, except you.
Top Ranking Brand of Multi-Gym Available in India
BodySolid G9S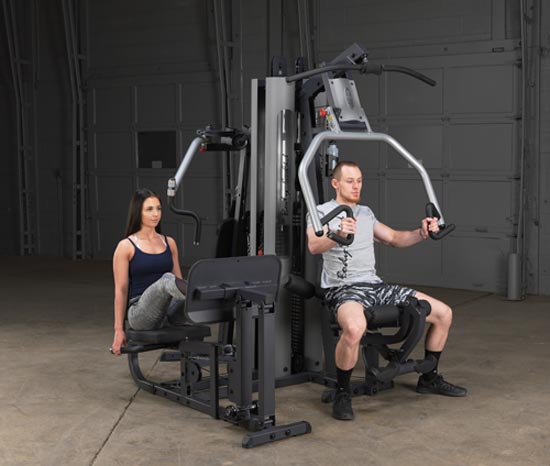 Body-Solid is one of the leading commercial equipment that is known for offering modular fitness equipment. Continuing their trend of delivering a qualitative assortment of fitness equipment, Bodysolid presents its Multi-Gym G9S, a multi-user gym station that has almost all required features. The G95 series of gyms features a multi-function Press Arm Station for bench press, incline press, shoulder press and chest supported mid-row exercises.
Kamachi Home Gym HG-44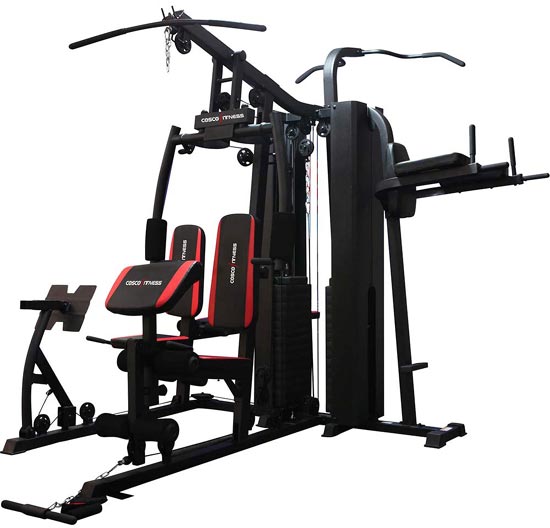 From the manufacturing house of Kumar Sports, KAMACHI is one of the best-selling sports, fitness and outdoor equipment brands. Being compact in size, the Multi-gym machine can be installed anywhere in the gym. Weighing 200 KG, the whole set up is sturdily built with essential features for the users to hit their whole-body workout.
Powermax Fitness GH-130 Multi-Gym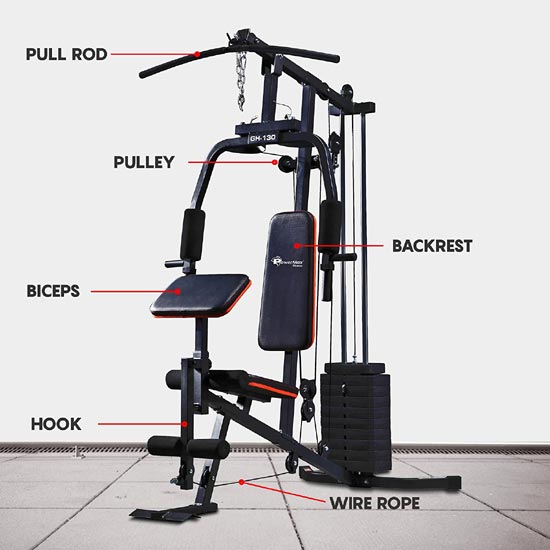 If we are talking about the fitness equipment, it would be quite unfair to not talk about Powermax which happens to be one of the leaders in its domain. The Powermax Ffitness GH-130 Multi-gym is the multi-functional gym set-up designed to hit your full body with just one unit. Facilitated by several functions including Low Pulley Row, Knee Raise, Bicep Curl, Preacher Curls, Preacher Curls Reverse Grip, Wrist Curl, Leg Curl, Leg Extensions, Crunches, etc. The Multi-gym is an absolute solution for your fitness.
Lifeline Fitness 6 Station Home Gym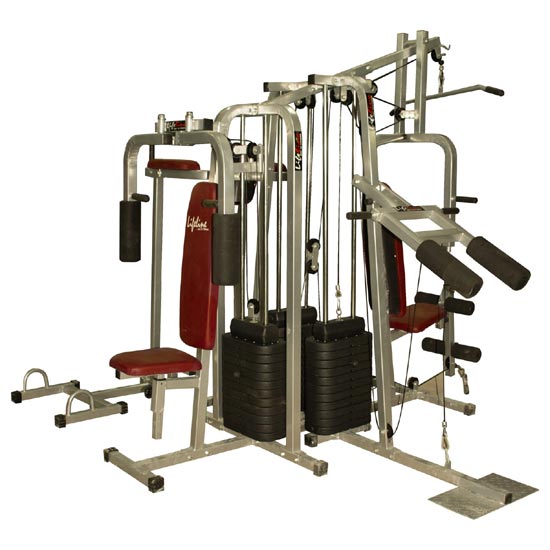 Based in Chandigarh, Lifeline is a well-known manufacturer and exporter of fitness equipment in India and abroad. Continuing to maintain international manufacturing standards, the brand is known for offering high-quality gym and fitness equipment at reasonable prices. Being an indigenous fitness equipment brand, Lifeline also offers a multi-facilitated 6 station home gym with 3 weight lines and excellent precision. Weighing around 180 kgs, the 6 station home gym pledges to have great durability along with comfortable padding on the seats. Being a perfect piece to install at your gym or your home, the fitness equipment works like a single station where you can target your whole-body workout.
Hence, these are the top 4 Multigym brands in India that you can try if you are looking to transform your garage or any open space into a workout station. On the other hand, if you are a gym owner, just install these in the gym to reduce the rush for free weights on the gym floor.
Disclaimer:
The information contained in this article is for educational and informational purposes only and is not intended as a health advice. We would ask you to consult a qualified professional or medical expert to gain additional knowledge before you choose to consume any product or perform any exercise.