There may be several individuals, be it those who have just begun to take a note of their health and fitness levels and have started exercising or those who may have even tried to give it a shot at the gym or a fitness studio in the vicinity and who may just have only a vague opinion at the back of their mind that training with weights is only for fitness athletes and bodybuilders and not really for them. Here's why we want you to know that such opinions could be unreal.
"Most individuals who are actually able to take up and finish a whole session of training with free weights are more likely to stay excited and have that feel good factor staying in them that can even make them get to think about waking up in the morning and hitting the gym or a fitness studio for performing some workouts."
 "It's time to press the "NO" button for "Weakness" and only press the "YES" button for "Fitness." And for that to happen for real, you need to push yourself physically and land up either at a gym or a fitness studio and bring about that big difference to your body and muscles which would stand as a testament for others to see the stronger person inside you.
"YOU'VE GOT TO FIND THE MOTIVATION TO GO OUT THERE AND MAKE ALL THOSE PLANS THAT YOU MAY HAVE MADE TO KEEP YOURSELF FIT HAPPEN AT LEAST TODAY." 
Now that training at a gym or a fitness studio would've gotten you a reason to smile, let's get started and understand why training with free weights can be awesome for your overall health and fitness.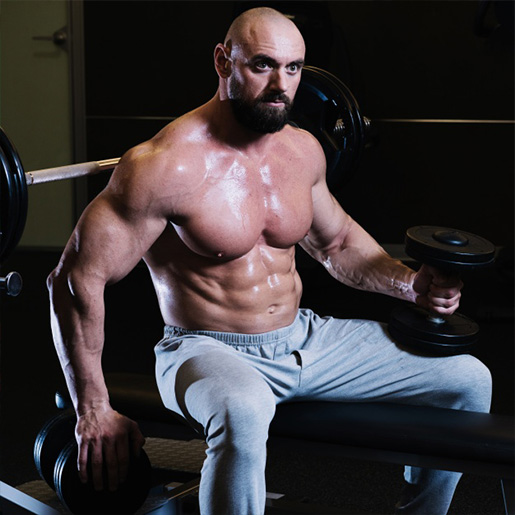 Following are a few benefits that can be derived from working your body and those various muscles using free weights and keep yourself strong and in shape:
Improves your metabolism levels and promotes weight loss:
By engaging yourself with a workout using free weights, you are working your body much harder in order to sustain enough muscle mass and ward off fat. As you train with free weights during the day, you are actually using up those extra calories which further helps you burn more calories for the day. As your muscles get stressed up at the time of engaging in strength training, it further helps these muscles to adapt, in addition to helping them become stronger in the process. Further, by continuing to train with free weights, you are revving up your metabolism levels that would also help you burn a lot of calories all through the day.
Raises Your Bone Density:
One other reason that can get you motivated to lift weights is that it can strengthen your bones. The bones are responsible to ensure that your body structure is stable. Moreover, your muscles that are connected to bones by strong tissues such as tendons work alongside the bones. Besides, some of your internal organs that are considered to be vital are also protected by bones. Hence, the more fragile your bones are, it becomes all the more important for you to work on your bones and strengthen them. When people train at the gym regularly by lifting weights, their bone density actually improves considerably, in addition to helping them halt the natural loss of bone density that may occur as they grow older. Besides, lifting weights can also help you achieve a higher muscle mass as well as a better posture and above all it can decrease your chances of being affected by chronic diseases.
Helps in maintaining a proper posture and enhances the quality of your sleep:
When you train with weights, you are actually placed in a better position to improve the strength of your bones as well as joints. This actually helps you handle your tasks a lot simpler than you can imagine. However, you must equally take good care to ensure that you lift weights the correct way by engaging the services of a qualified and experienced trainer, so that you can protect yourself against any future possible injuries. As the muscles present in your body are strengthened by lifting weights, you can observe a lot of changes taking place in your body physically, which can actually help you deal with any forms of stress faced by you in your lives much better. The quality of your sleep is also enhanced by lifting weights every day.
Helps you grow with confidence:
You would be able to realize that lifting weights regularly can actually make you look good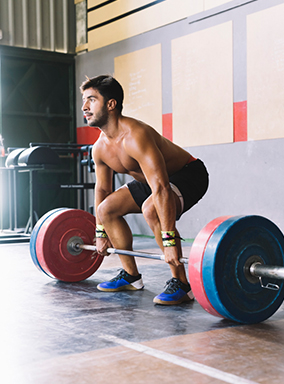 and fit always. This can in turn amplify your confidence levels and also act as a typical morale booster for you. Since you would actually have to perform a daunting task by exerting more pressure on your body, it would definitely pose a considerable challenge for you. Although, it would be difficult initially to convince yourself and make up your mind both physically and mentally to work your body with weights, it can really turn out to be gratifying post workout. You develop a higher faith in yourself that you possess the necessary strength to get past any barriers at all times.
Boosts your balance and decreases your chances of injury:
As you train yourself with weights, you are not only improving the power of your bones and muscles, but also providing enough strength to the ligaments and tendons which are actually bands of connective tissue that actually support your body movement at all times. By continuing to have strong ligaments and tendons, you are in a position to work at your peak, including helping you safeguard yourself against any injury.
Disclaimer:
The information contained in this article is for educational and informational purposes only and is not intended as a health advice. We would ask you to consult a qualified professional or medical expert to gain additional knowledge before you choose to consume any product or perform any exercise.