If you are an athlete or a fitness enthusiast looking forward to improving your muscle recovery as well as hit your metabolism, then you must not overlook the effectiveness of water intake! In fact, you can't afford to.
The way fitness enthusiast and athlete are taking care of their day-long schedule of nutrition intake and single day workout, in the same way, water intake also pose to be an essential aspect of our daily muscle recovery as well as gains!
Water a crucial retains two-thirds of our body and helps to build and recover a sore muscle if complemented with a sound 7-8 hours of sleep.
To better understand the effectiveness of hydration i.e. water intake, we have jotted down some major benefits that you can get out of it:-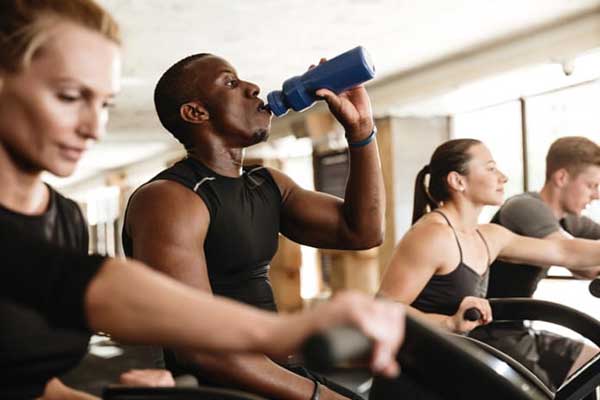 1. Water lubricates your joints
Water helps a lot in the formulation of synovial fluid which further helps to lessen friction in between your joints by lubricating them and boost our mobility. In case you are skipping your appropriate amount of water intake, this can be fatal for your joints if you are lifting heavy weights that day in the gym. This can be avoided if you keep yourself hydrated and go easy on your joints. So keep drinking water and keep lifting weights!
2. Rejuvenate your muscles
Water contains essential electrolytes that help you keep running your whole body even in an adverse condition. Well, like other parts of your body, muscle also requires a certain amount of balance to recover and gain properly. It happens, if you don't drink enough water before and after the gym session, it can weaken your muscles strength and control.  On the other hand, if you keep drinking the optimal amount of water, your muscle will be energized allowing you to be more awake and enhance your performance.
3. Water helps you to be more resilient
According to the journal Psychophysiology, drinking an adequate amount of water can help increase your endurance and tolerance to pain. If you work out in a dehydrated state, you can feel more pain than before when you are not dehydrated. So, the bottom line is this if you really want to take your workout longer and more intense, it is suggested you to take more and more water.
4. Improve your muscle recovery time
Working like a liquid healer, water catalyzes the process of muscle recovery.  A sore muscle is one of the several reasons, why people stop doing consistent workout and strength building and stay deprived of a healthy lifestyle. The state of dehydration also makes it worse to deal with sore muscles.
As water removes toxin from your body and keeps your ever-fresh and energetic, it helps a lot in the recovery of a sore muscle.
5. Water improves your digestion
After doing an intense workout, it is required to refuel your body with all those essential nutrients suggested by your trainers and dieticians. Water being the catalyst of digestion; help you to make saliva which further helps to break down food. The fact makes it essential to keep hydrating yourself to boost up your digestive process.
6. Heart Rate Recovery
A 2012 study of the role of hydration in athletic performance found that hydration had a large impact on recovery (Moreno et al., 2012). In the experiment, individuals did a 90 minute run on a treadmill under one of two conditions – either they drank a sports drink during and after the workout or they did not hydrate at all. The experiment found that the individuals who hydrated showed significantly faster heart rate recovery following the workout which indicates that their bodies more quickly recovered from the stress of exercise.
Now, when the summer is here, it is quite important that you keep drinking water to replenish your lost electrolytes and sodium after a workout. So, keep track of your fitness along with water intake.
Disclaimer:
The information contained in this article is for educational and informational purposes only and is not intended as a health advice. We would ask you to consult a qualified professional or medical expert to gain additional knowledge before you choose to consume any product or perform any exercise.