Swimming is a water racing sport in which athletes use their entire bodies to move through the water.  The Sport which has been recognized by the Olympics cherishes to have the second-highest number of events in the Olympics following athletics.
In the Olympics, competitive swimming is one of the most diversified forms of sports that feature several categories including butterfly, backstroke, freestyle, individual medley, and breaststroke.
In addition to this individual category of swimming, four swimmers can take part in either a freestyle or medley relay.
In this we are going to talk about the top 10 individual best Olympic Swimmers in the history of the Olympic Games:
Janet Evans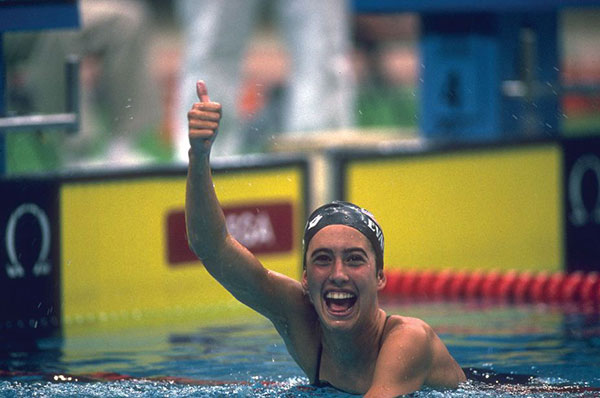 Evans was born in California and is specialized in long-distance swimming. She has made several records to her name. In 1988 at the Seoul Olympics, Evans created a new best timing in the 400-meter freestyle.

In the Seoul Olympics, Evans got gold in the 400m medley as well as the 800m freestyle. Evans became the first woman swimmer to win continuous Olympic gold in any event.

Janet is the winner of five Olympic medals follows as four gold and one silver and was known as miss perpetual motion.

Kristin Otto

Due to a boycott by 14 Eastern bloc countries that included Kristin's native East Germany led her to sit out of the Los Angeles Olympics in 1984.

However, she overpowered every optical in her way to arrive at the Seoul Olympics in 1988 and was at the top of a game. She won all six Olympic gold medals in the 1988 Olympics and became the first woman to win 6 gold at the single edition of the Olympics.

Otto created new world records in 50m freestyle, 100m backstroke, 100m freestyle, and 100m butterfly even before her retirement in 1989.

Ryan Lochte

Ryan is the current holder of world records in 400-metre, 200-metre, and 100-meter. He is the second in the history of men swimming who has won seven individual Olympic medals.

Lochte appeared in men's 200m individual medley in the Rio games 2016. He has won 5 gold, 3 silver, and 3 bronze Olympic medal in his overall swimming career.

Amy Van Dyken

When Amy started his Battle against her severe asthma condition, on her doctor's advice she started swimming and later achieved 6 gold medals across two editions of the Olympics.

In 1996 at Atlanta Amy achieved 50m freestyle, 100m butterfly, 4×100m freestyle, and 4×100m medley and became the first American woman with these achievements at a single Olympic game.

She is also titled as the second-best female swimmer in Olympic history.

Natalie Coughlin

Natalie is tied with fellow swimmers named Jenny Thompson and Dara Torres for the spot of female American Olympians after winning 12 Olympic medals.

She became the first woman to defend the hundred-meter backstroke title at the Olympic Games in Beijing in 2008. She won the highest number of medals in a single Olympic game followed by a 4×100m freestyle bronze won in London 2012.

She holds a total of 3 gold, 4 silver, and 5 bronze medals in his overall swimming career.

Dara Torres

Dora was born in California and at the age of 41 became the oldest swimmer to win a medal at the games in the year 2008 at Summer Olympics in Beijing.

Dara was featured in the 50-meter freestyle, 4×100 meter relay, and 4×100 meter freestyle relay to ensure a silver for her 3 and for herself.

Dara holds a total of 12 Olympic medals, 4 gold, 4 silver, and 4 bronze.

Ian Thorpe

Australia's Ian became the most successful athlete in the Sydney Olympics in 2000. Thorpe is nicknamed as the Thorpedo for his blinding speed.

He won a total of three gold and two silver in Sydney Olympics and two Gold medals for freestyle in Athens Olympics in 2004. His career was short due to the discovery of cancer in 2006.

Matt Biondi

California's Matt is a former member of the International Swimming Hall of Fame. He won a gold in relay in his game debut in 1984 at Los Angeles and second outing in Seoul in 1988.

Matt is also known as the California Condor due to his huge wingspan. He got retired in the year 1992 with a total count of 11 Olympic medals from three editions that is eight golds, two silver, and one bronze.

Mark Spitz

Mark won seven straight golds at a single Olympics in 1972 in Munich and set a new world record.

Mark holds a total of 11 medals that include nine golds that made him among the only five Olympians to won nine or more gold medals at the Olympics.

Michael Phelps

Michael is an American former competitive swimmer, who holds a total of 28 medals. In 2008 at Beijing Michael won 18 gold medals.

At Summer Olympics in 2004, he won 18 medals that included 6 gold and 2 bronze medals in Athens. He is the most successful athlete of the game in the fourth Olympics held in 2016 at Rio De Janeiro and 15 gold medals and 1 silver.
Disclaimer:
The information contained in this article is for educational and informational purposes only and is not intended as a health advice. We would ask you to consult a qualified professional or medical expert to gain additional knowledge before you choose to consume any product or perform any exercise.