Started with a mission to deliver Indian athletes (Power Lifters, Cross Fitters and Weightlifters) the right kind of Barbells, BullrocK Fitness strives to deliver state-of-the-art Barbells and allied gym equipment. Instituted in 2019, BullrocK Fitness came into existence with the sole objective to address the untapped market of Barbells in India and educate the benefits of investing in the right kind of barbells in the gyms and other personal space.
Tushar Yadav, the Founder of BullrocK Fitness who himself is a fitness enthusiast and a recreational lifter since 2016 besides running a Nashik-based gym named 'Thor Fitness Gym'. It was the time when gym owners used to invest millions over Cardio Machines neglecting the efficacies of buying the right kind of barbells. Comprehending the need of the hour, finally, Tushar Yadav Ventured into the gym equipment industry with his own brand BullrocK Fitness in 2019.
Knowing more about this one of its kinds of Gym Equipment brand, Abhinav from Sportz Business Fitness Magazine brings an exclusive talk with Tushar Yadav, the Founder of BullrocK Fitness where he has shared insightful facts about Barbells and other allied accessories.
Let's read him what he has to say about the most underrated gym equipment i.e. BARBELLS.
Q. Hi Tushar, Thanks for talking to us. Tell us about 'BullRock Fitness' when did it start and what made you to venture Barbell Manufacturing space? Can you highlight some other major accessories you offer besides Barbells?
Let me get straight into this. I got passionate about lifting weights in 2016; I opted for DPT through K11 Fitness School (Pune) in 2017 when I was almost 24 years young; At the same time, my first venture, 'Thor Fitness Gym', was taking shape in Nashik.
In K11 School, I learned about the importance of structural, compound lifts and free weights. I was searching for a set of equipment for my first brainchild – Thor Fitness, and that's when I started studying equipment; The curiosity drove me, and the idea of raising an equipment brand was sleeping with an eye open. I was not happy with the fact that gym owners spend millions on cardio equipment and buy cheap weights just because they can't source a better option, or maybe lack of knowledge made them do it. In 2019, I finally decided to enter into the fitness equipment industry with the own brand 'BullrocK Fitness' and came up with our pivot product, Barbell. Notably, the barbell is one of the most important equipment, which was underrated and treated as an accessory so far, and we wanted to spread the truth and uplift the fitness facilities and athletes.
After the grand success of barbells, we introduced Bumper plates, cast iron plates, Deadlift/Weightlifting platforms, Dumbbells, Bench, Power racks and a few more accessories that are also getting popular across the strength community.
Q. How did you get such great reviews?
We are thankful to the strong community for spreading our positive reviews and their persistent support. We don't make many products, and we are focused on a narrow category, which helps us manufacture each product with a keen eye on details. Performance, Durability, safety, and aesthetics packed with smooth customer service are the things spreading our equipment rapidly across India. For more details, you may visit our website and check the infographics and specifications of each product you would like to compare.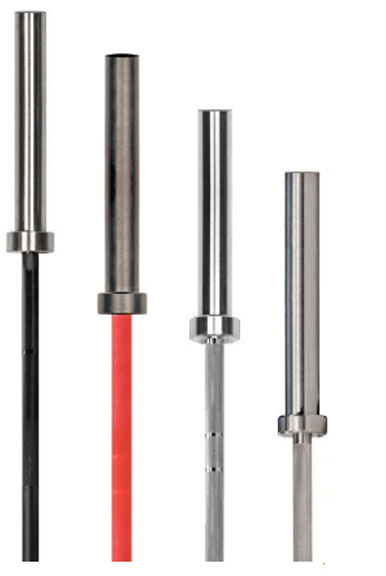 Now, talking about great reviews, well, our sales team acts as a consultant, and it doesn't have any targets/incentives based on numbers. We at BullrocK never try to push sell anything; We strive to understand the consumer's problem, we get into the user's shoe and visualize the issues. We help our customers choose the right equipment for their needs without thinking about the higher sales. We want to add value to people's lifting lifestyle, and that's how we get good reviews.
Q. What kinds of Barbell, Bullrock Fitness offers in the market for different sports including Weight lifting, Power Lifting and CrossFit. How do you make sure to meet their particular specification?
We offer a wide range of Olympic Barbells; we have 17 models covering the need of Athletes, commercial gyms, Weightlifters, Powerlifters, CrossFitters, Recreational Lifters, home gym owners, and more.
The Sabertooth and The Wild Rhino are our Power bars, having 20kg weight, 2200mm length, 205K PSI tensile strength, and 29mm shaft diameter, with IPF standard knurl marks. These two bars are becoming popular amongst powerlifters because they love the aggressive volcano knurl, providing the kind of firm grip never experienced before in India.
The Silver Tiger Bar from our arsenal is the choice of weightlifters, having 20kg weight, 2200mm length, 210K PSI tensile strength, and 28mm shaft diameter with centre knurling. The Bar has 10 HK needle bearings, resulting in an impressive spin and is ideal for workouts that include Olympic lifts such as snatch, clean and jerk.
The Black Panther and The Red Turtle Bars are our Multipurpose bars, having 20kg weight, 2200mm length, 210K PSI tensile strength, and 28mm shaft diameter with no centre knurling and dual knurl marks (IPF+IWF). Well suited for Crossfit, Commercial gyms, home gyms and more. We have also got 2 models for the Women's weightlifting, named The Silver Tigress and The Lady Turtle, having 15kg weight, 2010mm length, 190K PSI tensile strength, and 25mm shaft diameter with no centre knurling and dual knurl marks (IPF+IWF).
The article space is not enough to write everything about choosing a bar; we hope Sportz business soon will feature a couple of pages to share more about choosing a bar; choosing a bar needs a lot of input from the serious users. We love talking to people and eliminating their confusion and delivering them what they need.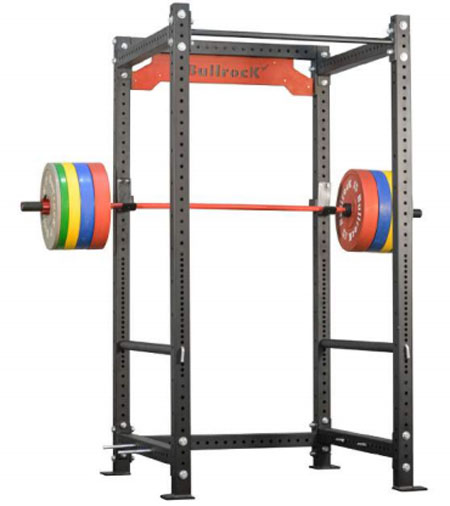 Q. Your Barbells come with a lifetime no bend guarantee; can you tell our readers how do you make sure this?
The secret to the no-bend guarantee is the kind of raw material we choose and the heat treatment. We use High tensile strength alloy steel to make our bars; The bar shaft has to undergo heat treatment for a period of time to make it withstand the max load capacity we claim.
Most BullrocK bars can handle 1800lbs of max load, which is way far from the world records, and even the barbell sleeves won't allow you to load that much weight. Hence, we confidently provide a lifetime warranty against bending.
Q. In addition, there are some sports where a little bit whips (flexibility) in the barbell are required, how do you then introduce such flexibility to your 'no-bend barbell'?
Olympic weightlifting and CrossFit require whip in the bars. The bars that need whip are having a 25/28mm diameter (thinner compared to powerlifting bars). This bar's raw material is different from the power bar we call Alloy Spring Steel; this steel has to undergo heat treatment for a longer time than most others, making them flexible and functional for the required sports.
The bar's surface treatment is smartly chosen considering the oxidation resistivity, grip feel, aesthetics, and budget.
Following is the chart showing how different coating relates to grip feel and oxidation resistance.
Q. And the last, what is the objective set for the Brand BullrocK Fitness? Any plan to launch new product in this year of 2021?
Our Mission: With a goal to make fitness lifestyle a culture, we are ambitious at our expedition of uplifting the fitness facilities and athletes across the globe.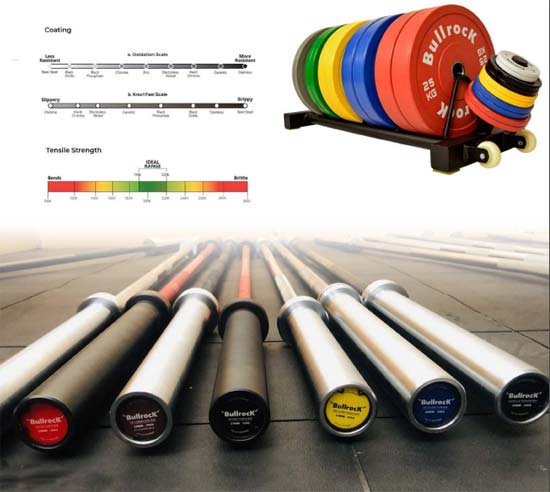 This year, we will be launching India's finest calibrated powerlifting plates and a few attachments for our Gorilla Power Rack. Of course, there is scope for surprises too.
Disclaimer:
The information contained in this article is for educational and informational purposes only and is not intended as a health advice. We would ask you to consult a qualified professional or medical expert to gain additional knowledge before you choose to consume any product or perform any exercise.