As the clock ticks down to the start of the Rugby World Cup 2019 in Japan, World Rugby has confirmed another official sponsor for the tournament. Taisei Corporation has been appointed a key sponsor, which is somewhat poetic given that the company has had a hand in creating the infrastructure for the event to be hosted in Japan. The Japanese construction and civil engineering firm has been heavily involved in the building of several brand-new tournament venues; all of which will not only ensure a fantastic 2019 World Cup, but that Japanese rugby has a lasting legacy.
Sir Bill Beaumont, chairman of World Rugby, was delighted to welcome Taisei "to the commercial family" and equally pleased to see a "long-established Japanese company" added to the tournament's "commercial portfolio". Sir Bill described the Rugby World Cup 2019 as the world's most popular rugby event, which is "shaping up" to enjoy record-breaking broadcasting figures from all four corners of the globe.
The new partnership was also heralded as a "very proud" moment by Taisei Corporation's president, Yoshiyuki Murata. Mr Murata believes that the upcoming tournament is one that the "whole world will be passionate about", helping to inspire the next generation of Japanese rugby players and other Asian nations to take the sport more seriously. Mr Murata certainly appears to be correct when it comes to the popularity of the tournament. It's said that well over 85% of all available tickets for every World Cup 2019 fixture have been sold. Only a limited number of match tickets are still on-sale from the official Rugby World Cup 2019 website.
Japan's Rugby World Cup 2019 is a global effort
Taisei Corporation is one of eight official sponsors of the Rugby World Cup 2019, while World Rugby has managed to negotiate deals with six global brands to act as the tournament's "worldwide partners". These include Heineken, Emirates, Mastercard, Land Rover, Societé Générale and DHL. For the first time in many years, the Rugby World Cup will not have Coca-Cola as its official soft drink partner, who have been replaced by Suntory Holding Limited. This really is a big deal for Japan. Over 13,000 volunteers have been coordinated by the host country, to provide support for visitors from overseas to any of the 12 host venue cities. With 400,000+ tourists expected into the country between 20th September and 2nd November, it's a chance to put the Land of the Rising Sun firmly on people's radar.
Japan has given tournament favourites New Zealand a warm welcome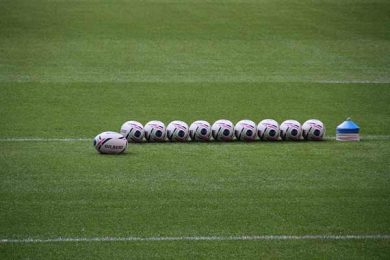 Photo by MonicaVolpin, Public Domain
Caption: Pre-tournament training begins in earnest for all 16 nations
As for the tournament action itself, it won't be a huge surprise to most rugby fans that New Zealand are leading the way in the outrights for the tournament, closely followed by South Africa and England. New Zealand have already arrived into Japan to a very warm welcome from the locals. A group of young students treated the All Blacks to a "welcome haka", before singing the New Zealand national anthem – in both English and Maori!
There certainly appears to be rising pressure on the All Blacks this time around in Japan. A string of injuries means that New Zealand's first-choice squad hasn't been possible, while the New Zealand press and those outside the country have begun to question the form of some of the squad's most senior pros. However, given that the ball-in-play time is sure to be higher than most tournaments and the high levels of humidity will be a negative factor for northern hemisphere sides, the All Blacks still seem to have the best package.
As for the tournament's dark horses, it would be foolhardy to write off the tournament hosts, Japan. They made such a huge impression in 2015, becoming everyone's second team. On home soil, backed by tens of thousands of screaming Japanese fans, they could be even harder to stop. Some believe that this year's Japan squad is better than that 2015 roster too. France too are also one of the most enjoyable teams to watch, with their raw power in their backs and speed up front. The gallic flair could come to the fore and see them advance deep into the knock-out stages.
One thing is for sure, there'll be plenty of beer drunk. Tournament organisers are getting in extra stocks to avoid the overseas rugby fans drinking the nation dry. That's because the 2015 World Cup in England sold almost two million litres of beer. Cheers to that.
Thumbnail  Photo by Taisei Corporation, CC BY 2.5
Disclaimer:
The information contained in this article is for educational and informational purposes only and is not intended as a health advice. We would ask you to consult a qualified professional or medical expert to gain additional knowledge before you choose to consume any product or perform any exercise.