Shweta Pal, a perfect blend of fitness and fashion reveals the real reason behind her huge line of online followers who adore her, for her cutting edge informative and yet worthwhile posts.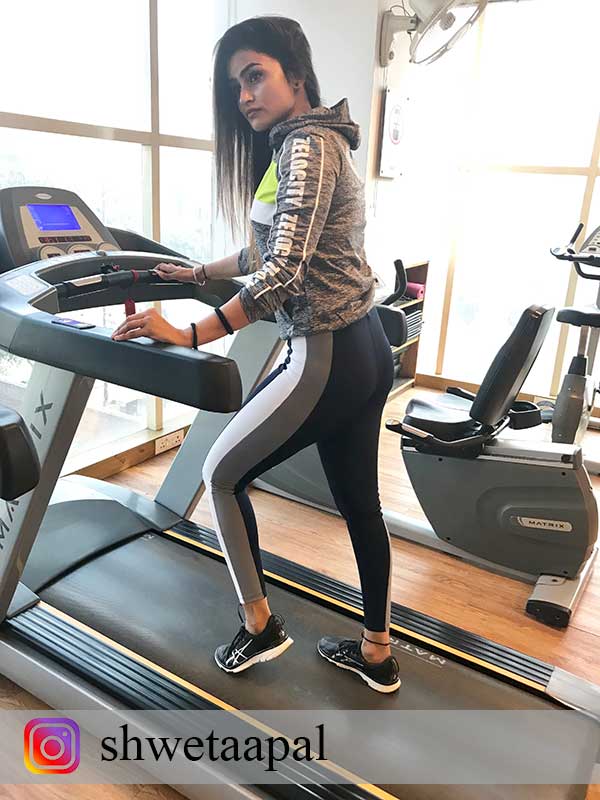 Shweta Pal, who is emerging as one of the leading face fitness fashionistas on Instagram,  got inspired to get into the fitness world just a couple of years ago.  She has now started defining the whole world, how fitness can be fascinating by promoting some of the mind-boggling products online. One can avail these offers by regularly following her Instagram's post and following the instructions.
Sportz Business Magazine tries to uncover the real insights of this sparkling Instagram star that has lot many followers yet to add to her timeline.
1 What does your typical week in workouts look like?
 Being a fitness enthusiast I try to work on all my body parts right from the starting of the week, Like on Monday it's quite a tough day of the week so I usually do Arms and Biceps then on Tuesday-Chest and triceps, Wednesday-Back,Thursday-Cardio and abs ,Friday-Shoulders then on Saturday-Legs. People usually skips legs day but I love doing legs. Then on Sunday I rest completely. This is all how it goes.
2 What are the most common gym mistakes people?
According to me, there's a general misconception among women that strength and weight training will make them bulky. But the truth is-it won't. What it'll do is strengthen and tone your muscles and give you appropriate definition. Strength training also increases your metabolism and fat burning capacity. And other common mistakes I've found till yet are people don't consult a trainer, poor form, neglecting diet.
3 What's the best way to get more out of a workout?
If you just do cardio, it will not get you 100% results. Have patience and faith for the best results. I know no one hits the gym hoping for so results everyone wants 100% out of every rep, run and hard earned bed of sweat. But only patience and determination and consistency are the key.
4 What's the best way to motivate yourself when you don't feel like exercising?
What I usually do when I need that motivation to hit the gym, I start watching motivational videos, I click pictures almost every day at the gym, and when I need motivation I look at myself and that pictures that far I've come I can't skip and I can't give up , start listening to some motivational speech , good music ,good workouts clothes and trust me these all things make me feel motivated for my workouts.
5 Where your motivation for workouts does comes from?
The only thing that I think is that I have to become every possible day, what all goals I've to achieve that's the only thing that make me to work out every day.
6 What does a typical day in food look like for you?
I try to eat healthy on weekdays and weekends cheat meals really helps me to get more motivated. On a regular day I usually have my breakfast with skimmed milk, oats and dry fruits I prefer eating in short -short breaks, then in lunch regular meals roti, salad, dal, rice and in the dinner after my workout I usually have eggs and boiled vegetables. That's all about me.
Disclaimer:
The information contained in this article is for educational and informational purposes only and is not intended as a health advice. We would ask you to consult a qualified professional or medical expert to gain additional knowledge before you choose to consume any product or perform any exercise.