Simran Sood is a Sports Nutritionist who has been working tirelessly for long to solve burgeoning heath related queries asked by more than her 100 regular clients.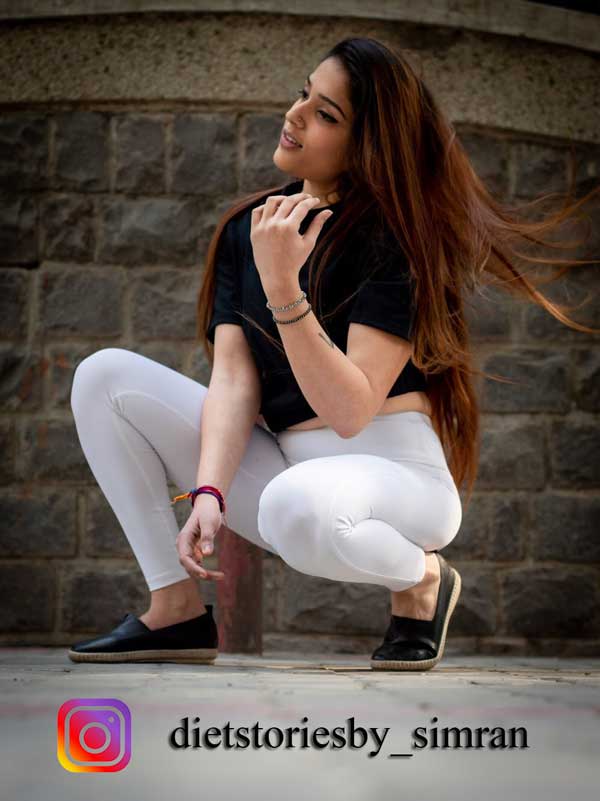 An MSC in Sports Nutrition, Simran Sood has a prowess in dealing with women's medical issue including PCOD/PCOS and other allied issues. Despite solving some ever-spread myths in the society related to diet and nutrition, Simran also tries to showcase some of the best home made easy to make diet on her Instagram page with a calculated description about the calories intake.
Sportz Business while digging more about the contemporary diet and nutrition market, has a chance to interview Simran Sood, here are some excerpts.
1 What experience do you have in the sports nutrition field?
I have been working and helping people for past one year and I have worked with 100+ people from across different countries including USA, Canada and Spain. I have helped people by resolving their medical issues such as PCOD/PCOS ,   and issues related to thyroid , diabetes, high cholesterol , post-menopausal weight loss and other ones. I have done my bachelors from Delhi University in B.SC Home Science with majors in food and nutrition and masters in nutrition and dietetics with majors as sports nutrition from Manav Rachna International Institute of research studies and I am just left with my research designation to be completed with.
2 What made to enter into sports nutrition field?
Now-a-days people have started neglecting nutrition a lot. Even athletes tend to focus more on physical training part and they tend to sometimes neglect their nutrition which decreases their capacity to do exercise, so I basically want to make people aware about their needs and nutritional requirement and how it can increase their performance if they add good nutrition to their routine. 
As we all know obesity and malnutrition co-exist in nutrition. Having suffered from obesity in past, my goal is to reach out to the masses and help solve their nutrition problem as well this is what motivated me to enter into this field.
3 What interests you most about health and nutrition?
Health and nutrition is vast and everchanging field and you get to learn something new every time. The thing that fascinates me the most about health and nutrition is that most of the health related issues can be resolved through the correct intake of food. At times people come to me not to loose weight but for curing other medical issues as well. A good intake not only keeps your body healthy but also your mind and your gut as well.
The fact that having good nutrition by having good food can rule your entire body is the most fascinating thing.
4 Are there any drawbacks to working in this field?
According to me every field has its benefits and drawbacks, in sports nutrition, People are not well aware about this profession of a sports nutritionist and they preconceive that the dietician should be contacted for getting a weight-loss diet plan. However, it's not just a single thing that a sports nutritionist does.
People come to us with a demand that they need to follow some fancy diets to lose weight without knowing the ill-effects that they can face after following those diets however, sometime they become rigid to their demands which makes our job tough and complicated. We need to put much effort to scrap out such stubborn diet habit out of their mind and make them to trust  on our applied process while simultaneously keeping an eye over the them, assuring are they following the routine properly or not.
5 What do people look for in a sports nutrition field?
Field of sports nutrition is different from that of clinical or public health nutrition. Sports nutrition is a field that basically deals with improving the health of a sports-person by improving their knowledge and attention towards nutrition.
It also increases their area of reach as we know the body system of that of a gym goer and that of a normal person as well but clinical or public health doesn't give that large span of knowledge. In field of sports nutrition we also get to learn about the muscular movements of different sports which a normal clinical nutrition doesn't, we can even have a proper knowledge weather a person needs a certain supplement or not which a normal nutritionist doesn't which makes a sports nutrition field little different and interesting.
6 What skills do you consider to be essential to work in this industry?
 It is very important to have an understanding of the body systems works because if you don't have good knowledge about your systems that come into role you won't be able to formulate a good diet plan.
It is also very important to keep reading because with new technological advancements and new researches going on, one can never take back seat and think they know it all.
No matter how much experience you have gained, you need to be an active reader.
When it comes to formulating a plan for someone its important to be a good listener because you can help others by providing a diet not just by getting to know their weight and other measures but by understanding there lifestyles and problems as well.
7 Do you have any advice for students interested in studying sports nutrition?
Having specialized in sports nutrition I would recommend students to maintain a strong base. For sports nutrition it is essential to know the morphology of how a body system of a sportsmen works. A general diet cannot work for all sports. You need to have an understanding of different sports and the body structure required to be maintained by sportsmen in that particular sport.
8 How has sports nutrition awareness changed since you started working in the field?
Now-a-days people are getting more aware about their needs and requirement and they understand that by having good nutrition they can increase their performance and health and improve their body structure as well. Athletes are also understanding more that they need to fuel their body properly in order to increase their performance because of which appointing of a sport nutritionist is done in almost all the academy and organizations.
9 Tell me how you organize, plan and priorities your work?
For me delivering best for the people is the main motive. I plan my next day schedule a night before. I prioritized my work hours which can change daily according to my schedule. There are some certain hours in a day that I keep for studying as well and while I am working or something I try to listen to podcast and it has helped me a lot in improving my knowledge more.
I try to work on my Instagram content while I am commuting it saves up lot of time.
There is certain time for me that is my ME time and that is usually my workout hours at that time I keep my phone aside and just focus on myself.
10 What do you suggest in diet for those who can't hit the gym on regular basis but still want to be fit?
Keep it clean and simple home cooked food and stick to your roots. There is no need to complicate your life with fancy diets or with fancy meals in end it's all about how much sustainable is your pattern so that you are able to follow it for long time.
Secondly try to manage your intake of food try to add at least 1 bowl of vegetables in every meal be it breakfast, lunch and dinner.
Try to add at least 2 -3 servings of fruit in your diet you can top them up with nuts and seeds. Try to add some protein source it can be eggs, chicken , paneer, fish, tofu , pulses, milk (almond, soy, coconut) , curd etc. Do not neglect carbohydrates they are not your enemy as they contain many vitamins and minerals in them which is required by your body and they are the main energy giving food for you so try to include good sources like oats, upma, daliya, quinoa, millets , barley, rice, gram flour roti etc. Just try to manage your calories and have small portions. Have small meals and include healthy snacks in between as well. Include water do not leave water and have at least 2-3 liters of water daily.
Tip: try to add small home workout sessions in your routine or try to got for a jog or walk as well.
11 And something fun: What is your favorite healthy snack?
Sweet potato chaat and nuts or scrambled eggs.
Disclaimer:
The information contained in this article is for educational and informational purposes only and is not intended as a health advice. We would ask you to consult a qualified professional or medical expert to gain additional knowledge before you choose to consume any product or perform any exercise.