Struggle and hard work is the key that leads you towards achieving your goal. Everyone has a life journey that teaches a lot of things to follow and remember. Your struggles with the past will lead you to the desired future. You can't give up at any time if you want to hit your goal. Similarly is fitness you will have to be determined to knock your fitness goals. Achieving fitness goals is a long process, maybe weeks, months, or years. But the motivation is that never give up!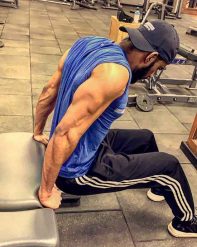 Shisham Jain is an entrepreneur and a fitness enthusiast has strived hard to reach his goals at a very young age. Shisham Jain is the director of A.S International. He is born in Ludhiana and based in Los Angeles and Durban. In a healthy chit chat with Paayel from Sportz Business Magazine, Shisham Jain tells about his hardship and fitness motivation. He is so determined towards his fitness and goals. He reveals his workout and diet routines. He never stops and keeps on going to achieve more in his life.
Q: What are your struggle journey and the challenges you faced in the fitness industry?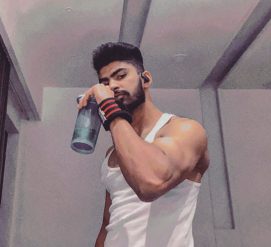 I remember I used to be rangy and dark from starting, gaining for me was one hell of a task due to my body type, which tends to be ectomorph. I was a swimmer and a badminton player in my school life which helped me keep my body flexible and sporty. This passion for sports took me over, made me win some medals and trophies and as well. But my main goal was to get to the fittest physique as fit as I can get. After My 10th grade, I was sure that I wouldn't be able to cope up with sports due to the increasing responsibilities on my head, and of course, it was high time to get serious about the future. I was feeling depressed for weeks that I am not able to tender out my energy which flows like lava in me, I wanted that my energy should pursue my aura too because sports I used to play never gave me a physical built, but of course the endurance and flexibility so I made my mind to start working out a bit starting from equalizing the body energy by pushups, squats and running, it gave me a fair and energetic start to something new, I had an extraordinarily positive vibe about this so I decided to take it to the next level by starting by training with weights. I tried exercising with some trainers at the gym, but I always felt like my energy had been bounded, so I began to watch some famous gym fellow's workout videos, I use to imitate them in the gym, learning about the correct position for workout and that extensive hunger to learn something made me do it for eight years now, I have been training consecutively on my strength and my endurance. It was tough to get on track in the gym line because many people tend to leave the gym due to cramps, pain, etc. But I never gave up on learning which was my key that made a so much into bodybuilding and a successful entrepreneur as well. I remember being called black in my childhood, people running away from me, have never been called on birthday parties or never had friends, but I never use to sad down myself but used to think how am I going to turn the tables which gave me the boost to be something and that hunger to achieve something likewise. Today I can proudly say that I did it, and I'll keep doing it keeping my grind high.
Q: What is your daily workout routine and diet?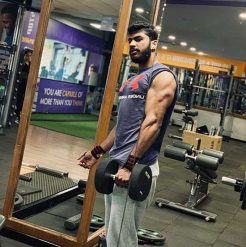 I change my workout routines every two weeks. So I do two sets of workouts in a month. Presently I am focusing on a single body part workout.
Monday: Chest
Tuesday: Shoulders
Wednesday: Biceps and Triceps
Thursday: Leg and Traps
Friday: Back
Saturday: Biceps and Triceps
Also, when I start with my double body part, it is like chest and triceps, back and biceps, and shoulder and legs. I am focused on the powerlifting workout.
I have a proper, timely diet for the whole day. I am an entrepreneur but still out of my busy schedule, I manage never to skip my diet. However, I am really fond of berries and kiwi.
Q: Which sports you follow, and why?
Since childhood, I was a big fan of wrestling and badminton. The reason I loved watching wrestling is the tactics and strategies they perform in the ring. I have gained flexibility from playing badminton, and I got attracted to the sport was smash hits. I too love swimming and gained endurance from it. I know how to swim underwater and got attracted to swimming was because of breaststroke. I tried playing tennis, but I always used to strike six from my racket as if I am playing cricket.
Q: What is your daily motivation to stay?
The stains of my past!
I believe the person who gets a silver spoon from the past never achieves anything. And I have a history full of challenges and hardships so I know I have to keep my grind high. I can never forget the people who pulled my leg in my struggle period. So I keep working hard to achieve more success in my life. I am the product of my past! And that keeps me motivated!
Q: What is your favorite exercise and cheat meals you prefer?
My favorite exercise is the lat pull down. My cheat meal which I prefer is the XL Margarita double cheese pizza at Costco.
Q: Where you see yourself in the next five years?
My biggest dream is to be on the front cover of Forbes magazine. So my goal for the next five years is to be in Forbes magazine.
Disclaimer:
The information contained in this article is for educational and informational purposes only and is not intended as a health advice. We would ask you to consult a qualified professional or medical expert to gain additional knowledge before you choose to consume any product or perform any exercise.