Piranha Sportswear presents an athletic sportswear which is fashionable in pattern and light simultaneously making it sleek to wear.
Whatever you might be doing as in physical activities like yoga, running, working out, running etc. your body requires something to garb which should be both comfortable as well as trendy.
In an attempt to grab such wonderful piece, the editorial team of Sportz Business magazine including me Kumar Abhinav, the Sub-Editor of the monthly publication ordered three items online sportswear company Piranha. It just took couple of days for them to deliver the package. As the products delivered to us, they were nicely packaged in a light air-tight plastic bag.
As we had ordered three athleisure items to deliver to us, we will come up one by one to each of these active wears, talking more about their performance.
Upper and lower:
After using rigorously for over a month long period in the gym and other training sessions, the real performance of the sportswear came to light. Piranha with its 'Vapor Slay' fabric, a range of fabric which is moisture wicking in nature proved to its quality of dissipating sweat after a sweating workout session.
Believe it or not, after every session as I used to relax, the sweat clogged in the wear dissipates away. The active wear was reacting like some kind of featherweight uniform which is quite comfortable to exercise with. As the sportswear brand introduces unique fabric named Vapor Slay, a range of moisture wicking fabric. The sportswear made up of this fabric remains cool most of the time, dissipating away sweat clogged in the wear.
Talking about the color, it seems quite hard and solid in nature having a beautiful white logo of Piranha.
I would like to add one more thing which I have noticed in the Upper Lower set, was its slickness and Seamless finish to the wear. Anyone thinking of doing hiking, biking and yoga, these light weight easy going pair is the perfect answer for them. As the ordered piece was nicely designed with light polyester spandex material, it was great to hit the running track wearing the pair. Making my every drop of sweat worthwhile, this sleek and breathable finished pair pledged to deliver effective results after an hour long of jogging and weight training. Overall, I would like to mention one thing that 'As your body needs good carbs in diet, you also need right outfits to garb, to take your performance at height'.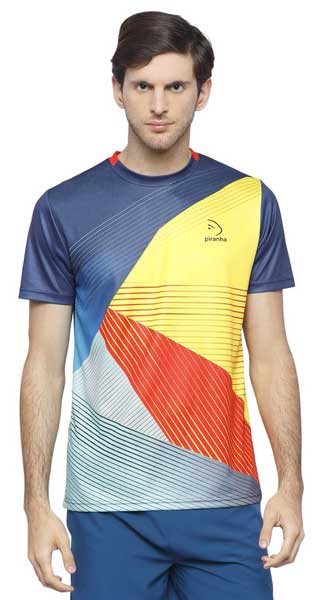 T-shirt:
As we have talked about the amalgamation of fashion and performance at one platform, it all goes true with this Piranha t-shirt. Packed in solid bold color combination of black, grey and enchanting color combination of yellow and orange, these rounds -neck designed t-shirts were another items, we put our hands for review. It was great to see the eye-catchy vibrant solid color of the T-shirt remained intact after a series of workout session and weekly machine wash which further proves that the longevity of the fabric perfect for a long run.  After using these t-shirts for a month, I can confidently say that the t-shirts don't not need much maintenance which credits a few positive points to their accounts with the fact that there is no need to use iron press every time you head outside wearing them. Being a Polyester spandex blend T-Shirts, there won't be any need of taking the t-shirt under such heat of iron press, as they are quite seamless in nature which hardly gets crumbled post washing.
As in part of your fitness regime, apparel plays a major role of boosting confidence, and an urge of looking great while sweating hard. These impulses are directly proportional to what you are wearing when you are working out. Athletes like me love to put on something which keeps me to look toned maintaining the breathability and blood circulation of the body. Having the right outfit supports your muscles as well as enables you to do attain unrestricted free movement of limps as well as legs. Realizing the same qualities, Piranha t-shirts got me there, and what I have found out that these t-shirts can suffice my requirement for the coming season. And needless to say, that I am personally going to order more pieces form the Piranha's bucket of summer collection.
And why not 'if your life can't be perfect but your outfit can'.
Concluding the review, I would like to add no matter what physical activity, you are doing with these pairs of Upper lower it perfectly complemented by Piranha T-shirt. So, without waiting much of your time, I would like give them 8.5 out of 10.
Disclaimer:
The information contained in this article is for educational and informational purposes only and is not intended as a health advice. We would ask you to consult a qualified professional or medical expert to gain additional knowledge before you choose to consume any product or perform any exercise.