If you are struggling hard to manage your gym membership then this article will be beneficial for you. Being a gym owner, you must be having state-of-the-art gym equipment and certified fitness trainers on board, but with a pinch of some friendly marketing ideas, you can promote your gym on top of the search engine, thus making an increase in the number of footfalls in your gym facility.
The COVID-19 breakthrough has ruined every type of business making a very volatile situation to revive. Well in such a scenario, it is highly important to become digitally motivated and activated at all times to attract the desire clients. By following simple marketing ideas, you can market your gym in a much-patterned way; our series of articles in this segment will guide you with all the relevant steps that you will need to promote your gym via SEO (Search Engine Optimization).
What is SEO
The internet world is purely dependent on search, every search count and has the power to elevate your business to the top. Whatever comes on the top after search makes a business more viable and visible to the masses. It has been observed that people tend to follow those websites or links that appear on top of the Google search engine. However, having this as criteria to be on the top in the digital platform, it is hereby required to have an effective SEO i.e. (Search Engine Optimization) for your gym business which will escalate your gym website to the top of every search, thus making your business at a profitable state.
How Search Works
You need to make your keywords smartly. The better smart and target audience-oriented keywords you make, the best the visibility of your gym search rises. The internet world is solely dependent upon searches; people constantly make searches to gather information about different products and services. Search nowadays has become a fundamental and important source of digital traffic for many brands and online businesses because being online is considered the fastest mode of communication and also accumulating viewership in the best possible way. The present competitive atmosphere requires digital presence and being on the top can only be possible through SEO based digital marketing, as it will lead your gym business to a higher rank and also on the top in the search engine platform.
Why Choose SEO Marketing For Fitness
Provides Online Directory – The traditional landline and telephone directory reminds us of an era, where we use to find contacts of various businesses. Well, the onset of smartphones and the internet boom world has set a different tone to extract information. Nowadays with the help of Google search, any business is easily reachable without any hindrance. This fastest and the most reliable source helps people to gather information about a particular place and business. Marketing your gym website over SEO, will help you to buzz over the various search engines and will increase customers traffic whenever they will be looking for a fitness club in your locality.
Offers Swift Results – There are various types of essential forces and trends shaping the digital platform continuously. Either your gym business is an established brand or has just stepped in the race; you should keep a tap on other competitors in your locality. In this regard, a well-laid marketing strategy makes your SEO process easier as you exactly know who your competitors and your target audiences are. In such a scenario it is necessary to build a smart keyword, related to the locality that you are in. Keywords act as building bonds for your website and smart keywords will target the right audiences that you have been always looking for.
Needs No Investment – SEO marketing has zero investment and does wonder if done wisely. This digital marketing service can gain heavy audiences across the globe. You just need to have a website of your gym and with some basic steps, you will get free mileage and active gym subscribers. Well, keywords are a concern, so having a dedicating keyword concerning your locality, you are all set to make your website reachable for all.
Ways to Market Your Gym with SEO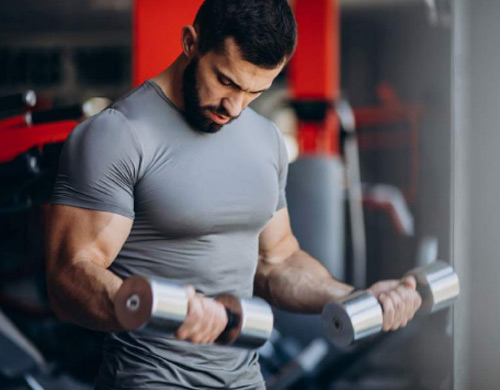 Having a user-friendly website – A user-friendly website will offer the best SEO optimization for your gym business. You just need to have a website that talks about your venture. Remember, that your website is the identity of your business, and if subscribers won't able to search it on the web, then you will be at a deep loss. A clean and well-optimized website will tell the venture that you are in. Your website should be user friendly and all the required details should be posted on regular basis, including all the necessary facilities and training that you offer. SEO should be done related to your services and training that you offer at your gym. You can include your happy subscriber's testimonials, as people trust online reviews compare to personal recommendations. Tell them how your subscribers have benefited from your health plans; you may also add their pictures to your website to mark the authenticity. Such vital steps will gather huge traffic over your website and will attract potential subscribers at the end.
List in Google My Business – Search engines won't know about your website until you tell them. If you have already created a website for your gym or creating it, then remember to create a sitemap simultaneously and submit it to the respective search engines, either Google or Binge. You need to regularly submit your sitemap when you add new web pages, by just making an account on the two platforms. Doing so will make your gym details visible as soon as people type your gym's name in the search bar. Just be sure that all club information is updated and you choose the category of your business correctly. If your gym is having multiple location presence, you can create multiple entries under one account.
SEO Keywords for your Gym – Keywords plays a vital role to make people know about your gym. Whether you have a standalone gym or a gym chain, wise keywords will gather more people to know about your gym. To rank high in search engine optimization you can use searchable keywords for your website. Keywords such as "gyms near me", "fitness clubs near me", or "gyms in (state name)" will keep you on top of SEO parameters. You can also mention your brand name, training name, any unique USP name as your specific keyword when marketing your gym through SEO search.
On-Page Optimization – Your impeccable website pages has no use if you haven't done SEO On-Page Optimization correctly. To tweak these pages of your website and also to improve the search engine rankings for each page, you should start inserting the Meta title and Meta description of each page. The meta title is the intro of a particular page which lets the search engine recognize the page. Meta title tag provides an accurate description of your pages to Google or other search engines. It is necessary to have a Meta title between 50 to 60 characters long to ensure its correct display in the search engine results. Whereas on the other hand, a Meta description is a synopsis of the page and tells about the genre of the web page. You need to construct a Meta description of about 120 to 160 characters to tell search engines and users precisely what your page is all about.
Off-Page Optimization – Compare to On-Page Optimization, Off-Page Optimization acts as a back-up for your website rankings. If anything goes wrong then Off-Page takes the charge to maintain the ranking of your website. Off-Page Optimization plays a pivotal role at the backend in keeping your website always on top of the search engine. Here are some strategies that will allow you to boost the ranking of your website while using Off-Page SEO Optimization. The first one primarily is link building. Link building is considered as one of the famous OffPage SEO Optimization technique. While building external links you are informing search engines that your website has a good source of information. External links can be built by linking other websites link to your website. The more spectrum of external links you have, the better it will be noticed, thus making your gym website on top of every search result. Secondly, Off-Page SEO Optimization can also be done through social media. Promoting your website in various social media handles will be the key to generate more traffic. This also can be done smartly by posting comments on other websites, social networks etc. While posting comments, you can add your gym website link in the comment section, this procedure will enable search engines to gather utmost traffic to your gym website, thus keeping your gym website on top during every search.
Creating Email Newsletter – Email marketing is the best form of marketing you can choose to market your gym. With the help of email marketing, you can drive the utmost traffic towards your gym website. Announcement of discounts or special training can be promoted via newsletters or welcome emails. This medium will act as a useful tool to make others aware of your gym, your training and the speciality that you are offering. A weekly or monthly email newsletters will keep your gym on top during every search, thus making your website loaded up with maximum views. This medium gets easier with the onset of smartphones because accessing emails with the help of smartphones has been the fastest way to draw online promotion and gather a larger number of audiences.
Disclaimer:
The information contained in this article is for educational and informational purposes only and is not intended as a health advice. We would ask you to consult a qualified professional or medical expert to gain additional knowledge before you choose to consume any product or perform any exercise.