The Top men's Professional football division of Spanish football league system, LaLiga has launched a comprehensive Grassroots football development programme-LaLiga Football Schools, in collaboration with India On Track (IOT).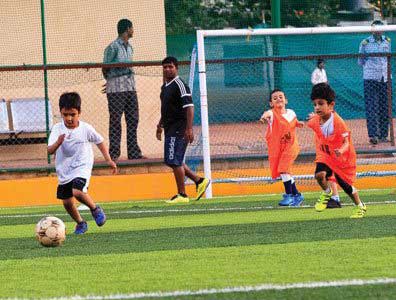 The milestone step aims to develop the game of football at a grassroots level in a cricket-frenzy country India!
In its initial stage, the LaLiga Football Schools are planned to set up in major Indian cities like Delhi, Mumbai, Pune, Bengaluru and Cochin. A lot many other sites are still in the association's pipeline.
The LaLiga Footballs School will incorporate LaLiga' technical curriculum and tedious training programmes under the precision of school's technical director appointed by LaLiga for India. Focusing on students of age-group within the range of 6 to 18 years, the LaLiga Football Schools will keep a holistic development programme.
Amid huge fan following and Football enthusiasts showing immense love and affinity for the game of football, the newly launched LaLiga Football Schools will bring forth future talents of this beautiful game.
The announcement comes just days after LaLiga announced a three -years broadcast deal with social media giant Facebook for the Indian Sub-continent.
According to the deal, Facebook will show all 380 matches of LaLiga live and free, and it is estimated that there will be 270 million Indian netizens will make access to watch LaLiga every Week.
Despite, select LaLiga Matches will also be telecast on the Indian largest broadcaster, Sony Pictures networks giving viewership a new edge.
Jose Cachaza, Head of LaLiga India said, "LaLiga is a strong propagator of developing young football talent. Seeing the kind of talent and passion Indians have for the beautiful game, we decided to collaborate with IOT and create a base to nurture the talent here. We are excited to see young boys and girls from India train with our best coaches and facilities and learn to play the LaLiga way.
This move is a further sign of our commitment to India and follows off the back of our ground-breaking agreement with Facebook, which will see all 380 games shown live, and for free on the platform. We want to inspire the next generation of Indian football"
Vivek Sethia, Founder, India On Track (IOT) said, "The future of any sport lies in the development of its grassroots. India On Track has always partnered with top sporting entities to provide the talented youth of India with the best possible training opportunities. Our partnership with LaLiga bears testament to that and LaLiga Football Schools is a continuation in that direction."