Batsmen gave a second thought of hitting the ball in the point region and also while quickly stealing a run when Jonty Rhodes was around flying all over the place. The South-African doyen accolade of being the 'Greatest Fielder of All Time' has its long-drawn affection towards India. Jonty Rhodes has now ventured into being the Co-Founder | We R Wellness. In an exclusive candid chat with Niloy from Sportz Business Insights, Jonty talks about the esteem firm, shares insights on Yoga and Ayurveda and believes through We R Wellness, he is eager to transit every athlete and sports person to believe and follow Ayurveda form very early age achieving excellence in sports and enjoy great health. The below interview has interesting fixtures about Jonty and its new venture.   
From being a cricket stellar and greatest fielder of all times, the journey behind dive-catching into WE R Wellness?
Answer: I have spent the past 10 years coaching in India as well as doing various promotions and corporate talks, and my great concern has always been for the wellness of the greatest corporate community. As the work/Life balance in India, is heavily weighed to the work side, and many people have health issues due to this required lifestyle. I want to be able to encourage corporate heads, that their employees will have far higher levels of productivity, when their physical and mental health is a priority in the organisation. I have found such wisdom in Yoga and Ayurveda, and I am always disappointed when Indians believe that "West knows best" and looks to other countries for health and wellness habits.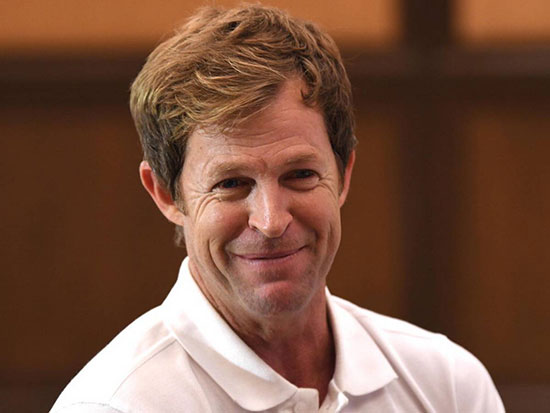 Talking about Ayurveda, India has a saga memoir which goes back to 5,000 years scripting "Science of Life". Why did you think in a world of quantum medical science, Ayurveda can be the pill for wellness?
Answer: Because Ayurveda is exactly not a pill that can be taken to mask the symptoms and hide the real cause of the ailment. Nutrition can be medicine, and all natural products are absorbed so much better by our bodies. Ayurveda should be a part of our healthy lifestyle choices, building our bodies a healthy foundation, which is exactly what a strong immunity is.
Team and operations of WE R Wellness and how you're strategizing to encompass your start-up across the indigenous market?
Answer: We three cofounders me, Rajat Sharma and DR Onkar Rajiv Bilgi along with our chief strategy guy Amish Mehta have been able to put programs together for corporate and sports fields. Its bit of unique and innovative approach so our approach is basically to reach influencers in the successful firms as they are the early adapters. We are passionate to work with those corporate who actually care about their co-workers and want to give them real effective tools to improve their work productivity.
Though Ayurveda existence is pivotal in this country but many medical stimulants, steroids are the first-choice for the Fitness and Wellness sector, how do you think to bring the change altering it to the fundamental rule of keeping fit and healthy?  
Answer: Athletes always strive for excellence, their each effort in training revolves around how can he or she improve performance on field.in this quest they sometimes go for quick fix which they don't realise brings them more pain rather than gain. Ayurveda as natural means over the colonial age has lost it's connect with common man thus they fail to relate to its ability to help them in sports excellence. At We R Wellness we are keen to change this and make every athlete to believe and follow Ayurveda form very early age achieving excellence in sports and enjoy great health. When we work on our health from core we can have more stronger and agile athletes who recover faster, have better strength and endurance with only natural means.
Though the growing use of AI, machine learning is now quite visible and taking pace regardless of applications. How is WE R Wellness using AI to streamline and simplify to give a new experience for customers?
Answer: We have been able to amalgamate Ayurveda fundamentals with AI to give great results for preventive and healing purpose. Our app has this basic questionnaire which gives predictability of heart health for next five years, this simple spend of two minutes on the app helps understand a unique health score. Its like the sound of growing seeds are not heard same way we only hear the health transform into ailments but do not realise the sound of good health, this score gives us that idea where we stand as of now.      
Which segments will be of key focus for WE R Wellness in India?
Answer: We want to focus on making corporates healthy and sports athlete's super achievers. So all corporates across the sector and sports teams is our main focus. We also want world to look upon to us as a market for our sports Ayurveda programs for performance excellence and non-invasive injury management programs.
Kindly enlighten our readers and industry-experts about the 'Wellness Immunity Program'?
Answer: This is our program where we want each co-worker working in every corporate feel safe health wise. In this program we provide authentic herbs for each individual, Ayurveda Wellness workshop based on the app questionnaire, health desk at offices so each one can take note of their body vitals like ECG, SPO2, Blood pressure etc on their own and can store that data real time and can mail to doctors or concerned person as and when needed.
Lastly, being a maverick and bringing along a huge fan-base in India, What is currently Jonty Rhodes working on, lifestyle and future plans for India? 
Answer: I have signed 3 year contract with KIXP as their fielding coach, and I am really looking forward to being involved with the IPL again after a 2 year break.
2020 has shown all of us that it is not just professional or aspiring athletes that need to take good care of their health and wellness, and the great thing about what we are offering, is that it is accessible to everyone in India. Not just athletes; or CEO's; but to ALL
I really believe that there will be a huge potential of taking this product into Europe, as many countries there have embraced the opportunity to live healthier, natural, more balanced lives, and I know that Ayurveda will interest a great many people there.
About We R Wellness (WRW)
WRW is a premium wellness delivery company which was founded by Dr. Onkar, Rajiv Bilgi, and Jonty Rhodes with the aim to take Ayurveda to the global stage. The brand combines Authentic Ayurveda with Artificial-Intelligence-based technology to deliver health care programs for immunity enhancement, diabetes, weight loss, Ayurveda diet programs, and anti-ageing programs. The foundation of its program is built by authentic Ayurveda principles, right herbs, lifestyle correction, technology and focus on Gut health. WRW caters to Individuals (Sportsmen & non-athletes), Teams, Groups& Corporates. Its core work caters to immunity programs for corporates, whereas its Sports Ayurveda programs is for athletes across the globe.
Disclaimer:
The information contained in this article is for educational and informational purposes only and is not intended as a health advice. We would ask you to consult a qualified professional or medical expert to gain additional knowledge before you choose to consume any product or perform any exercise.