Are you bored with you regular workouts at your convention nearby gyms? If yes then we have something for you all to try.
It is everyday thing scenario, that you must be acquainted with i.e. waiting in a long queue of people waiting for their turn to use cardio machines installed at the local gyms besides waiting for your turn for your favorite dumbbell set to get free once you start your weight training.  At a time, when there is phenomenon surge in the number of people rushing in the gyms, increasing the time of waiting for your turn to use any particular gym equipment, there are a few alternative cool things you can do to cut the clutter.
You must have heard the term Cross Fitness, a regime usually practiced in a group with a limited number of people on board. Cross Fitness refers to fitness training and a competitive sport that incorporates mobility exercises, high-intensity workout, strength training and a balanced diet plan.
In the last few years, Cross Fitness has made itself included in the fitness regimes of top-notch gyms across the World starting from a garage programme.
According to a research published in the Journal of Strength and Conditioning Research, it reveals that after ten weeks of Cross Fitness, men with all levels of aerobic fitness and body types succeed to increase their VO2 Max and cut their body fat percentage.
It was introduced by a personal trainer, Greg Glassman in the mid to-late 1990s, Cross Fitness follow a CrossFit Community where members of the same class typically challenge one another over different fitness workout challenges. This way, they can also meet up their personal fitness goals holistically challenging one another.
Equipment required for a typical CrossFit Workout:
Gymnastic rings
Resistance bands
Rowing machines
Squat machines
Jump ropes
Kettlebells
Medicine balls
Barbells
Dumbbells
Abdominal mats
Pull up bars
In addition, CrossFit training may incorporate some tacky fitness equipment:
Ropes, for climbing
Boxes, for performing jumps
Tractor tires, for flipping
Major CrossFit Exercises
Push-ups
Pull-ups
Bench press
Deadlifts
Squats, with and without a barbell
Farmer's carry, in which you need to carry something heavy in your both hands and walk as far as you can
Plyometric Box jumps, in which you need to jump onto a box and immediately get back to down • Back extension
Toes-to-bar, where you hang from an overhead bar (or pull up bar) and bring your toes up to touch the bar.
After a deliberate introduction of the Cross Fitness, you must be wondering where you can perform this amazing fitness regime in Delhi. Well, to help you in the quest of Cross Fitness Gyms near you, we have brought down Top 5 Cross Fitness Gyms in Delhi:
1) BackToBasics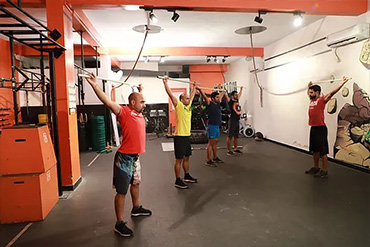 Whether you are looking to lose weight, gain some muscle or just want to be fit in general, Crossfit Gym BacktoBasics has something for you all.
Located in Vasant Vihar, Reebok powered CrossFit facility; BackToBasics presents a vibrant ambiance for the crossfitters to perform different sets of Workout of the Day (WOD).  Talking about the operational timing, on week days from Monday to Friday, it goes like 6:30;7:30;8:30 in the morning and 5:30; 6:30; 7:30 in the evening while on Saturday, it goes like 7:30; 8:30 in the morning and 6:30;7:30 in the evening.
Backed by skilled Reebok Certified Trainers, BackTo Basics offers interactive Cross Fitness Services which includes Group Classes, Bootcamp, and Corporate Training besides offering internship programs to the young budding cocahes.
Address: B-1, Vasant Kunj, New Delhi, Delhi 110070, India
2) Reebok CrossFit Robust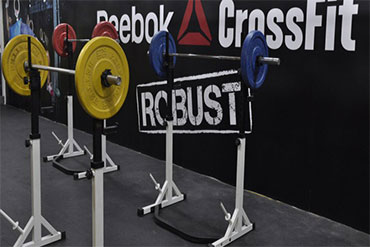 Located in South Delhi, Reebok CrossFit Robust promises to never make you to do the same workout twice in a year. Powered by trainers like Kamal Chikara, the Cross Fitness gym has a number of skilled trainers who are trained by Reebok itself.
Crossfit session ranges from the foundation courses to the workout of the day; the facility has something for everyone.  The Classes run at 7am, 8am and 10 am in the morning and in evening it runs at 7 pm and 8 pm on all working days except Sundays.
Address: 7 Arjun Nagar, Bhisham Pitamah Marg, Opp. Defence Colony A Block, Kotla Mubarakpur
3) CrossFit Stride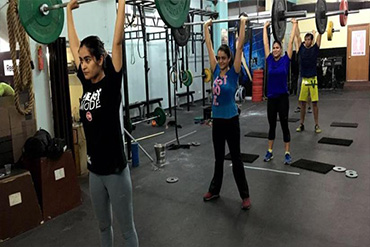 Focusing on an unparalleled training and a welcoming ambiance for the beginners, CrossFit Stride is yet another great haven for Cross Fitness regime.
CrossFit Stride majorly focuses on 60 minute long workouts under which they make cross fitters to warm-up, skill development, WOD and the most important cool down sessions.  Besides, they also include other programs like personal training and corporate training. Talking about their schedule, CrossFit Stride runs classes from 6:30 am -9:30 am in during morning hour and 5pm- 9pm during evening session.
Address | SCO 4, Huda Market near Vishal Megamart, Sector 14, Gurgaon
4) CrossFit Himalaya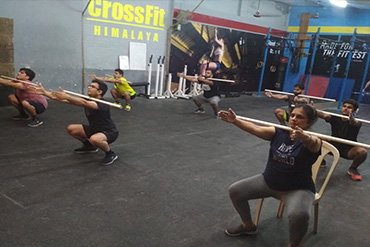 CrossFit Himalaya offers cross Fitness programs that are designed to be broad, general and inclusive. Equipped with all CrossFit Essentials including gymnastics rings, weightlifting and strongman specified equipment, CrossFit Himalaya is one of the best Cross Fitness facilities where you can invest. According to their website, the Crossfit programs that they offer are designed to meet international standard of Crossfit.   Talking about their schedule of conducting classes, CrossFit Himalaya runs sessions from 6:30 AM – 8:30 AM in the morning and 6 PM – 9 PM in the evening on the weekdays.
Address | D-108, 100 Foot Road, Chattarpur Hills Near Qutab Minar Metro Station 
5) CrossFit Life Performance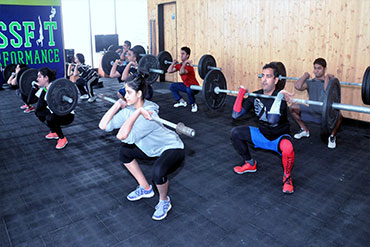 The CrossFit facility offers different small, semi-private group classes catering the individuals from different set of age groups. Their skilled trainers not only train people at the facility but also travel across the globe improvising their own skill set besides teaching others from international CrossFit Community.  Owing to their welcoming nature, the Cross Fitness facility treats its clients and coaches like a family bringing a sense of inclusiveness. Talking about their operational schedule, the CrossFit facility remains open on weekdays during 12pm to 4pm. While on the Sundays, they don't have any classes until they got an open CrossFit Box from 9:30 am and 11:30 am.
Address: 227, 2nd Floor, Good Earth City Center, Sector-50 (near Hilton Garden Hotel, Nirvana Country), Gurgaon
Disclaimer:
The information contained in this article is for educational and informational purposes only and is not intended as a health advice. We would ask you to consult a qualified professional or medical expert to gain additional knowledge before you choose to consume any product or perform any exercise.