It's a universal fact that if you want to live your life in a healthy way, Fitness is the only way. The more you will be fit, the higher is the chances that you can hone your biological age!! Exploring the same urge to bring fitness to his life at a very young age, we have our interviewee who has his own reasons to spark fitness in his life. A fitness model and modeling aspirant, Sportz Business talked to Asad Quayam who hails from Jamui, Bihar, has shared his fitness trivia with us. Let's read about his insights over fitness.
Q1: Tell us about your turning point of life towards fitness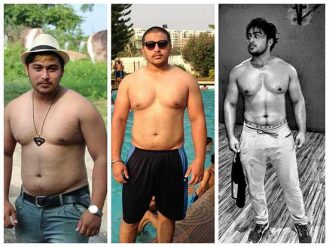 I have always been into sports and other physical curricular activities however, fitness was the thing that I never cared for.  As I was a big foodie, I never counted my calorie intake which subsequently made me to gain weight drastically. Initially, I didn't care for my increasing weight however, it was only after when I noticed stretch marks coming on upper body parts including chest, biceps, stomach, it alarmed me. I start reading about the stretch mark on Google and where I got to know that it could be a sign of very high cholesterol levels in the body and increasing weight was making stretch marks. This can be one of the major reasons for pursuing fitness in my life. In addition, as I am passionate to do modeling and models need to be in shape, can be counted as my reason number two and the last but not the least I want to shun all those friends' mouth who used to tease me by calling elephant or fatso. So, these were some phases in my life that have served as the turning point in my life towards fitness.
Q2: How do you define fitness in your life? And What made you be fit?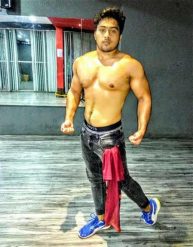 Fitness is like an addiction to me and I feel great when people admire me for my dedication and definitely, it is one of the prime things, that I will be continuing across my life. Being inspired by the fitness youth icon, Sahil Khan, I also want to make my own fitness brand and make name and fame in the Indian fitness industry. I want to bring revolution in the fitness industry by introducing different ways of gaining and losing weight and help people to meet their fitness goals. Fitness is the most important asset in my life and I start feeling confident being fit and healthy.
Q3: What kind of workout regime and fad diet do you follow?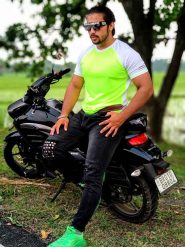 My workout regime
H.I.I.T, M.I.S.S, and L.I.S.S
High-intensity interval training
Moderate Intensity Steady state
Low-intensity steady-state
Hard work in a Smart way
Dedication
Devotion
Determined
Consistency
Diet
I didn't touch sugar past one year
No sweets ☹️ low salt and sodium
From foodie to having Boiled and tasteless food is not easy
First 3 months I was in a moderate and clean diet that is following.
Early Morning:
2 spoon of Apple Cider vinegar with 200ml of water
My Breakfast:
2 Eggs bhurji with 2 brown bread and 200ml Butter milk.
Or
1 bowl of poha with buttermilk
My Lunch:
2 chapati with 1 bowl of daal(lentils) and a big plate of salad or 1 bowl of split gram
My Dinner:
Soya chunks with tomato puree and Boiled chicken 150 grams
Pre-Workout Meal:
Beet-root juice with mint and garlic (without sugar) 250ml
Or
1 spoon of Black coffee with 200ml of water without sugar and 1-2 banana
Post-Workout Meal:
10 almonds 5 walnuts (Soaked)
100gms of low-fat paneer or tofu
After losing 20 kgs, I started training for getting 6 packs following which I tried Intermittent fasting and Military Diet together. As I want to learn more about different facets of diet and fitness, I keep trying different kinds of fad diets.
Q4: How do you Indian Fitness Industry and to whom you idolize the most in the industry?
The Indian fitness industry is like an ocean and once you dive in, you will know how deep it is. When you dive in it, you'll get lots of pearls. India was always the best in fitness. India has ancient martial art Kalari, India has yoga, etc. In the fitness industry, you get respect, fame, money also.
Sahil Khan:- ONELIFEBABY❤️ Knowledge is Power
Sahil Khan is the fitness icon of India and he motivates people a lot and teaches different life lessons. He highlights to stay healthy, stay strong, spend time and money on yourself, support family etcetera.
Guru Mann:- Knowledge is Power and the power I get it from Guru Mann 💪🏋️
I will dedicate 50% credit goes to Guru Maan paji. He is the best and top nutritionist based on science in India. In Body shaping, you need to have Brush (weights) and paint (Nutrition, Fuel). I get the value of fuel from Guru Maan paji then I got a masterpiece.
That's why I idolize both of them.
Q5: What is the mantra that helps you in keep moving towards your goal?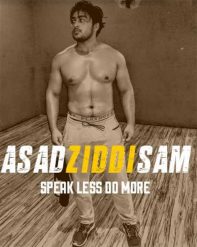 If you walk towards your goal then each day your goal comes nearer to you, your goals won't come to you if you do nothing! There is a famous saying, Rome wasn't built in a day, & so are your fitness goals, you need to work on it each day with both patience and perseverance.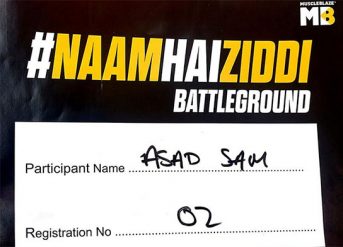 I believe in hard work. #ZIDDIHOONMAIN #ASADZIDDISAM.  I think, Do or Die is an old concept and I believe Do until you die is my concept. When you get results then it becomes an addiction.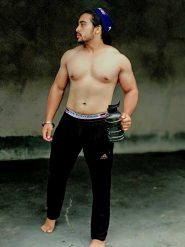 Q6: Home Workout or Gym Workout seeing the current situation, can you tell us why?
Home Workout because of COVID-19 you have to save yourself first then you can save others by not spreading it.
Q7: Where do you see yourself in the next 5 years?
Well, I am very much passionate about fitness and in the coming years, I would like to try my luck in modeling. As I start loving my newly found fit lifestyle, fitness will be a lifetime thing that I want to continue across my age.
Disclaimer:
The information contained in this article is for educational and informational purposes only and is not intended as a health advice. We would ask you to consult a qualified professional or medical expert to gain additional knowledge before you choose to consume any product or perform any exercise.