Participants to Run at their own pace anywhere in the country.
After the launch of Fit India movement last year by PM Modi where he urged the people of the country to make fitness their lifestyle. This year on the 151st Mahatma Gandhi Jayanti 2nd October, FIT India Plog Run is being held with the participation of Fit India Ambassador Ripu Daman Bevli who is known as Plogman of India. It's a virtual event. They are targeting the participation of 2 crore people across the country. This year due to COVID, this plog run will be virtual where Citizens from across the country will be participating close to their homes keeping all covid precautions in mind.
Ripu Daman Bevli is the face of the event.
In his words, 'We started the Litter Free India movement in 2017. With the FIT India's association, we are looking to take it to 2 crore people across the country. It would be different this time. We are asking people to take all precautions. Just pick up a piece of litter and put it in a trash bin. And pledge to not litter again.'
He further says, ' Just take a picture with the litter and Pledge for a Litter Free India. Post on social media tagging me (plogmanofindia) and Fit India.'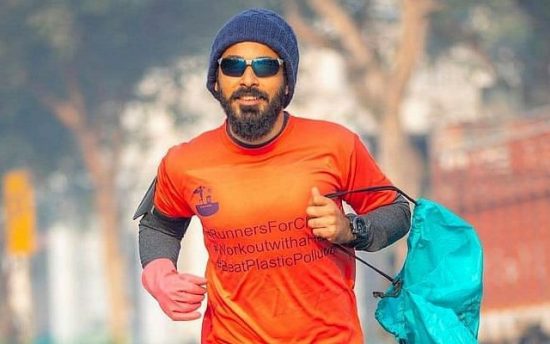 Fitness enthusiasts will run a route of one's choice, as per their time suitability.  Each participant runs their race at their own pace who will track manually or by using any tracking app or GPS watch.  The participants also have an option of break-up the runs. The participants would share this in social media using
The First FIT India Plog Run on October 2nd 2019 was a huge success. Close to 40L people across 62000 locations participated on the day. The Honorable Sports Minister Kiren Rijiju along with Ripu Daman Bevli flagged off the event from IG Stadium, New Delhi. In 2019, Ripu Daman Bevli embarked on a campaign ' Run to Make India Litter Free' where he ran and cleaned up across 50 cities across the country in 2 months. An unprecedented cleanup campaign anywhere in the world. He was lauded for his contributions to the country by Honorable Prime Minister Narendra Modi on Mann Ki Baat on September 29, 2019. And the Government of India adopted his mission under the FIT India initiative. He was honored with the titles of FIT India Ambassador and Plogman of India.
About Ripu Daman Bevli
Ripu Daman Bevli AKA Plogman of India is an athlete, fitness enthusiast and founder of Ploggers of India. Mr.Bevli is the pioneer of India's first eco-fitness movement with the mission to make India Litter Free, combining fitness and sport with the garbage crisis. Started this initiative in 2017 with a vision to build a community of runners, cyclists, walkers and joggers across India who take responsibility for the litter around them and make 'cleaning up other people's litter the coolest thing to do in India'. The idea was to bring about a mindset change and spread awareness that we will be able to clean up the country, not by just cleaning up, but stop littering.
He was named "FIT India Ambassador" by PM Modi due to the amazing work that he had done till date. He has organized over 500 clean up drives in 75+ cities across India and also has set the World Record (Golden Book) for the longest Plogging run of 50K in Kota, Rajasthan on 5th Jan'20 which took 9 hours and 15 mins to complete
Disclaimer:
The information contained in this article is for educational and informational purposes only and is not intended as a health advice. We would ask you to consult a qualified professional or medical expert to gain additional knowledge before you choose to consume any product or perform any exercise.