In the sports sector, fitness plays a pivotal role across the whole life of an athlete. Now whether it is cricket or any other sport, athletes need to keep them in a good shape in order to avoid any aberration in their on-field performance.
Fitness focuses on better flexibility, faster recovery from Injury, heightened endurance and other physical attributes. And when it comes to a sport like Cricket where everyone knows that just having a strong body is not fitness rather it also demands an athletic swiftness along with strong mental status.
In the sport of cricket, where both aspects are equally important, it is recommended to hire experienced personal trainers, nutritionist in order to meet the professional level of performance in the ground. Unlike, earlier now cricketers have to dedicate each day to fitness seeing such a cutting edge competition in the sector. By hiring a personal coach will further these young cricketers to realize their dream of playing of national team of 11.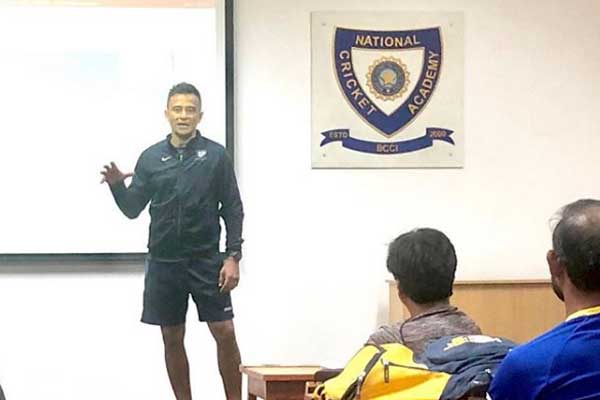 Talking more about the sports fitness coaching, Sportz Business talks to a qualified Strength -Conditioning & Fielding Coach, Nishant Bordoloi,  who has been transforming many Indian cricketers' fitness regime with his personalised training.
Here is the excerpt:
Q. From a Cricketer to a qualified Strength -Conditioning & Fielding Coach, tell us more about your Journey.
It's all started in the year of 2004, when I got injured and during the course of recovery, I have realised the essence of Strength & Conditioning along with systematic Training can help anyone to be strong and fit. After finishing playing cricket, I had an opportunity to be a level-2 qualified cricket coach from England, however, I took up field of Strength and Conditioning.  Being a cricket coach with an experience of playing cricket for  two decades professionally, I always remain busy on the field and used to assist head coach of any team in their fielding department. I think fielding and fitness are two sides of same coin.
Q. What does it take to be an England & Wales's cricket board qualified Cricket Coach?
One needs to be a professional Cricketer in the UK, plus he should have played minimum 1st class cricketer in their home country.
Q. As we can see your prolific list of clients including some major cricketers you worked with like Yuvraj Singh, Gautam Gambhir, Virender Sehwag, and Ashish Nehra, and others, how do you plan and execute training with them?
I always work A2D which is  Attention to Detail,  so I always try to deliver what they need.
Q. How do you see the present Indian fitness scenario?
It is getting better by each passing day.
Q. What is the future of sports coaching in India? What will be your advice to the people who want to get into sports coaching?
I think it's a growing market, but one needs to be really precise with their subject.
Q. How strength and conditioning training for a cricketer is different in comparison to another sport? Also, can you provide some tips for all-round strength development for our budding sportsmen & women?
Each sport has its specific needs and demands and cricket is no different. It is played over different time frames and one needs to stay fit for each version of the game, be it Test Matches, 50 over matches or T20 Matches.
All I would advise budding sportsperson is to get professional in their approach and always seek professional help so that they are given proper advice always check the qualifications of who is going to train you and also don't be afraid to ask questions. Tell the Coach your need, demands, and goals.
Q. At a time when fitness has become a key to success in every aspect of life, please suggest some insights to make an individual fit and active?
Start exercising, it's your body and you live in it. Make time for yourself. Excuses won't make results.
Disclaimer:
The information contained in this article is for educational and informational purposes only and is not intended as a health advice. We would ask you to consult a qualified professional or medical expert to gain additional knowledge before you choose to consume any product or perform any exercise.