Tightening the seat belts with Bani Yadav, Extreme Car Racer, National Autocross Champion 2018 – Ladies, Only woman to win all major Cross Country Rally Titles in India, (women's category), Tedx speaker. In an exclusive on the roll interview, Niloy Banerjee from SPORTZBUSINESS unveils Bani's passion, pressure, prestige and power towards Rally Driving. Get your seats belts to read a different terrain edited nub below.
Q. Making an iconic emblem of choice, what drove you into this genre of sports, Rally Driving?
Life has its own ways of showing what's true calling? I am born into a family where my father loves to drive and was among the early few who owned a bike and then the first few who owned a car. My mother also used to love driving and had done a few vintage car rallies also. My first brush with speed was riding on my dad's bike as a young child of maybe 2-3 years old. I used to sit on a specifically-designed pillion seat on the carrier.
My dad always used to keep tinkering with the engines of his cars to keep doing some or other kind of modification to it. Having, grown up seeing speed and the sound of engines I guess I have inherited driving in my genes and speed comes naturally to me. The only way out for me was to enter motorsports. It took me thirty long years to realize my dream. From wanting to be a racer at 13 to finally being one at 43 years is a completely different journey.
Q. Tell us a bit about your upbringing, in like, how was Bani at her young age?
I grew up on a farmhouse with nothing but nature around me. So, I do have a wild streak in me. I have always been a tomboy, always the one to take up a challenge quickly, never afraid of anything, very hands on person. My parents always taught us to be independent and strong. I remember at the age of 7 walking with my mother and brother for a good 3 kms everyday in sheer wilderness, to catch a bus to get to school which was another 25kms away and then the same way back. The grind made me resilient, mentally and physically strong and taught me a very important lesson to never give up, there is always light at the end of the tunnel.
Q. What made you end up think driving any beast-on-wheels which finally ended up as a career preference?
AS long as you can control the beast, it can be any vehicle, I have tried my hand on quite a few things starting from a cycle, bike, car, SUV, a tractor, a roadroller, a truck, a dumper to mention a few. It is more of a passion and a hobby than a career. Unfortunately, in India since motorsports is not a mainstream sports, the funding or money is extremely miniscule and for a woman it is totally non-existent! So I do end up spending all my money on the sport, have to work in the corporate world to earn and then go ahead and blow it up on a rally. This is the sad part! If this sport had funding, I am sure we could shine better in the motorsports world. Hope people are listening and reading this. I am still waiting for some sponsorship to help me take myself to the next level. It will take some time to actually make it a worthwhile career option.
Q. In a society where mainstream profession has dominated, you're inspiring words to inspire the young India choosing passion as a career?
"Dare to Dream" only when you dream something which seems unattainable; have the urge to make it drive you to achieve it. Most of us forget our dreams / passions and lose sight of what made our hearts skip a beat, brought pure joy to our souls and made us light up with delight. When you make your passion your work, there is NO stopping you! Let your dreams take flight, make them your reality, that will always be your sheer joy of living. You only get one chance and nor are you coming out of it alive so live it with pure passion. Take that one step, even if you falter, believe in yourself, have that power to change things. It's always about that one effort you made to make it happen for yourself.
Q. It is said that it is 'innate' is what makes a genius, hence the hard-work and your struggle to be the first woman to win all major Cross Country Rally Titles in India?
A woman in a Man's sport has never been easy. It is evidently tough to sustain yourself and make your presence felt. Everybody is more than willing to write you off at the first instance. It is more than double difficult to prove yourself. People do not understand that it take 100 times more effort to make a woman's family understand her urge to be someone different from the routine homemaker / caregiver persona defined by society.
It is even more difficult to climb up the ladder as the men are unforgiving if you make a mistake whereas if a male driver makes the same mistake it is actually considered just a mistake. I have made myself resilient and take all the things as a learning. In every word where I get criticized, I tend to take it as always something new to understand and implement. I am always open to learning and keep improvising, that's the only way to better your game.
I guess being there for some time now and being able to bring home titles has made my male counterparts accept me in their game and now they do acknowledge that I can drive which is surely satisfying. The road is still wide open for me to explore it further.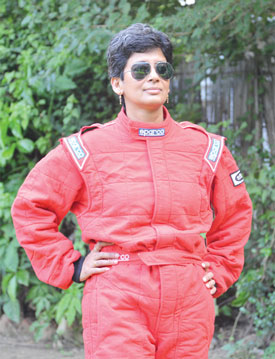 Q. Tell us about your family, and their support in this successful drive of life and career?
I would have never been able to enter motorsports, if it had not been for the unflinching support of my husband, Suresh. He has always been the one who made sure that I am able to fulfil my childhood dream of becoming a car racer/ rally driver. My children have also inherited the racing streak from me. My younger son Arjun Rao represented India in the Auto Asia Gymkhana Competition last year with the maximum podium finishes and this year again he is representing India in the AUTO Asia Gymkhana Competition. My elder son Karan also does autocross events but he is not so much into this sports. Although, he is the fastest among all four of us. Suresh also gives me competition on the tracks and we all end up being competitors to each other on the tracks.
Both my children understood my urge to race and ensured that I did not have to worry about them, their studies or their need to be with their mother. They both became totally independent at an early age and have been big emotional support to me.
Q. Do you think this form of sport should be more promoted alike other mainstream sports?
Definitely it needs to be promoted from all quarters. This is the major issue plaguing Indian motorsports due to which we lack recognition and industry support. We do not get sponsorships like other sports and there is hardly any money for the drivers except for the top few male drivers and nothing at all for the women drivers even though we are paving a new way for this sport.
Q. Your recommendations and your personal strive to make Rally Driving more affluent across the country?
The Motorsports fraternity collectively needs to nurture new talent as the older generation is aging and would need to bow out very soon. We can only take it forward if we promote new blood. I personally train a lot of Women drivers to understand and learn the sport and I call it, 'Team Motor Missy'. Grateful that quite a few of the women I have trained have taken up the sport and are learning the nuances and showing their skills on the tracks. There are a lot of the senior drivers who have also started training boys to understand and take up this sport which is a very positive sign and I believe a step in the right direction.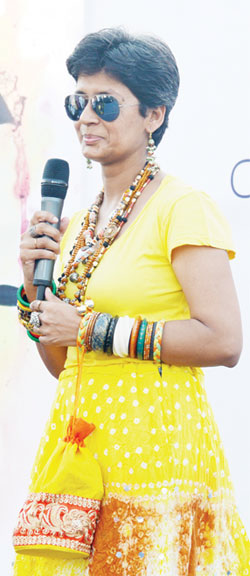 Q The physical and mental stealth intact while stunting this sport?
This is an extremely taxing sport which takes away a huge amount of your physical and mental stamina. One needs to train to keep calm, to have very quick reflexes and above all to be able to take defeat in your stride like a true sportsperson. Driving is like meditation for me. It is my stress buster. I do brisk walk every morning for a complete hour and keep my diet under control. I always eat lesser than what makes me feel full, but do eat everything and after short intervals. It keeps me ticking.
Q What are your fitness goals and what keeps you busy daily?
Fitness is nirvana. I start my day really early by about 4:30am and take a brisk walk for 1 hour with my 8 dogs. My house is also like a mini zoo with 8 cats to give me company along with my dogs. To be with nature early in the morning listening to the chirping birds, the insects raising a ruckus with their combined buzzing makes me feel completely rejuvenated. My me time is very important, which is always in the morning ensuring that I am alive and kicking, in sync with the universe and then I start my corporate life by 9am. This part of my life is also pretty eminent as I also need to earn to blow up the money on my passion.
Q. Motorsports has typically been male-dominated – do you see that changing now and how so?
It is surely a male dominated sport and we are taking baby steps to make it all inclusive for the women also. Though, it is still a long way to go. We need more sponsors for the game and to promote women as their drivers which I do not see happening at large. It is a small motorsports fraternity where the insecurities are at many folds and it surely requires a colossal effort to make it lucrative for all the drivers irrespective of gender.
Q. 'Tip of Time' – any specific memories you want to share with our readers from your rallies or National Autocross Championship days?
Each race or rally is close to my heart leaving memories for a lifetime. I do remember specifically one of the Rallies named, 'Maruti Suzuki Dakshin Dare', where me and my co driver, Sukhbans Mann in our gypsy were coming down the hill at a blind S turn where I braked a little too hard. Thereafter, we rolled over and turned turtle landing on our roof landing at the edge of the mountain with the danger of going down the hill just a foot away. We were Dangling there upside down for a nearly a minute before we unbuckled ourselves and crawled out, checked on each other for any injuries, both being OK we turned around and took selfies. With some help we straightened our gypsy and managed to not only complete but also win the ladies category of the rally.
Our mishap also turned out to be a learning graph for us along with the selfie moments.
Q. Lastly how do you see the scene of motorsports in India and its reckoned future?
Motorsports is surely picking up, with our governing body FMSCI – The Federation Of Motorsports Clubs of India trying to promote it by taking it across various states and cities and also introducing new formats of the game. We can see new blood coming in but it is still in its infancy stage. Till, we get full-fledged support from the government it will be very difficult to make it a cult sports like other sports.
In this sport, women also need to be promoted in all formats of the game to make it worth the effort for a girl to come into this sports. As there are really no monetary rewards in the game, there is a general lack of enthusiasm because of this. We the motorsports fraternity look towards the government and the corporate sector to take interest in this sports also and give it its due recognition and come forward and own motorsports teams to make it more competitive and lucrative for a sustainable growth of the sport.
Disclaimer:
The information contained in this article is for educational and informational purposes only and is not intended as a health advice. We would ask you to consult a qualified professional or medical expert to gain additional knowledge before you choose to consume any product or perform any exercise.