In an exclusive interview Drew Neal(@drewnealpt),  World Kickboxing Champion, and Celebrity Trainer share his insights over the effects of lockdown on the Indian gym market.  In the talk, he also highlights the changing shape of the fitness industry and suggests some points to be taken care of by the government.  Let's hear him out.
Has the lockdown changed the fitness industry forever?
I guess time will tell. Safe to say it has affected pretty much every sector and the fitness industry has been hit very hard. When the lockdown is ended we will only then, know how the Gym industry has been fully affected.
 How technology is going to pave the way ahead for the Indian fitness industry?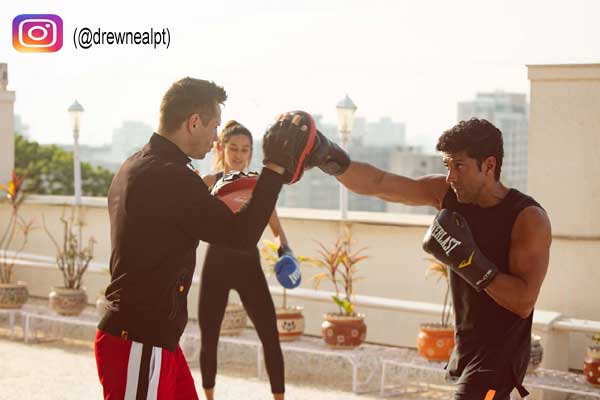 Coaches and gyms have had to find new solutions for reaching out to their customers during the lockdown. Although remote training has been around and popular for quite some time, I feel that there will be an abundance of new remote training products and packages where technology will play a big part in the delivery of such services.
What are the measures you're taking to be still viable in the industry?
During this lockdown, like any other forward-thinking businessman, I have implemented new ways to serve my clients. From day one, my face to face clients was shifted to my online training packages. Fortunately, I had a tried and tested online training product so I knew I could still deliver on my clients' requirements. After 2 months they have gotten used to the protocol and are achieving their goals in the same way.
Post-lockdown, what will be your strategies?
I think it could be a while before gyms become places where people frequent with confidence. There will be another adjustment that may take time and may actually never fully adjust again. Consumers may have gotten used to training at home and finding alternative ways to be coached. It will be my job to adapt to that and I am already working with my team on a premium online training package that will fit this demographic perfectly. I absolutely love the hands-on style of coaching and I would not be without it, but I have realised that there is a huge consumer base out there for people who do not require it. This is a market where the physical time I spend on work is less, as long as the systems are streamlined accordingly and appropriately. That's just good business.
Under Fit-India initiatives, Govt. of India has taken major steps for the revival of the industry. What will be your recommendations to the government?
I am relieved that the government recognizes the importance of fitness and is making an effort to ensure everyone is staying fit and healthy when we have just received the biggest wakeup call as to why that is a priority. I would hope that they would focus on 3 main things.
Supporting the trainer financially as they try and grow their business which has undoubtedly been affected.
Supporting the gyms in the same way and ensuring that they do everything they can to keep them open by helping with rent and salaries
Educating the population as to why there is such importance in health and fitness and giving them confidence that gyms are a safe place to be or giving alternative recreational activities. For example, outdoor equipment in parks, more grassroots support for sports clubs, etc.
How do you look into the Fitness business in the coming year?
I'm actually really excited, I think it's a great opportunity for forward thinkers to adapt and streamline their services and products in order to meet the fluctuating demands of the market. However, I do see many trainers and gyms being forced to shut up shop and enter into different job sectors. This is sad of course, but I also believe that anyone who is passionate about health and fitness should be passionate enough to adapt and pivot accordingly, this will mean the consumers will be left with coaches and gyms who are passionate and knowledgeable about the industry and this has to be a good thing.
Disclaimer:
The information contained in this article is for educational and informational purposes only and is not intended as a health advice. We would ask you to consult a qualified professional or medical expert to gain additional knowledge before you choose to consume any product or perform any exercise.