Minister calls upon the youth to recognize their strength and create a New India.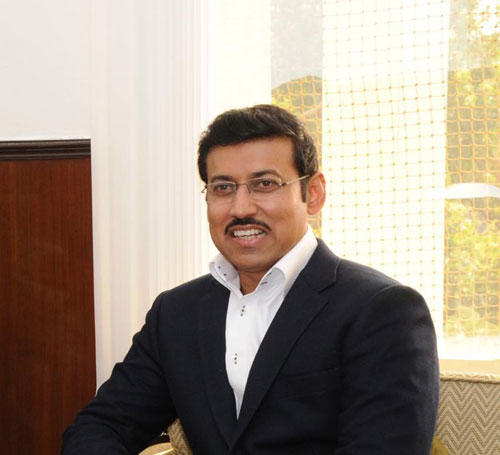 Minister of State (I/C) for Youth Affairs and Sports & Information and Broadcasting Col Rajyavardhan Rathore (Retd) today inaugurated the National Level Finals of National Youth Parliament Festival at Dr. Ambedkar International Centre, New Delhi. Prime Minister Shri Narendra Modi will confer the National Youth Parliament Festival 2019 awards to the winners on 27th February, 2019 at Vigyan Bhawan.
Congratulating the participants, who are the winners at the state level competition, Col. Rathore called upon the youth to recognize their strength and create a New India. He said that India has a large young population, and everyone has one or the other speciality/quality. What is needed is to identify, harness and promote it. He said youth in National Youth Parliament Festival have come from the nook and corner of the country, with different background and culture, but they have the same identity, and that is they all are Indians and have respect for the Indian tricolour. The Minister said that diversity makes India more beautiful, powerful and wonderful. Referring to dastardly attack on security forces in Pulwama, he said that martyrs belonged to different states, castes and religions, but all made supreme sacrifice for the motherland. Shri Rathore said that the security forces imbibe the spirit of sacrifice, discipline, dedication and dutifulness, and it is need of the hour that youth of the country also inculcate these virtues. Col Rathore said that over 25 crore young people are associated through digital India, and they all can promote the message of Unity through digital means. Whatever be our differences and ideology, the unity of the country should never be endangered. He said that the country is changing fast and in positive direction, and if we are united, no one can harm us. Developing India can progress further if we overcome our differences and work in unison. He called upon the youth to follow the ideals of our national and patriotic leaders like Shivaji and Maharana pratap, so that the future generations can remember the contributions of the present youth in nation building. Referring to the inauguration of the War memorial by hon'ble prime Minister yesterday, Col. Rathore said that those who remember their brave hearts, never fall short. He called upon the youth to put stamp on the rapid strides being made by the nation in all fields. He said that the country is progressing under the best leadership, and impossibilities are being converted into possibilities.
Prime Minister in his Mann Ki Baat address, had shared his idea of organizing Youth Parliaments for young people in every district of the country. It is to provide a chance to the youth to brainstorm about new India and to find ways and chalk out plans to realize our resolves before 2022. He reiterated his idea to capture the voice of the youth in his address to the youth during the 22nd National Youth Festival on 12th January 2018.
National Youth Parliament Festival 2019 has been jointly organised by National Service Scheme (NSS) and Nehru Yuva Kendra Sangathan (NYKS), under the aegis of Ministry of Youth Affairs & Sports, on the theme of "Be the Voice of New India" and "Find solutions and contribute to policy". Youth in the age bracket of 18-25 years were invited to participate in the District, State and National level Youth Parliaments. The National Youth Parliament Festival 2019 was conducted at the District and State levels. The participants for District Youth Parliament, (DYP) were selected through two screening processes i.e. Digital and Walk-in screenings in Nodal Institution in 471 designated districts across the country from 24th to 28th January. The best three speakers selected by a Jury from each District Youth Parliament participated at the State Youth Parliament (SYP). Similarly, the two best speakers selected from each SYP participated as speakers in the National Youth Parliament (NYP) on 26th February, 2019. As many as 28 State Youth Parliaments were held across the country from 5th to 7th February to select 56 final contestants for NYP. The best three speakers at the National Youth Parliament will be awarded Rs. 2 Lakhs, Rs. 1.50 Lakhs and Rs. 1 Lakh respectively in order of merit along with a certificate by the Prime Minister Shri Narendra Modi.
More than 50 thousand youth participated through Youth Parliaments at all levels and the narrative will be strengthened and made more vibrant by their voices and ideas and suggestions. The National Youth Parliament Festival also encourages the youth to engage with public issues, understand the common man's point of view, form their opinion and express these in an articulate manner. It captures relevant and effective voices on the vision of New India and these are made available to policy makers and implementers to take them forward.
Disclaimer:
The information contained in this article is for educational and informational purposes only and is not intended as a health advice. We would ask you to consult a qualified professional or medical expert to gain additional knowledge before you choose to consume any product or perform any exercise.