Biceps is the most spectacular group of muscles that provide you a balanced and mighty body physique. Biceps being the most noticed muscle group, gives your upper body required symmetry in accordance with your chest and back muscles group.
Biceps is actually a muscle with two heads that is associated with the movement of the shoulder and elbow. The first one being Brachii and the other one is being referred to as Brachialis. The Branchii is the long head of Biceps and the other being the short head of the Biceps. Brachialis is the other muscle and is smaller in size. Both Branchii and Branchialis work together with triceps, shoulders, traps, and Lats to allow should to lift heavy weights and in another functional movement of every day. In addition, Biceps play a major role in performing different kinds of body-weight exercises including Pull-ups, Push-ups, Dead-Lift, Barbell Row and others.
As most of the workouts required high precision posture check, you are advised to begin the workout under the guidance of a skilled trainer, one who guides how to do Biceps workouts precisely. Tapping the same need we are featuring Rahul Nagamangala, an ISSA (International Sports Science Association) certified trainer who have won load of accolades at bodybuilding competitions at body physique category.
In this article, Rahul has strived to present different sets of effective biceps workout that you should also add to your workout regimes:
                             4 Variations of Biceps Workout
1. Barbell Curl (3×12) 3 sets of 12 reps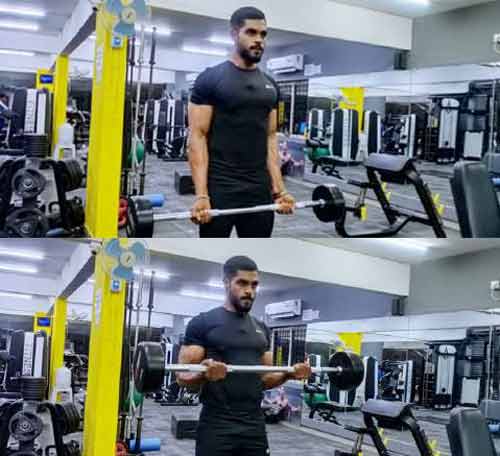 How to do:
Start off by standing in an upright position and begin to hold the barbell using your underhand grip by maintaining a shoulder-width distance apart.
You can begin to bend the elbows and then start lifting the barbell upwards throughout, till it reaches the collarbone and continues holding on to it for a few seconds. While doing the same, try and stay in an upright position.
Now, you can bring the barbell back to the starting position slowly.
You have completed one rep. You can try and do about 3 sets comprising of 12 reps each. You can rest for a minute in between each set.
2. Dumbbell Biceps curl (3×12) 3 sets of 12 reps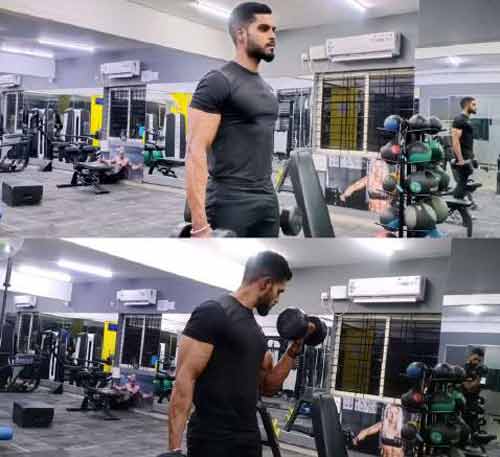 How to do:
Start by holding the dumbbells by using your overhand grip at the hip-level.
Now, using your right hand, start bending your elbow and raise your forearm up on to your shoulder.
While being at the top of your movement, apply a squeeze and continue to hold on for a few seconds.
Now, slowly bring it back down while at the same time resisting the weight.
Similarly, start performing this movement again using your left arm.
You have completed one rep. You can do a maximum of 3 sets comprising of 12 reps each.
3. Hammer Curl (3×12) 3 sets of 12 reps
How to do:
Start by grabbing the dumbbells onto your hands on both sides with palms facing each other.
Now, the dumbbells must be picked up by lifting them using both your hands jointly and start curling onto your shoulders.
Stay in the same position for a few seconds while being at the top of the movement.
Now, slowly start bringing the dumbbells back to the starting position.
You have completed one rep.
You can try and do at least 3 sets comprising of 12 reps each.
4. Concentration Curl (3×12) 3 sets of 12 reps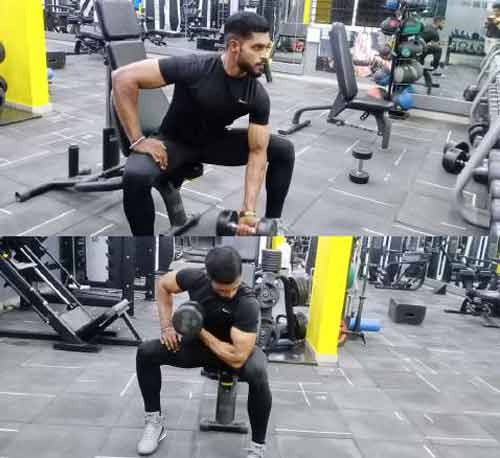 How to do:
Sit down on a seat or maybe a bench. Place your feet greater than your hip-width apart.
Pick up the dumbbell and keep one of your arms straight and in between your feet without touching the ground. The other arm should be placed on your back.
You must bend your right elbow in order to twist the weight towards the top. The biceps would also be contracted in the process. You have to just move your forearm. The biceps should be pressed well enough until the dumbbell hits the shoulder level.
After doing the reps for one side of the arm, you can start doing the reps for the other side of the arm.
Disclaimer:
The information contained in this article is for educational and informational purposes only and is not intended as a health advice. We would ask you to consult a qualified professional or medical expert to gain additional knowledge before you choose to consume any product or perform any exercise.