Finding a whey protein is quite a job if we see the number of brands available in the Indian supplement market. With every whey protein claims to give pure protein post workout, you need to keep in mind a few things like how much money you want to devote to these supplements and which one suits you.
Well, the later one can only understood if we first try every other brand of whey protein. However, if you are not lactose intolerant and want to buy some raw whey protein, then here we are to help you out. In this article, we have tried to discuss in and out of raw whey protein and the best brands of raw whey protein available in the Indian market.
What is raw whey protein?
Raw Whey protein refers to an unsweetened protein supplement that comes with minimal processing ensuring a high whey protein concentrate without any preservatives and flavor. Yeah, it can sound a little bit taste-less however, it delivers 80% protein and help one to develop lean muscle without leaving any chance of muscle loss.
According to experts, if you want to build huge muscle size and make it more toned, raw whey protein is an ideal option to try. Having immense amount of BCAA and Glutamine, it will help you to meet your nutritional needs. What does makes a raw whey protein one step ahead of other whey protein vibrant; is their relatively lower cost in the market. So, the bottom-line is this if you are lactose tolerant, then you should definitely try raw whey protein and save your hard earned money.
Making your quest for raw whey products even easier, we have enlisted top 5 brands of raw whey protein that you should give a try:
1)Asitis Nutrition Whey Protein Isolate (Unflavored, 1 Kg 90%):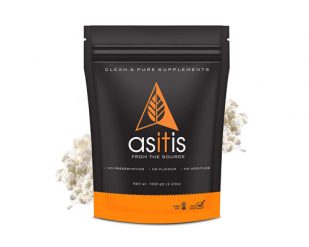 Since isolate happens to be the purest form of high quality of protein, the raw protein comes a little bit costlier than its counterpart Asitis Concentrate.
With no enzymes, zero additives and no flavor, the raw whey protein claims to deliver 90 % of protein.  Asitis Nutrition Whey Protein Isolate, an American Raw Protein Supplement brand is a perfect option to invest, if you want to gain muscle and lose some serious weight after workout. One scoop of 30 grams raw protein provides 27 gram of pure protein.
2)Asitis Nutrition Whey Protein Concentrate (Unflavored, 1 kg 80%)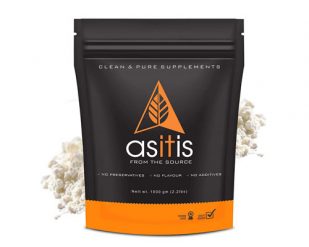 Coming at a cheaper rate to its isolate version, the Asitis Nutrition Whey Protein Concentrate is on the list for those who wants to go for a cheaper raw whey protein.  Perfectly formulated for the beginners, the raw whey protein contain 4.5 BCAA which make muscles making even muscles making and gaining more effective.
One scoop of Asitis Nutrition Whey Protein Concentrate delivers 24 gram which is quite enough for recovery after a heavy workout.
3)MuscleBlaze Raw Whey Protein Concentrate 80% with added digestive enzymes (Unflavored, 1 kg )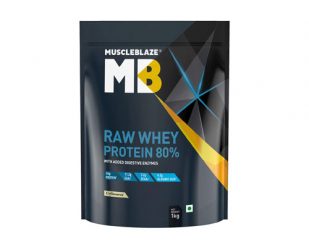 An Indian Whey protein brand, MuslceBlaze Raw Whey Protein is yet another great product which can be used by the gym-goers to meet their post workout protein requirements. In addition, the raw protein supplement can be easily used in different forms of intakes like smoothie, protein cake and protein bar.  One scoop of 30 gram serving of the raw whey proein delivers 24g protein  and 5.2 BCAA which makes the whey protein as a great supplement for muscle synthesis and gaining.
4)Six Pack Nutrition Raw Whey Protein Concentrate 80% Unflavored – 24g Protein, 5.4g BCAA, 4g Glutamic Acid 907g / 2 lbs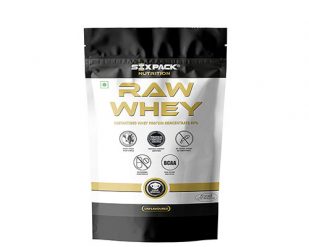 Six Pack Nutrition Raw Whey Protein is one of the best raw protein supplements available in the Indian market. Packed with assured 80 % of pure protein, the raw whey product also delivers 40% of RDA in a single serving of 30g scoop.  The raw protein supplement by Six Pack Nutrition promises to lean muscle, combined with proper weight and resistance training.  The no flavor option of the Six Pack Nutrition's Raw Whey protein gives you the flexibility to blend it into any food or beverage of your choice .Each serving of 30g  of the raw protein retains 24 g protein including 10.9 g EAA including 5.4 g BCAA and 4 g glutamine  acid.
5)Bigmuscles Nutrition Crude Whey 1kg, Whey Protein Concentrate 80%, 24g Protein, 5.5g BCAA, 4 glutamine)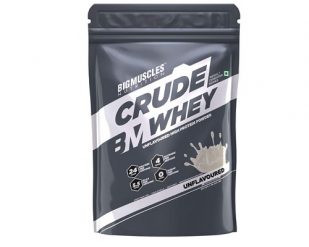 And the last but not the least, Big muscles Nutrition Crude Whey protein concentrate is sourced from Glanbia Nutritional U.S.A.  With Zero sugar and no soya, the raw whey protein delivers 24 g of protein, besides 4g of glutamine and 5 g of BCAA in its each serving of 30 g.
Well, so these were top 5 raw whey protein supplement products that you can try for your own personal physical growth.
Disclaimer:
The information contained in this article is for educational and informational purposes only and is not intended as a health advice. We would ask you to consult a qualified professional or medical expert to gain additional knowledge before you choose to consume any product or perform any exercise.