In India, there are dribblers who lost their way to field and ended up behind a corporate desk. Adidas Creators Premier League is giving a second chance to those footballers who want to feel the grass again. A first of its kind semiprofessional football league started by people with an undeniable passion for football.
Sportz Business chats with the spokesperson of the league, Pranav Premnarayen and listens to the journey of the league.
1) Who are the people behind Adidas Creator's league and how did it come into being?
Adidas Creators League has received a good backing from the brand Adidas to take this movement across India.People behind this movement include Rannvijay Singha – actor and celebrity, Hemant Sharma who runs the Adidas Base in Delhi, Pranav Premnarayen – Partner at Prem Associates Advertising and Marketing, Cyrus Dalal who is a well-known lifestyle photographer, and Prithvi Bajaj, an entrepreneur who runs few successful sports companies. This team of avid sports enthusiast began Leap Pro Sports bringing to you the Adidas Creators Premier League, street ball league amongst other offerings. We have brands like Vitamin D Guru which have helped us spread this movement of taking sports, health and wellness to the grass root level across India.
2) How did Adidas get associated with the league?
Adidas has been working with our team in Delhi and they have been seeing the momentum and the engagement that we bring to the table when it comes to the leagues that we have been running and hence they gave us the hand in running this League as well.Over time we want us to take this concept to different spaces and cities;having started in Delhi 2 years ago, and with Mumbai soon after, we are looking at going to Bangalore next sometime later this year.
3) How can someone join Adidas creators' league?
It is a simple process. Trials are held in the respective cities wherein people come for the tryouts. We have scouts who join in to watch these players play and this soon leads to an auction format where these players are picked based on their talent.
4) How does the Adidas Creator's league contribute to the growth of football in India?
The contribution to the growth is at the grass root levels. Let me elaborate, so every player that comes in gets merchandise from Adidas. Secondly, he gets to play in a Semi Pro League format. This gives the players the exposure to improve his game and be associated with some of the best players around the city. This platform eventually is getting men and woman to show their skills, play together, build a community and create more momentum across these 3 cities. Looking at the outcome we are trying to take this to more cities as well.
5) Since inception, how the response has been towards the league?
The response has been exceedingly encouraging. We have approximately a 1500 player network in India across men and women from different backgrounds, a cultural mix. In our 2nd year we have managed to bring brands like Adidas, Honor, Vitamin D Guru, Blue Bus Store, Disrupt, Bisleri,Epigamiato name a few. These I believe are great associations to grow in this field.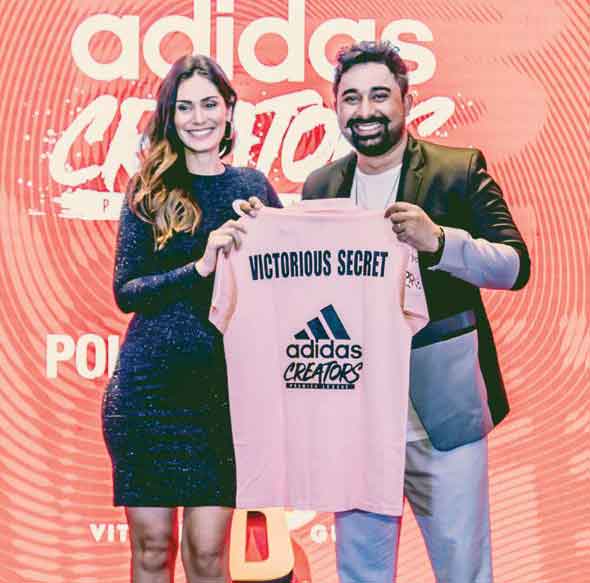 6) How do you attract players to join the league?
The format itself is so unique that most people are reached out through the existing base of players in each of the cities so right now Mumbai and Delhi have a base of over 800 listed players who across the city reach out to their networks. We have a very strong digital presence i.e Instagram, Facebook and our website. Not forgetting we have tons of influencers collaborated with us. Naming a few for you, Divya Agarwal, Varun Sood, Shruti Sinha, Rohan Hingorani, ArchisPatil, Sana Khan and so on.
7) What are your future goals regarding the league?
The team aspires to move into different spaces and formats to get in a larger connectivity with the youth.We are trying to work out leagues for Under 13 and 15 in certain cities with reputed institutional and associations across India.We also look at taking the bigger League which is the Creators League, to other cities. Street ball is also something we wish to build in other cities collaboratively.
8) What it is like to organize India's first semi-professional football league for women?
I can speak endlessly on that, it is a very exciting moment indeed. The woman are thorough atheletes and are here to nurture their talent, and definitely to play with the best players. We know that somewhere these women are also very keen because the Adidas platform is very unique and this can become an incredibly broadminded perspective and an interesting way for them to stay connected to the sport they love.Adidas Creators Premier League has given the platform currently missing for women with the right adequate setup. Well at the end of the day why should boys have all the fun?This becomes an interesting play for them.
9) The second season of Adidas Creators' Premier League will feature CEO and top executives and Bollywood stars. What's the reason behind inviting them to the league? And how did you rope them in?
Yes, we have seen tons of corporates because we also run a separate IP which is the Legend Cups. This league has almost 600 corporates from across 7 cities that take part which sums upto almost 5000 players across India. People have seen us grow the Adidas Creators banner very strongly and they want to come in and be a part of the league. Hence, we have roped in alot of corporates already through our network into the Creators Base. HDFC is one big corporate that has a team in the Creators Premier League. Parle Agro, Time Avenue, Baidyanath are other corporates that are also indulging with us andputting teams. Top executives, Bollywood stars have always been a part of it like I mentioned a few names earlier; they all are a part of our format and also a part of the League ownership in a way. They all indulge by coming in, playing,to support their teams which have led to the League being a very interactive platform for youth to engage with the stars and players alike and therby creating a community around it. We have seen the synergy growing for 2 years now and being honest all of our influencers have continued to be a part of this.
10) Would you launch semi-professional league in other sports as well in future?
We have already launched a league for basketball called the Street Ball League. Esha Gupta, Sana Khan, Melvin Louis, Gursimran Khamba, Simran Kaur are a few B town celebrities who are part of this format.In the future we will look at other sports but at this moment we are happy and have good content to grow both the football and basketball space with new things always in the pipeline.
Disclaimer:
The information contained in this article is for educational and informational purposes only and is not intended as a health advice. We would ask you to consult a qualified professional or medical expert to gain additional knowledge before you choose to consume any product or perform any exercise.