As the lockdown is ever extending, we are bound to our laptops, desktop, tabs, or whatever you are working on these days. In the wake of meeting our daily targets, we become slaves to our computers, iPods, and mobile phones. In the absence of any physical activities, laziness, boredom, and stress kick in our body which can leave prolong mal effects on our body.
As a matter of fact, sedentary behavior is related to poor health and can lead to the development of heart diseases, diabetes, and cancer.
In order to break such a clutter of inactiveness we have to bring some basic exercises that you can in between your working hours:–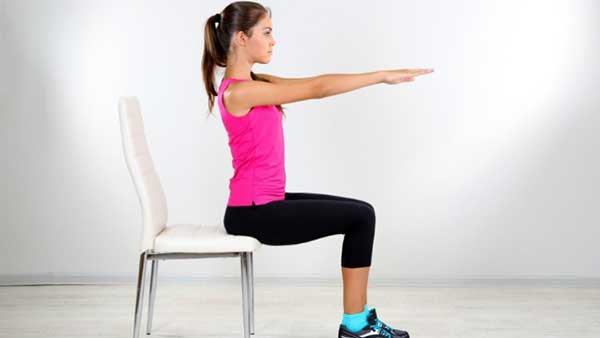 Chair squat exercise
Squats are difficult to do sometimes but having the support from your chair or desk will make it easy to do. In this way, you will get benefits of squats with an accurate posture.
Leg Touchdown exercise
This exercise needs a little space. Stand up and try to touch your left toe with the right hand and vice versa. This will relieve pain in your body and will improve in better blood circulation.
Shoulder mobility exercise
Sitting straight for hours can cause shoulder pain. You can mobilize your shoulders to get rid off the pain. Mobilizing shoulders will also improve blood circulation in your shoulder.
Ankle mobilization exercise
It's really simple to do! Just remove your shoes and start rotating your ankle in a circular motion clockwise and anticlockwise.
This will rotate the ankle joints and make the circulation of blood easy.
Hands swing exercise
In this stretching workout, you need to straighten up your hands and try mobilizing it by rotating it in a circular motion. Try different hand movements to make the exercise more beneficial.
Shoulder rotational stability exercise
Rotate your shoulders slowly to relax small muscles. You can take the help of your hands while moving your shoulders.
The deep squat exercise
This will strengthen your core and lower body. This exercise you can do in your lunchtime or early hours. The office makes you stuck on a single seat and causes joint pain. These exercises will relieve your joint pain.
Stay active and healthy in your office hours as well. Start working on these effective workout exercises.
Disclaimer:
The information contained in this article is for educational and informational purposes only and is not intended as a health advice. We would ask you to consult a qualified professional or medical expert to gain additional knowledge before you choose to consume any product or perform any exercise.