When we talk of Biceps, it is actually a muscle with two heads that is associated with the movement of the shoulder and elbow. The first one being Brachii and the other one are being referred to as Brachialis. Brachii is the main muscle which has two muscles. The first is the long head of Biceps and the other being the short head of the Biceps. Brachialis is the other muscle and is smaller in size. The brachialis muscle normally does not receive enough attention and training from many individuals, due to many reasons that could be either due to their lack of understanding or any other reasons.
If you are trying to build your biceps, you'll have to focus on your muscles present in the upper arm, develop enough strength and keep working on it continuously.
For those of you who have been trying to achieve stunning biceps, it would take a lot of time to comprehend about what would be the appropriate weight and exercises that must be taken up to build them.
Firstly, you must have noticed the muscle present in the front portion of your upper arm that lies between the shoulder and elbow. As you try to bend your elbow, there is a feeling which you may have about your muscles beginning to move around. This is actually what you would call as your bicep.
Now when we speak of biceps in brief, it is used to perform a range of tasks that may involve lifting of any object by moving our forearms such as lifting of water from the well or picking up and pulling any heavy objects. By working on building the strength of your biceps, you are better placed to execute heavy tasks, while at the same time are looking strong and effective.
It is highly recommended from the beginning to start performing biceps exercises by seeking the help of a trainer. The trainer can train you on how to keep the right posture and also provide enough guidance on how you can increase the weights at a slow and steady pace to flex your muscles only up to what is sufficiently required for you. Prior to your workout, it is best to start doing some mobility training exercises for a few minutes and subsequently do a warm-up for about a minute or two. There are many ways to do warm ups such as going for a slow jog, leg bends, squats or even yoga. The choice is yours.
Some of the bicep exercises that you can start with are as follows:
1. Straight Bar Biceps Curl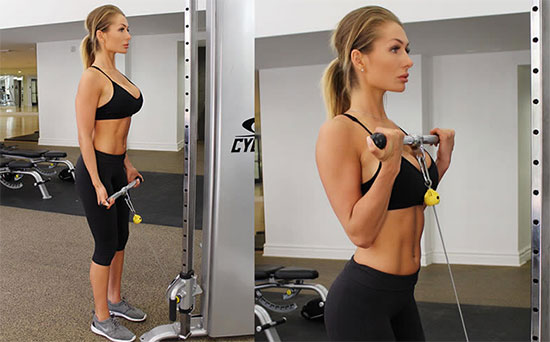 This exercise requires just a Single Straight Barbell. You can perform about 2 to 3 sets of 12 reps each. While performing this bicep exercise, your muscles will get warmed up and provide you the strength and confidence to start your biceps workout. Both arms are trained in the process of performing this exercise.
You can perform this exercise by following these steps:
Pick a weight of your choice. You can use just the rod alone and begin the exercise. As and when you become familiar with a little more strength, you can include small weights to the main weight. Try to ensure that you perform the workout in small bits, rather than doing extensive workout on a single day and resting for the rest of the week.
You can stand in front of a barbell. While bending on your knees, hold on to your barbell tight with both your hands.
The control that you have must be according to the muscles that you desire to lay focus on. You would have to hold the barbell at an appropriate distance from your hands. You can hold the barbell at a gap of 5 to 6 inches between your hands when you are working on your external muscles of your biceps. The barbell may be held at a distance that is hip-width apart.
When you stand up straight, allow the barbell to come up to the level of your hip.
Subsequently, tighten your core at the time when you bend your arms at the elbow. Now, the barbell can be brought up to your chin. Keep your elbows closer to your side waist at all times. Press and hold your bicep muscles for a few seconds and gradually bring the barbell to the hip level. In this way, one rep will be completed.
2. Resistance Band Biceps Curl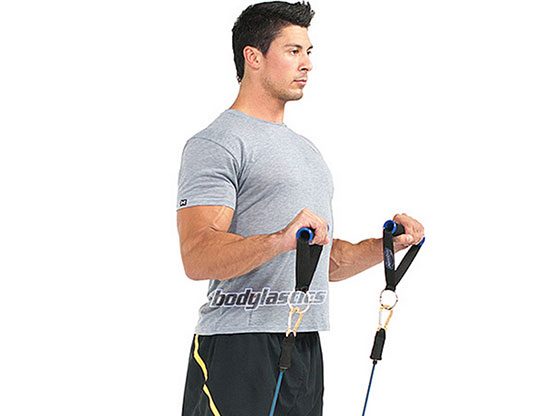 Another equipment that you can think of trying to use for performing a biceps exercise is a resistance band. Many exercises such as preacher curls, hammer curls, biceps curls and several other exercises can be performed using the resistance band. It is comparatively a lesser expensive equipment that you can invest in to perform your exercises. You can do a maximum of 2-3 sets of 12 reps each. While doing this exercise, your core must be tightened. Additionally, your back must be kept straight, while holding your chest upwards. This exercise can be performed by following the steps mentioned below:
Keep your feet hip-width apart and stand on the resistance band.
Acquire the grip of each handle with the help of your hand. Now, keep your elbows bent and press your biceps firmly in order to pull the ends upward.
Now hold for a few seconds and gradually return to the starting position. In this way, one rep can be completed.
3. Chin-ups: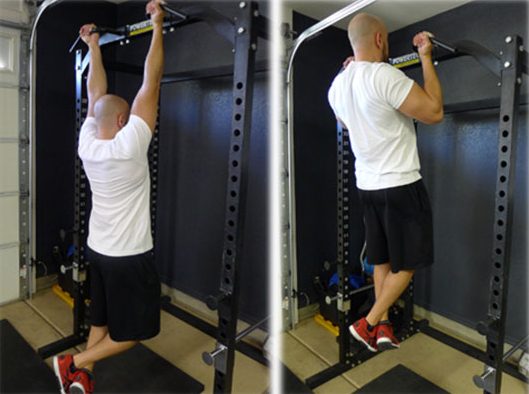 This exercise has the capability to strengthen your biceps as a whole. It challenges your biceps and can be an excellent muscle builder for the upper body. The equipment that can be used for performing this workout is normally a solid stationary horizontal bar or simply a hanging bar. The space that would be required for performing this workout would just be the area where you can hang on at just above the ground level, such as on an overhead hanging bar. A maximum of 3 sets comprising of about 12 to 15 reps per set can be performed. To perform this exercise, you can follow the steps given below:
Stand on a seat or bench and allow your arms to be extended completely after ensuring that you have obtained an underhand close grip on the bar. The toes must not touch the ground. In this way, you can stretch your muscles. The body also receives some warmth during the process of muscle stretching.
Subsequently, you should pull yourself up till your chin is able to rise over and above the bar. Now, wait for a few seconds before gently coming down. However, make sure to tighten your grip at all times.
 4. Concentrated Biceps Curl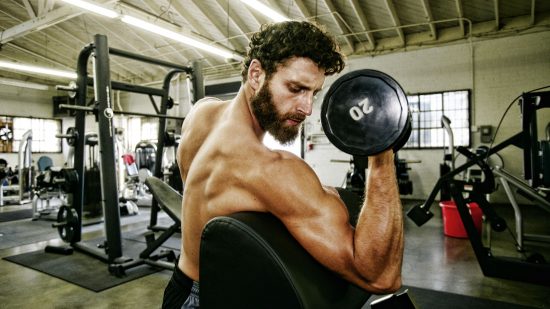 This exercise helps you to build your biceps exclusively. It is considered as having been able to produce great results. You can perform this exercise by bending over or kneeling. The equipment that you require for performing this exercise is just a dumbbell when you're normally placed in a standing position. Although there are dumbbells available starting from 2.5 kilograms to 30 kilograms, it is advised for beginners to try dumbbells that weigh 2.5 kilograms to get a proper grip over their moves. Afterwards, you can opt for a dumbbell that weighs greater than 2.5 kilograms and so on. You can do a maximum of 3 to 4 sets of 12-15 reps each. Be careful by not trying to swing your arms at any given point of time.
You can perform concentration curls through the following steps:
Sit down on a seat or maybe a bench. Place your feet greater than your hip width apart. Pick up the dumbbell and keep one of your arms straight and in between your feet without touching the ground. The other arm should be placed on your back.
You must bend your right elbow in order to twist the weight towards the top. The biceps would also be contracted in the process. You have to just move your forearm. The biceps should be pressed well enough until the dumbbell hits the shoulder level.
After doing the reps for one side of the arm, you can start doing the reps for the other side of the arm.
Image Source: www.t-nation.com
Disclaimer:
The information contained in this article is for educational and informational purposes only and is not intended as a health advice. We would ask you to consult a qualified professional or medical expert to gain additional knowledge before you choose to consume any product or perform any exercise.